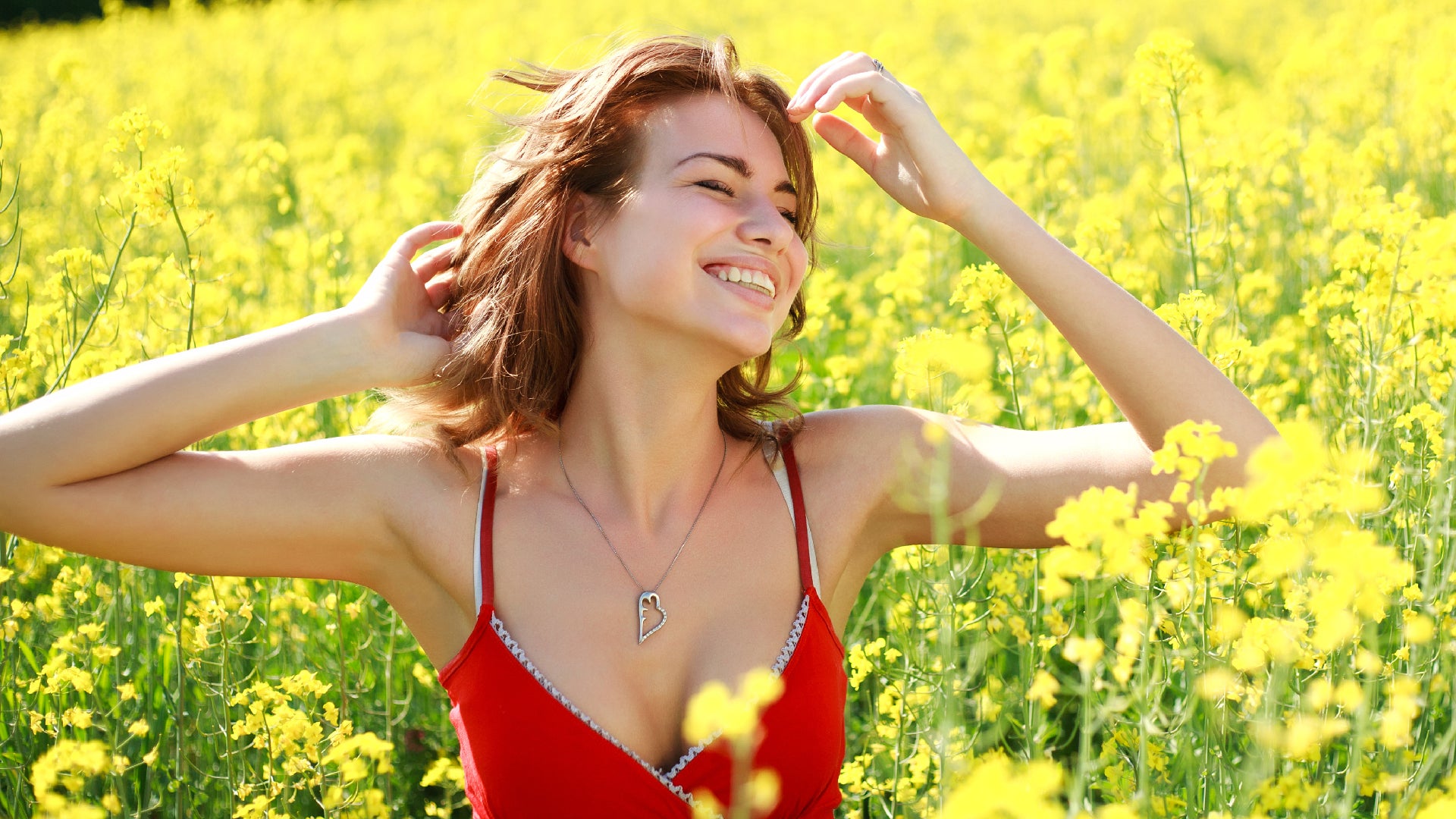 Is Your Skin Prepared For Summer?
Sweatier skin and oilier pores are inevitable as climbing temperatures and higher humidity hits. So get ahead of the game with our tips for preparing your skin for summer…
Summer officially started on June 21. So it's time to take a close look at your skin to ensure it's ready for everything that gets thrown at it when warm, sunny weather arrives.
Hotter temperatures and higher levels of humidity have various effects on your skin – some good, some not so good. And when you couple new weather conditions and more time in the great outdoors with the realization that more of your body is about to be on show, it's easy to let summer skin issues come up and bite you on the butt.
Let's not that happen, shall we? Here's what to do over the next few weeks to get your skin summer-ready.  
Invest In Some Chemical Exfoliation
Exfoliation is a tricky game. Do it too much and you chance irritation, redness and sensitivities taking over your skin. But avoid it altogether and you can end up with dull skin, clogged pores and worse yet, pesky breakouts. During the winter months it's prudent to tone down how often you exfoliate your skin to avoid dryness and dehydration adding to your winter woes. However, as summer approaches, you can definitely up the ante – especially if you have normal, oily or combination skin.
We're big believers in chemical, rather than physical exfoliation as a much more gentle approach to accelerating cell turnover and encouraging dead skin cells to hop it. Try our awesome Ocean Mineral Super Toner every day before moisturizing which contains glycolic acid to exfoliate as well as minerals and vitamins to nourish and protect your skin.
Go For Light, Hydrating Layers
Rich creams and heavy moisturizer might be your go-tos when it's cold outside, but come summer you'd be wise to lighten up your moisturizing load. Now, this does NOT mean avoiding moisturizer altogether – that's crazy talk – but you can definitely trade in the big guns for lighter textures that concentrate on drawing all that extra moisture from the air into your skin.
Great ingredients for hydrating your skin are hyaluronic acid, glycerin and aloe vera so try the powerhouse combo of Hyaluronic Acid Facial Serum followed by Vitamin C Brightening Moisturizer which is loaded with aloe and glycerin.
Shorten Your Shower Time
Long, hot showers may feel incredible when it's freezing outside, but they're terrible for your skin, sucking out all the moisture and compromising your super important barrier function. Also, it should be much warmer outside now, so… really?
Turn the temperature of your water down to lukewarm to limit your skin's chances of becoming inflamed or irritated, and give yourself five minutes max to shower. Studies show the average shower takes around eight minutes so by reducing this by three minutes will also save more than six gallons of water. Per day. Added bonus for our precious planet right there.
Up Your Cleansing Regimen
We always err towards the gentle side of cleansing, but scorching temps make your skin sweat more and this, coupled with sunscreen and what can often seem like a never ending supply of excess oils, needs to be dealt with – especially before bed.
Invest in a cleanser that means business, but don't be fooled by oil-stripping formulations that are packed with drying alcohols, synthetic fragrance and harsh sulfates. They're seriously bad news and will just make your skin even more oily in the long-term. Instead, try our Charcoal Clarifying Cleanser which is the cat's whiskers at gently mopping away sebum to balance and detoxify your skin. We call it the perfect summer skin prep in one handy little tube.
Give Your Body Some TLC
For most of us, our legs, tums, arms and chests have been hidden away for the past nine months or so. But there's a chance at least one of these body parts is about to see the warm light of day. So it's probably time to up your bodycare routine, pronto.
Treat yourself to a body loofah, mitt or scrub and gently buff your skin while in your (five minute!) shower. Concentrate on your arms, elbows, legs and butt but go carefully over your chest area as the skin here is thin and very fragile.
Also, don't forget to moisturize with a light lotion after showering – preferably while your skin is still damp. Unless you have super dry skin, we recommend avoiding rich butters or heavy oils as these can block your pores and cause breakouts.
Don't Forget Your C-Vitamins
Pre-summer is literally the best time to introduce our good pal vitamin C into your skincare routine. Packed with antioxidant properties to nip those nasty free radicals in the bud, it's one of our favorite ways to counteract the damaging effects of the sun. It also helps inhibit melanin production to reduce your risk of annoying summertime dark spots. Finally, research shows it can also help strengthen the power of your sunscreen, giving you a double dose of UV protection.
Try our G.O.A.T. Vitamin C Facial Serum which is a kind of must all year long. But especially now and through the summer months.
Keep Some Tea Tree Oil Up Your Sleeve
Summer pimples and blackheads are downright annoying, but for anyone with oily or hormonal skin, they're also a given because sweat and oil just can't help but build-up on the surface of your skin. Regular cleansing is a must, of course, but to really get ahead of face and body breakouts, arm yourself with some tea tree oil.
Our Tea Tree Super Serum+ is ideal to keep in your vanity as it contains not one zit-fighting ingredient, but two: tea tree oil AND salicylic acid. Dab it on cleansed, problem areas before bed or apply it all over two or three times a week after cleansing with Tea Tree Super Cleanser+.
Ensure SPF Is Second Nature
We know you apply facial sunscreen all year round – you do, DON'T YOU? – but if there's ever a time to ensure you're doing it, it's now. UVA rays are present all year long, even on cloudy days, but UVB is much more prevalent in the summertime so this is non-negotiable for the next few months. Then it'll be part of your routine anyway so you can continue forever more. See what we did there?
Apply SPF 30 Mineral Sunscreen with Vitamin C every morning without fail to your face, neck and chest, and invest in a broad-spectrum body sunscreen for any other exposed areas of your skin. Reapply regularly if you're in the sun all day and try to stay in the shade as much as possible to reduce your risks of short- and long-term sun damage. Neither of those are good.