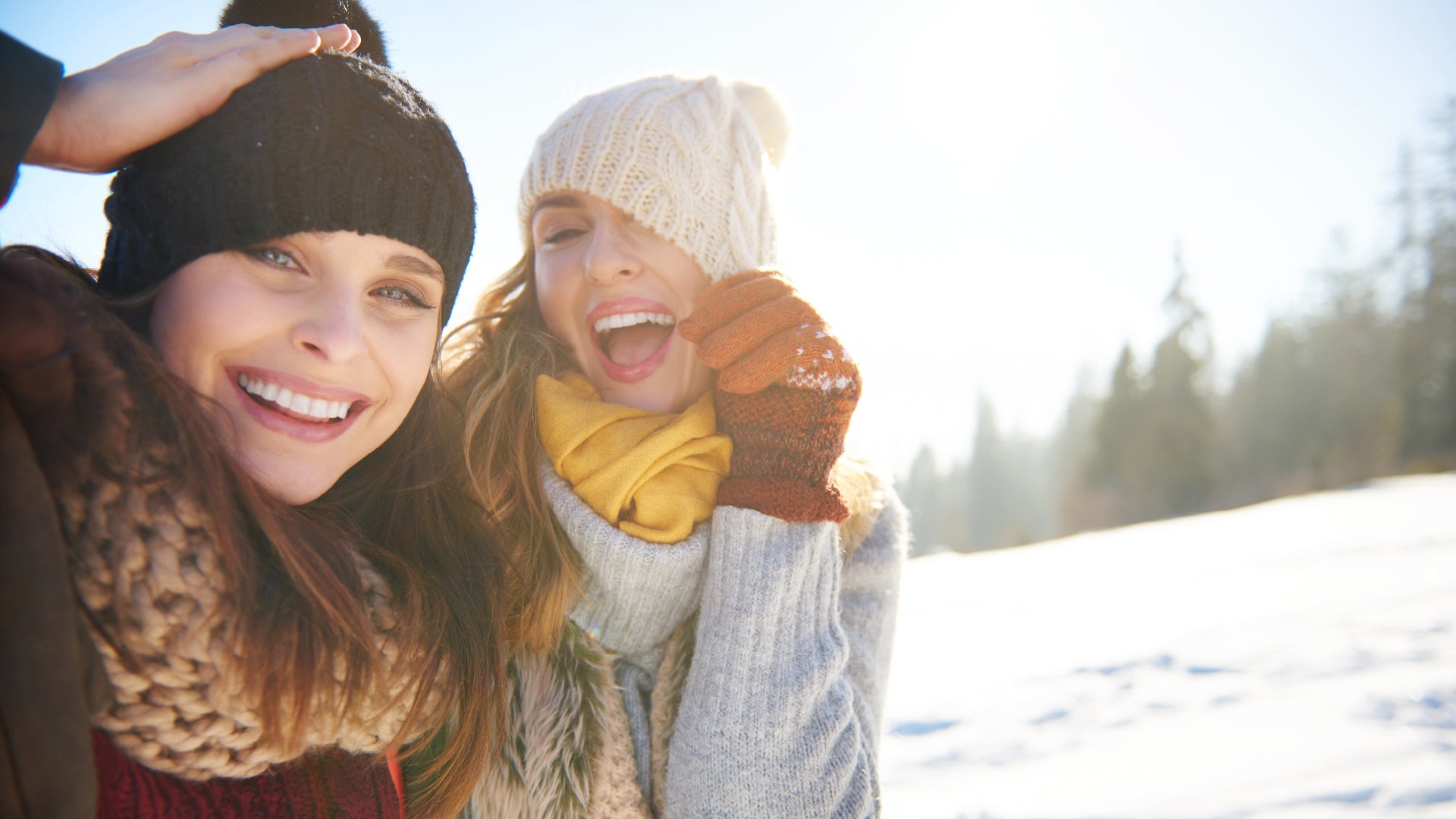 The TruSkin Guide To Radiant Skin (Yes, Even In Winter)
Winter's a cruddy time for your skin, so if you're feeling pretty bummed about your dull complexion, it's time to get your glow on.
Glowing skin is very much 'in' right now. It's always of huge importance if you ask us, but it seems that natural radiance, rather than full-on makeup, is a major beauty prediction for the new year. 'Prove it,' we hear you shout. Sure. The Pinterest Predicts annual report was recently released and guess what topped the list for upcoming beauty trends for 2021? Yes, 'effortlessly chic,' radiant skin – aptly being coined Skinimalism. This is all thanks to a massive increase in Pinterest searches for terms like 'glowing skin how to get naturally,' 'face yoga exercises' and 'natural everyday makeup' which shows that maybe (just maybe) the years of facial contouring and graphic brows might be coming to an end.
All hail real, glowing skin. Yay. Gotta love that.
The problem with this trend, however, is that skin radiance doesn't always come easy – especially when cold temperatures and low humidity are totally working against you. Yes, natural skin means you can say goodbye to hours of makeup application, but if you want to allow your skin to really shine through, you'd better start looking after it. So, if you're craving ways to enhance the complexion nature gave you, here are some trusted tricks for ditching winter dullness and amping up your dewy skin game.
Work Out Your Skin
Facial massage is one of the simplest and most important things you can do to boost radiance as it instantly improves circulation and encourages the removal of waste and toxins through a process called lymphatic drainage. And the best time to do it? While cleansing your skin in the morning (two birds and all that). Here's how:
1. First, wash your hands, then wet your skin with lukewarm (never hot) water.
2. Squeeze your favorite cleanser into the palm of your hand, then smooth it all over your face and neck.
3. Place your fingers in the middle of your forehead, spreading them from your eyebrows up your forehead. Work your fingers out towards your hairline a few times, pressing the skin gently.
4. Next, place your fingers over the center of your nose and work them out along your cheeks, rubbing the cleanser into your skin in large circles. Do this a few times, then continue with the same motion over your chin and jawline.
5. Finish by smoothing your fingertips up your neck a few times, then rinse thoroughly and gently pat your skin dry with a clean towel.
Another great way to give your skin a bit of a morning workout is to try your hand at facial yoga. And excellent news: not only will a committed routine of morning exercises boost circulation and add radiance to your skin, but it'll help strengthen facial muscles to reduce sagging and make your skin look firmer and more youthful in the long-term.
One of our favorite facial yoga exercises (mainly because it's so easy!) is to pout then smile repeatedly as fast as you can and for as long as you can stand it. Just do it in private, yes? You don't want to scare the neighbors.
Get Your Vitamin C
It doesn't take a rocket scientist to work out that, here at TruSkin HQ, we think vitamin C is the absolute cat's whiskers as a skincare ingredient. A clinically-proven antioxidant, vitamin C is well-known for helping prevent accumulated skin damage by neutralizing attacks from environmental and lifestyle nasties. Think sun, pollution and cigarette smoke that love to do a real number on your skin, causing everything from fine lines and wrinkles to dullness and discoloration.
Vitamin C is also mildly exfoliating, so when you apply it topically and regularly, it works to effectively reboot collagen and elastin production to help strengthen, firm and smooth your complexion. Couple all this with its ability to help reverse UV-related skin damage and it's a big fat ciao to uneven skin tone and dark spots. Boom.
The thing is, not all topical vitamin Cs are created equal. This means you could see it listed on your skincare label in many forms including l-ascorbic acid, ascorbyl palmitate and sodium ascorbyl phosphate. We use sodium ascorbyl phosphate – or SAP as we like to call it – in our popular vitamin C products because it's a) stable, b) less irritating and c) very effective. Literally everything we want in a skincare ingredient, right there.
Try A Professional Chemical Peel
For an extra high-powered boost of radiance, treating your complexion to a professional chemical peel is a great shout.
Chemical peels work by using potent (but safe) skin acids to injure the top layers of your skin which makes them fall off – taking any dead, dull skin cells and unwanted dark patches with them. The first three to five days following a chemical peel procedure aren't pretty because your skin literally does flake and peel away, but after a week your skin will be visibly smoother, clearer and your glow factor will have gone through the roof. Trust us, we've been there.  
Ask your skincare expert about medical-grade peels that contain hard-working, glow-inducing ingredients such as salicylic, trichloroacetic or glycolic acids as these are particularly effective for fading discolorations and brightening an uneven skin tone. We love truly professional chemical peels from medical-grade skincare companies like SkinMedica or PCA Skin as these have been proven to offer results and can often eliminate new discoloration issues in just one session. If you have older, deeper pigmentation issues, however, a series of three or four appointments is usually recommended, followed by maintenance treatments on a less regular basis.
Use Makeup To Enhance (Not Hide Behind)
Embracing the Skinimalism trend is all about making your skin look lit from within, but that's not to say you should dismiss those extra finishing touches. Makeup, after all, is a great way to enhance your natural glow, so if you've already nailed your radiance-boosting skincare routine, invest in a brightening primer to apply after your skincare and before (or even instead of) makeup. A great primer will help blur fine lines, smooth pores and add instant radiance without looking like you're caked in makeup.
If you're in the market for a natural-looking base, we suggest choosing a mineral, powder foundation that you can buff and swirl over your skin, rather than a cream or liquid-based formulation. How so? Because creams and liquids are often more tricky to keep light and streak-free.
And for a little extra red-carpet glow? Try a subtly shimmering highlighter. But we mean subtle shimmer, people  – full-on glitter is never cool. Apply this to the parts of your face that naturally catch the light such as your cheekbones and brow bones and keep it as natural-looking as possible by going for warmer, golden shades if you have olive or dark skin, and pinker tones if you're pale.
Gorgeous.