TruSkin Vitamin C Deep Hydration Night Cream
TruSkin Vitamin C Deep Hydration Night Cream
<! –– Bazaarvoice Shopify Integration Version 2.0 ––>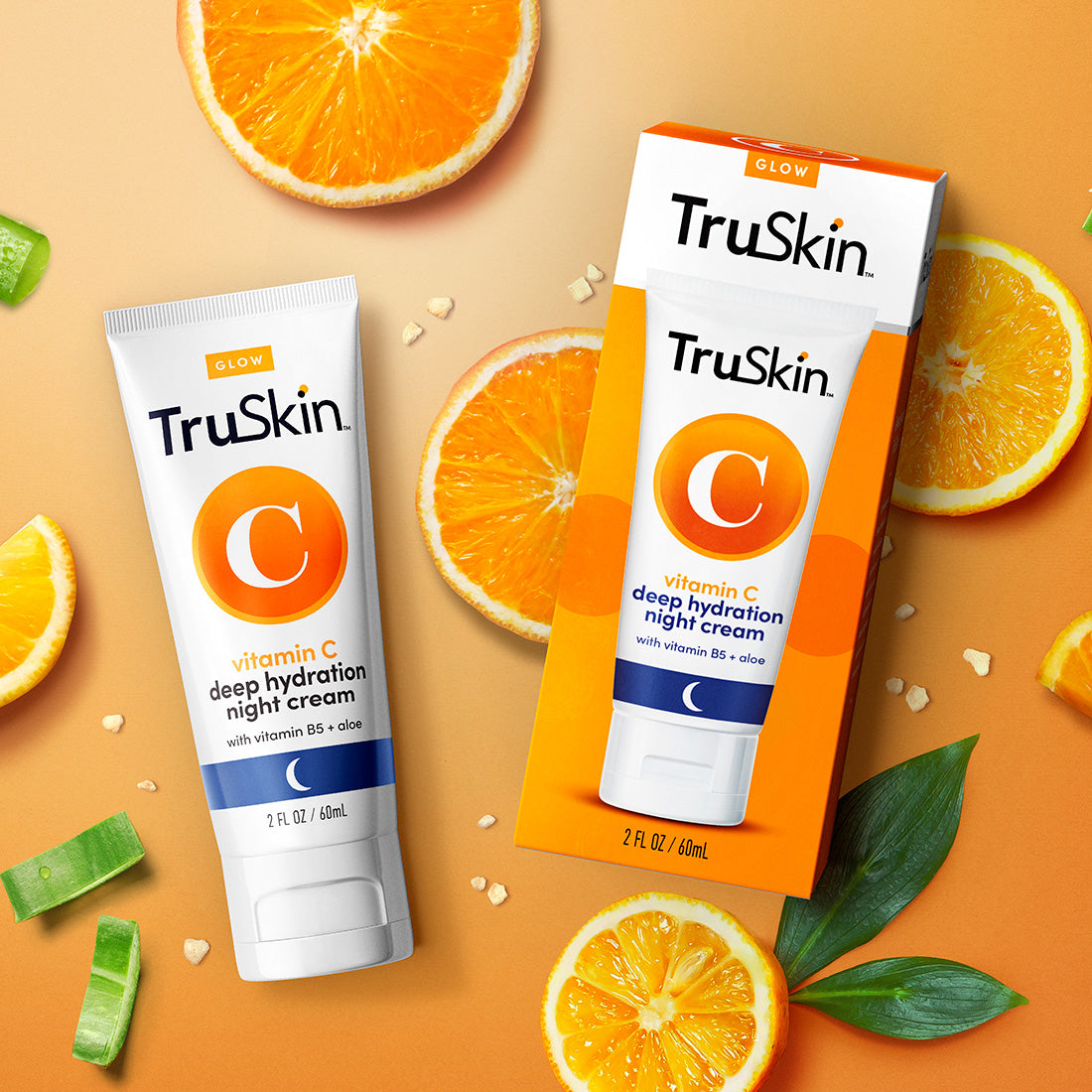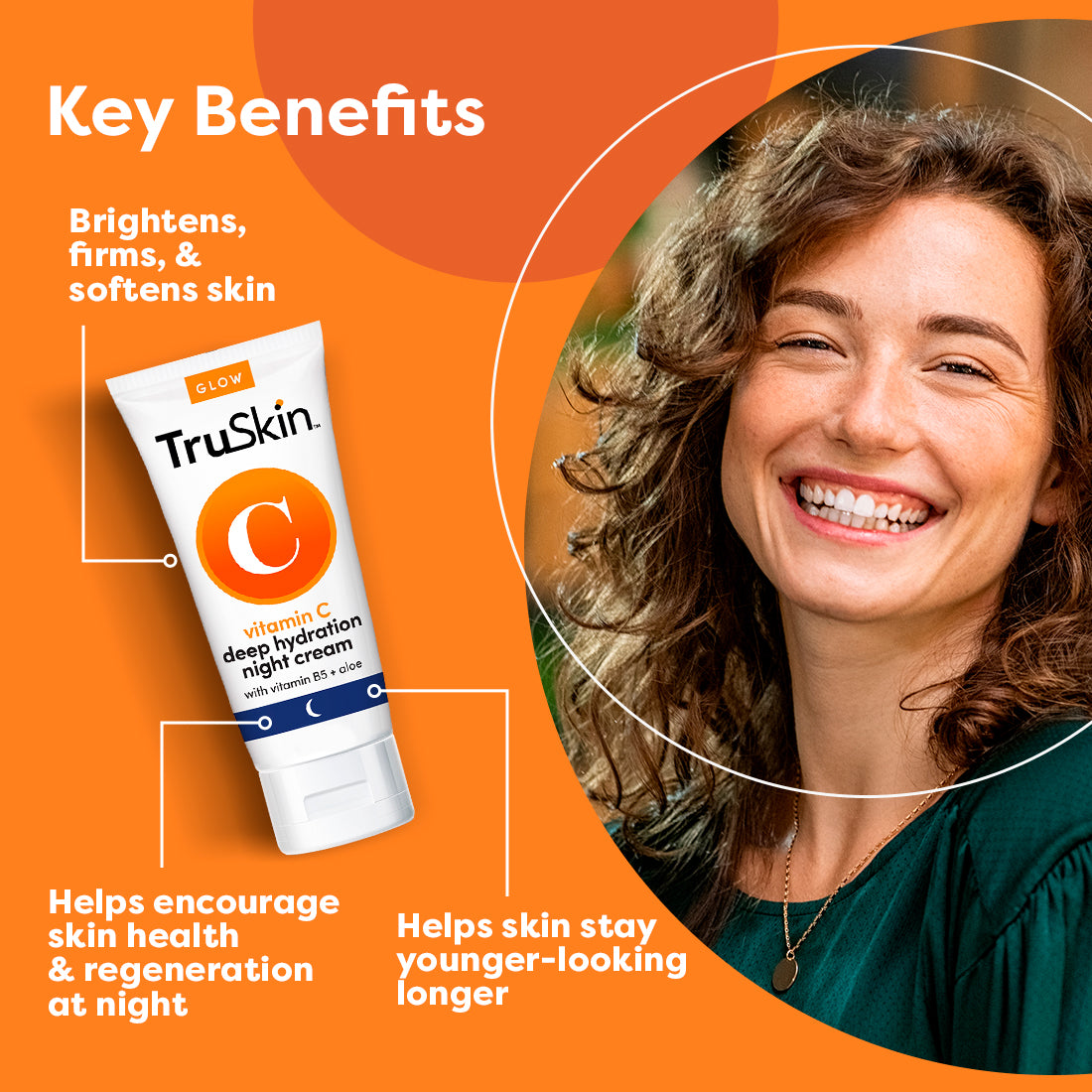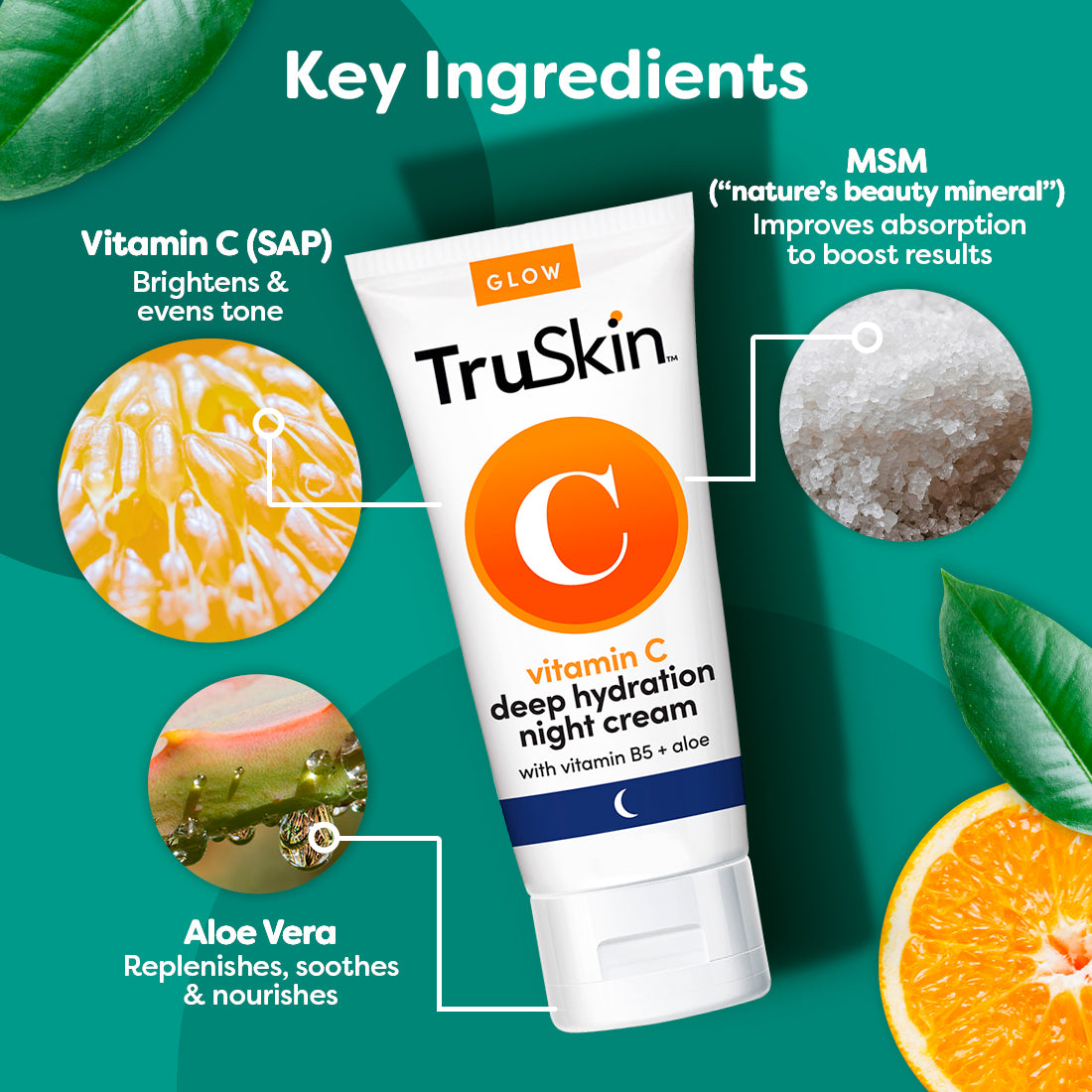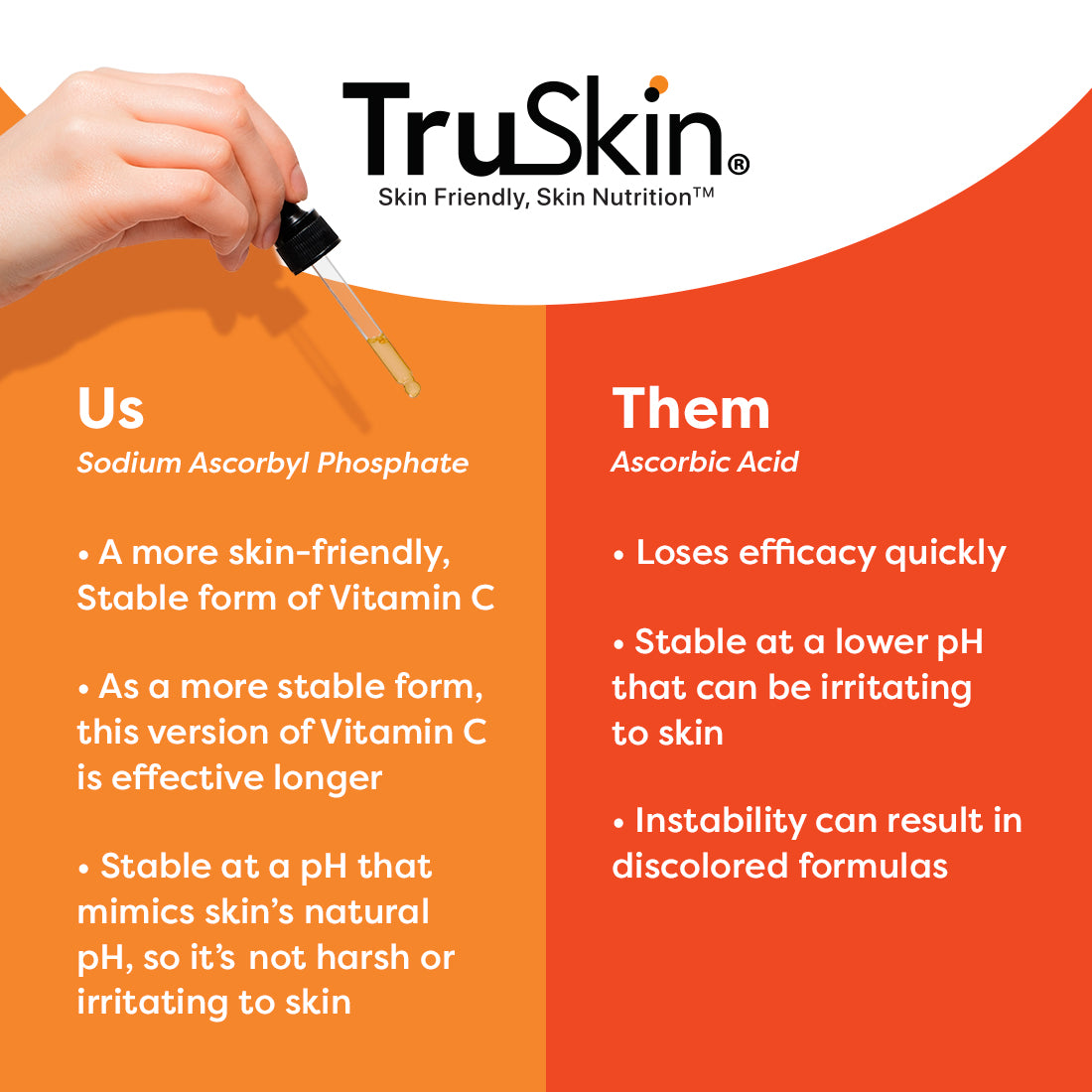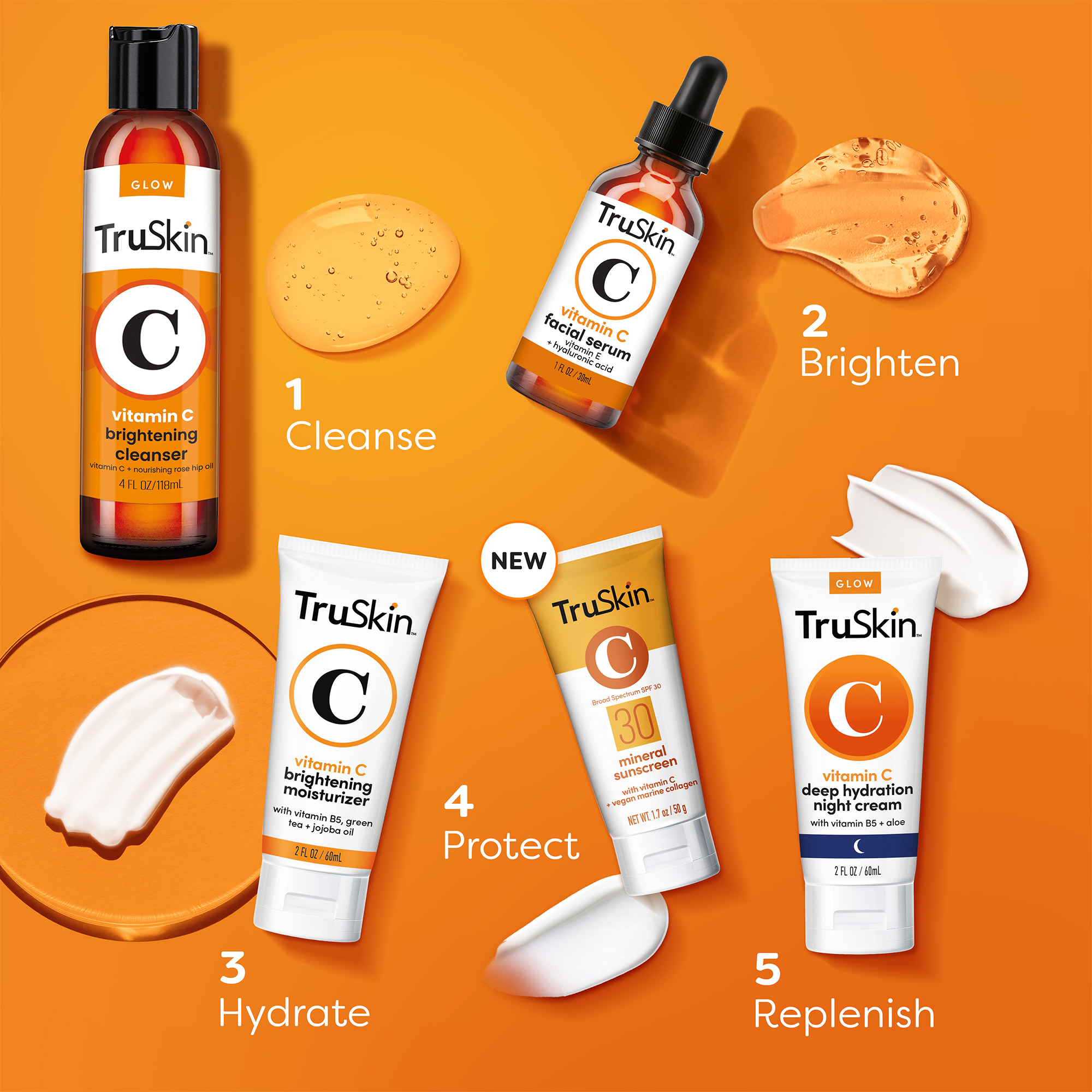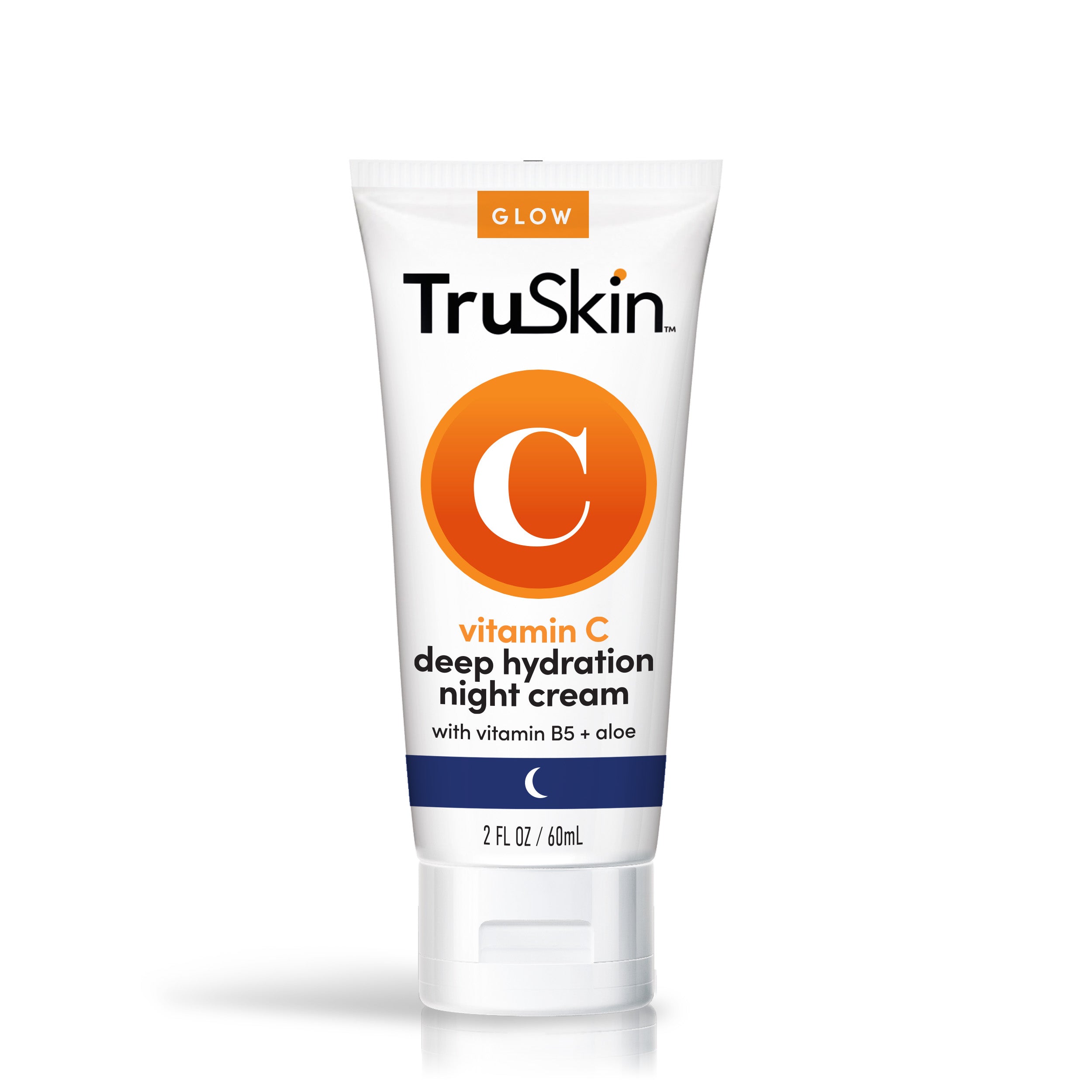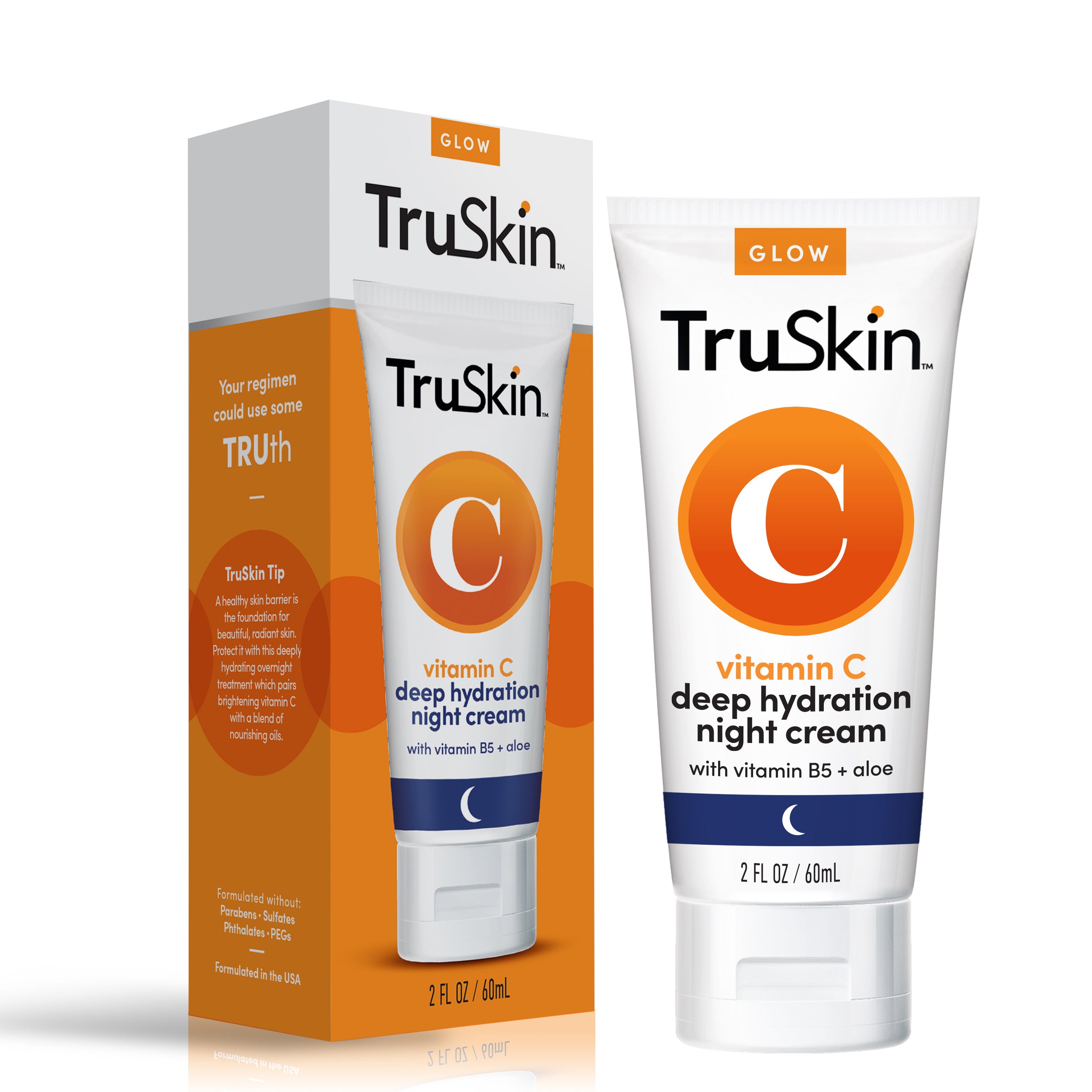 TruSkin Vitamin C Deep Hydration Night Cream
<! –– Bazaarvoice Shopify Integration Version 2.0 ––>
This restorative cream is formulated to fuel skin's renewal process at night to reveal brighter, firmer, softer skin.
Product Details

Since skin doesn't sleep and its renewal processes work hardest at night, our daily night cream is designed to support and stimulate the vital functions that encourage optimal health and regeneration. When we go to sleep, our skin's renewal functions reset into high gear. This makes it the ideal time for skin to catch some C's. Our light, satiny Vitamin C Night Cream blankets skin with a powerful burst of vitamin C folded into a pillowy, ultra-hydrating blend that's formulated to fuel cells' restorative processes through the night. Formulated to intentionally pair with MSM and Organic Aloe Vera, this thick, nutrient-dense, intense night cream delivers restoring overnight nutrients and antioxidants, designed to make the most of the body's nocturnal recovery routine, so that skin rolls out of bed looking a little more even and firm with a "rise and shine" radiance.




As critical as good skin care is, it has nothing on sleep. As we sleep, cortisol levels drop and un-stressed skin enters its most intense regenerative period, ramping up repair, human growth hormone, and collagen. Our moisturizer optimizes this precious productivity by supplying ingredients shown to enhance skin's ability to support collagen health. Vitamin C is beloved for its ability to give protein synthesis a jolt, supporting youthful tone and elasticity. Our favorite free radical fighter is also famed for pepping up the complexion by diminishing swelling, hyperpigmentation, and UV damage, working in lockstep with skin to promote an even, luminous translucence. We've paired it with MSM, which is known for boosting results, and Organic Aloe Vera to replenish, soothe and nourish skin, making it Vitamin C's perfect partner for the night shift, to corral inflammation and support collagen production.




This nightly renaissance has one caveat—it's when skin's moisture levels drop, and cells aren't known to fulfill their max potential while running on empty. To replenish after a long day of environmental exposure, UV rays, and pollutants, we created this cream to provide essential sustenance when skin needs it most. We've selected barrier-supportive ingredients known for nursing skin's natural healing mechanisms, including aloe, vitamin B5, cocoa butter, and oils like coconut, tamanu, and rosehip.




Our purposeful, plant-powered blends not only give skin the nutrients it needs to enhance its own firmness, barrier function, suppleness, and luminosity, all things skin needs to be and stay healthy, but also prioritize skin-friendly formulations of well-known ingredients, like the more gentle but as effective form of Vitamin C called Sodium Ascorbyl Phosphate, to ensure that all skin types can enjoy these benefits without irritation.

Key Benefits

• Brightens, Firms, & Softens Skin

• Helps Skin Stay Younger-looking Longer

• Supports and Stimulates the Vital Functions that Encourage Skin Health & Regeneration at Night

• Rich, Satiny Formula




NO Parabens, NO Sulfates, NO Phthalates, NO PEGs

Recommended For

While this night cream is formulated for all skin types, it works best for:

• Collagen Loss

• Uneven Tone

• Dark Spots

• Dry Skin

• Dull Skin

How to Use

Cleanse face and pat skin dry. Apply toner and serums as needed. Apply a dime size amount of night cream to your fingertips and smooth onto face.




Can be used every night and applied to face, neck, and décolleté. Remove seal underneath cap before first use.




*IMPORTANT - ALWAYS do a patch test by applying the moisturizer to a small area of your arm, face or neck at least 24-48 hours before applying to your entire face to make sure the ingredients are suitable for your skin.




FOR EXTERNAL USE ONLY

Clean & Potent Nutrition For Skin
Cruelty-free, premium skincare with purposeful, plant-powered formulas that work together to nourish skin and maximize results.
What Our Customers Are Saying
<! –– Bazaarvoice Shopify Integration Version 2.0 ––>