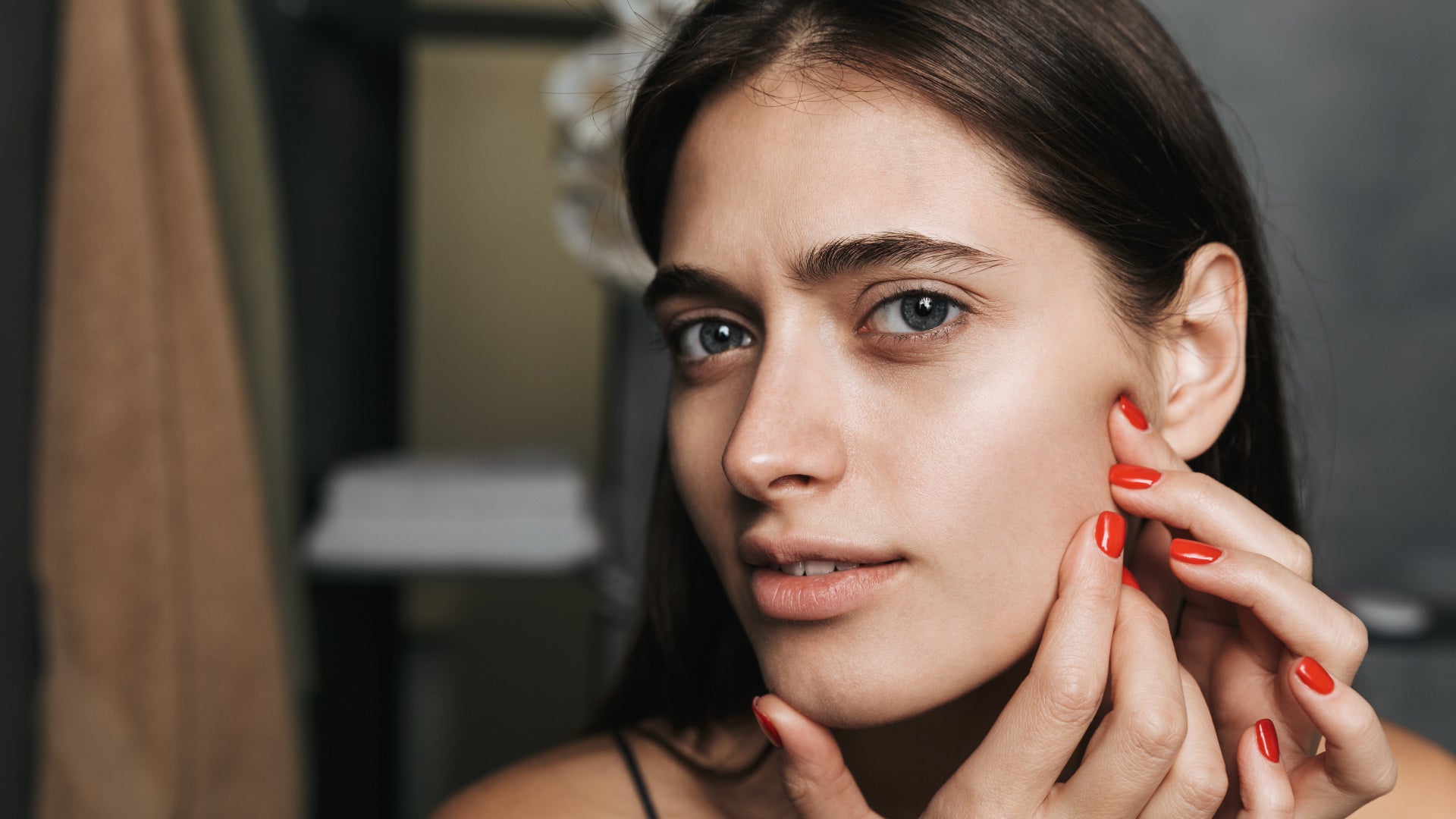 What's The Deal With Hormonal Acne?
When it comes to your skin we can't think of a more mind-numbingly frustrating phrase than – wait for it – hormonal acne. Are we right or are we right? Here's what we know about dealing with these pesky, recurring breakouts…
Hormonal acne might sound like one of those distant horrors from your teenage years when angry pimples plagued your chin on a monthly basis. But sadly, filing this common skin condition away in the annals of pubescent history isn't the case for everyone. In fact, hormonal breakouts can affect you at any age. According to the American Academy of Dermatology, acne affects more than 50 percent of women between the ages of 20 and 29, while just over 25 percent of those between 40 and 49 are also suffering. What's more, studies show that acne hits adult women way more frequently than men.
Joy.
Acne is caused by one thing and one thing alone – excess sebum that gets trapped in your pores and may or may not become inflamed. Nobody's arguing this. But it's the hows and whys your skin overproduces sebum that can change from person to person. Oh how simple it would be if you could point the finger at chocolate, poor cleansing or your parents (because, genes), right? Instead, a whole host of factors trigger acne. And one of the most common? Yup, hormones.
Read on for everything we know about how to deal with these pesky hormonal breakouts…
What Exactly Is Hormonal Acne?
While not strictly a term used in the medical profession, hormonal acne occurs when an imbalance in hormones stimulates the skin to produce excessive amounts of sebum and consequently (although not always) break out. These breakouts are cyclical and commonly coincide with periods in your life (no pun intended) when your body experiences major shifts in hormone levels. Think menstruation, pregnancy, child birth and the menopause.
The hormones in question here are estrogen and progesterone which fluctuate like crazy during these times, creating imbalances with your levels of testosterone.
However, not all hormonal acne is down to inherent hormonal fluctuations. That may sound like a contradiction in terms but all we mean is that certain medications can also throw your hormones out of whack, as can emotional stress which produces an excess of cortisol in your body. Cortisol is known as 'the stress hormone,' and it's a major trigger of excess sebum production and inflammation. Say no more.
How To Tell If Your Breakouts Are Hormonal
If you've noticed your skin is breaking out monthly, around the time of your period, this is a tell-tale sign you have hormonal acne – especially if you're experiencing red, inflamed pimples in the same places each time, and they're mainly concentrated on your chin, around the jawline or across your back and chest. Even if you're menopausal, hormonal fluctuations still occur on a regular basis as your reproductive hormones systematically decline.
Some hormone replacement therapies also use different hormones to replace those which your body is losing. And all this can cause a similar type of cyclical adult acne. So, there's that.
During pregnancy, or postpartum is another common time as, again, your hormones are all over the place, sending your sebaceous glands into turmoil and creating excess oil at the surface of your skin. And if you're super stressed? This won't help one bit.
Of course, self-diagnosing hormonal acne is no mean feat so if you're not sure whether your flare-ups are hormonal or thanks to some other trigger, it's always wise to seek professional help from a board-certified dermatologist.
5 Ways To Help Treat Hormonal Acne
There are plenty of ways to help keep hormonal acne under control. At the doctor's office, things like laser treatments, hormone-regulating meds and prescription topicals can reap awesome rewards for severe acne. However, if you're dealing with mild to moderate breakouts these at-home acne treatments are also well worth it…
1. Keep Your Pores Clean
Dirty skin doesn't cause acne, per se, but if you allow dirt and surface debris to build up in your pores, well, this won't help at all. This means a great cleansing routine is imperative if you're suffering right now. Don't make the mistake of cleansing like your life depended on it, however, as harsh formulations and over-zealous scrubbing will completely strip your skin's protective layer which accelerates oil production even further.
Instead, choose balancing products that, yes, whisk away dirt, oil and impurities but, no, don't suck all the life out of your skin. Try Charcoal Clarifying Cleanser which contains activated coconut charcoal to decongest your pores, along with reishi mushrooms to hydrate and ylang ylang blossom to fight inflammation. Cleanse twice daily, using lukewarm rather than hot water, and always after exercising.
2. The Same Goes For The Rest Of Your Home
Keeping clean doesn't begin and end with the skin on your face. If you're a face-toucher, oil and dirt from your hands will constantly transfer itself straight to your face which is bad news for your pores. So a) wash your hands regularly and b) try to stop touching your face as much.
Also, wash your pillowcases, bed linens and makeup brushes at least once a week, and do your face towels and smartphone even more regularly – daily if you can.  
3. Make Tea Tree Oil Your BFF
One of the most effective topical ingredients for targeting acne is tea tree oil. Naturally antifungal, anti-inflammatory AND antimicrobial, this incredibly therapeutic essential oil has been used in traditional medicine for centuries and is scientifically proven to treat and heal mild to moderate acne. It's also less drying and irritating than other acne-busting favorites such as benzoyl peroxide which makes it awesome for sensitive or more mature skin types. It can still be pretty potent, however, so stick with diluted, carefully curated formulations that have been specifically created for safe use on your skin.
Try Tea Tree Super Serum+ which combines tea tree oil (well, dur!) with salicylic acid, niacinamide, hyaluronic acid and vitamin C to create a purposeful, well-rounded treatment for clearer, healthier-looking skin. What's more, it might be gentle, but it's still mighty powerful so you only need to use it two or three times a week for awesome results. And remember, always do a patch test first.
4. Look After Yourself
Emotional anxiety and constant stress put your mental wellness on edge. They also encourage your body to produce excessive amounts of cortisol which upsets the balance of your hormones and triggers an inflammatory response in your skin. Now we're well aware that being told to chill out and stress less rarely reaps the desired result, but if you can do a few things to improve your emotional wellbeing, this will really help the health of your skin.
Exercising regularly and making sleep a top priority are great ways to manage your levels of stress so try to go to bed at the same time each night, and do a fitness class or go for a brisk walk two or three times a week – or whatever your schedule allows. Just don't stress about it. Because, well, you're trying to reduce stress, not build on it!
It's also worth taking a look at your diet as overdoing things like sugar, dairy and processed carbs are thought to increase inflammation in your body. And anything you can do to avoid inflammation is a very good thing.
5. Invest In Some Butt-Kickin' Retinol
Not only is it seen as the gold-standard in anti-aging, but retinol can have a huge impact on acne-prone skin. Retinoids have been proven to speed up cell turnover to help regulate sebum production and keep your pores clean and clear. They're often the first port of call for the treatment of hormonal acne at the doctor's office.
Prescription retinoids, however, can be pretty harsh on your skin – especially if it's super sensitive – and some people simply don't get on with them. Think redness, irritation, dryness and flaky skin which, when coupled with breakouts, is so not the desired effect. This is why many people turn to retinol, which is kinder to the skin and much more highly tolerated by the skin.
Try our powerful, but gentle Retinol Moisturizer or give Retinol Facial Serum a go which also contains vitamin E to aid healing. You could even layer them both, depending on your skin's tolerance to retinol, of course. Just remember to patch test them first, then introduce them slowly into your routine – two or three times a week – building up to nightly use.