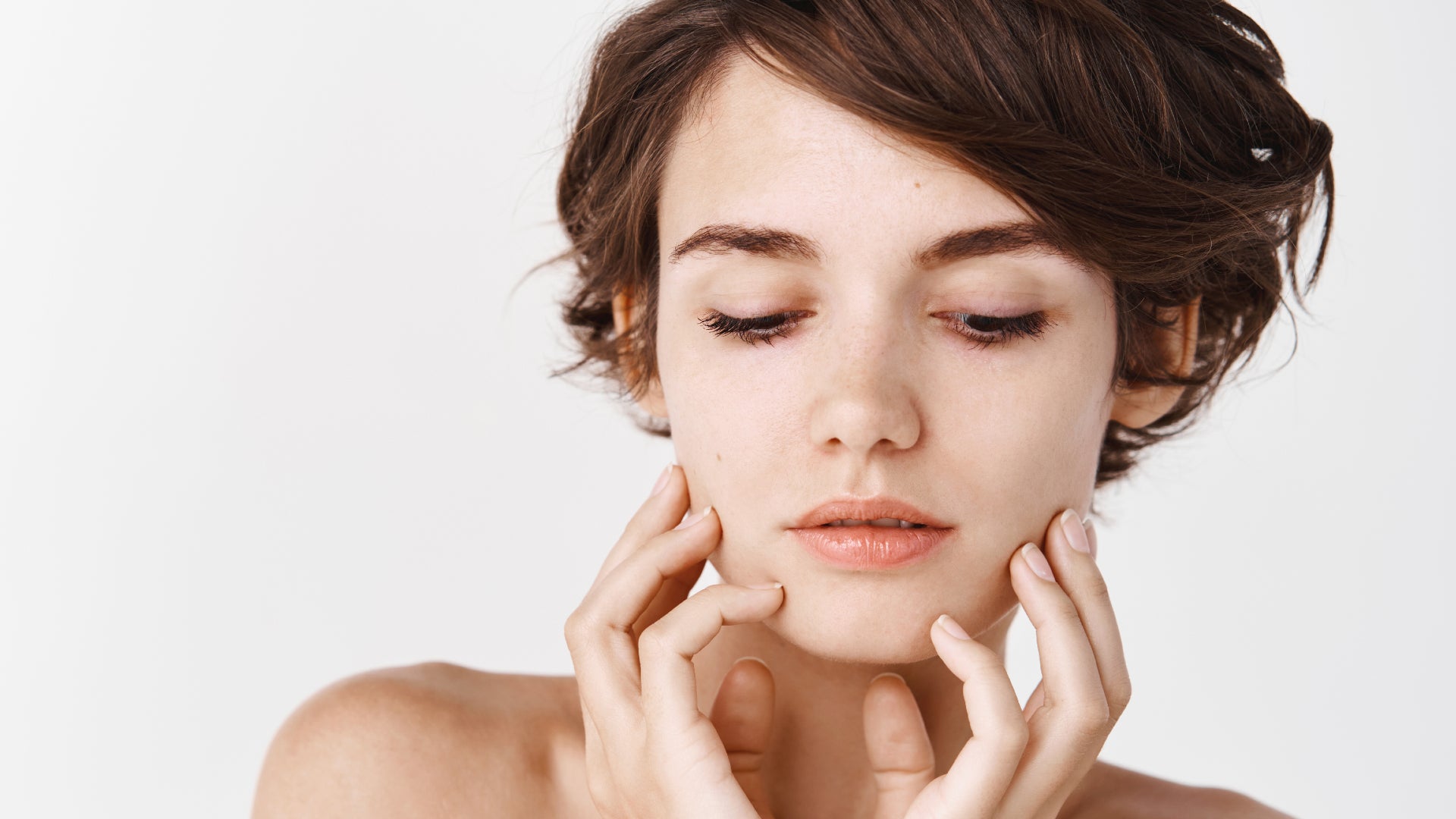 Are YOU The Cause Of Your Sensitive Skin?
There are tons of things you could be doing to cause irritation, redness, itching and dry skin. Not sure what they are? Then you're in the right place…
While many sensitive skin conditions like eczema and psoriasis are thanks, in part, to a genetic predisposition, many are self-inflicted. In fact, we are regularly our skin's worst enemies, causing flare-ups and upsets because of silly actions that upset the skin's barrier function, disrupt sebum production or over-stimulate cellular turnover.
Behold, eight common ways you might be aggravating your skin, triggering existing conditions and generally screwing up the look and feel of your complexion…
Mistake #1. Cleansing Your Face With Hot Water
Oh, how tempting it is to run your water as hot as possible – especially as fall turns to winter and life turns somewhat chilly. But using scorching water temps to wash your face (and, in fact, your whole body) strips the skin of natural lipids and proteins, damaging your epidermis and opening your skin up to irritation, inflammation, itchy skin and dryness. It can also lead to your sebaceous glands going into overdrive to try to combat the dryness, resulting in all of the above, plus excess shininess and possible breakouts to add insult to injury.
If you notice any of the above and know that you're guilty of languishing in super hot showers, turn down the temperature and stick with lukewarm water instead. Also, try to limit your time in the shower to five minutes. This'll not only help save your skin, but our water supplies, too.
Mistake #2. Exfoliating Like It's Going Out Of Fashion
Skin exfoliation is a fabulous way to accelerate turnover and slough away dead skin cells. And we love a bit of gentle exfoliation as much as the next person. But 'gentle' is the operative word. For starters, exfoliating your skin with harsh, scratchy scrubs can cause tiny micro tears in the skin. And that's just asking for trouble. Similarly, exfoliating too often – whether through physical scrubs or exfoliating acids – can compromise your barrier function and trigger sensitivities.
Our advice? Listen to your skin. If you're exfoliating once or twice a week and your skin is still looking dull, with no sensitivities, you can probably afford to up the ante. But if it's looking red and feeling uncomfortable, slow it down. You should also try our NEW 6% AHA, BHA + PHA Liquid Exfoliant which is formulated with glycolic acid, salicylic acid and glucolactone for fantastic exfoliation with fewer of the troubles.
Mistake #3. Not Washing Your Pillowcases Regularly
Sure you might cleanse your face before bed but how often do you wash your hair before turning in? The dirty truth is that pillowcases are full of sweat, oil, dead skin cells, hair products and dirt. And if you leave them to their own devices for too long, all that grime can lead to bacteria and/or microscopic dust mites. And that's a one-way ticket to skin irritation and acne breakouts.
Change your pillowcases every two to three days. No arguments. Similarly, wash your face towels and makeup brushes as regularly as possible.
Mistake #4. Using Overly Fragranced Skincare Products
Contact dermatitis is when a certain substance comes into contact with your skin and triggers an allergic reaction. This usually takes the form of a red, itchy rash. Of course, these symptoms will go away as long as you remove whatever's causing the reaction. But therein lies the problem. Exactly what is the cause?
When it comes to ingredients in your skincare routine, fragrance is the number one cause of contact dermatitis in the US. So, if you're experiencing itchy-type symptoms or weird facial redness, it might be worth checking the labels on all your skincare (as well as your haircare and laundry detergent) labels to make sure you're steering clear of the scented stuff.
The frustrating part of all this is that under US regulations, fragrances can be listed simple as 'fragrance' or 'parfum,' rather than the raw ingredient used. Specifics are rarely revealed because they're thought of as 'trade secrets' by the FDA. Go figure.
Stick with 'fragrance-free' products, however, and you should be OK.
Mistake #5. OD-ing On Active Skincare Ingredients
Retinol... vitamin C... glycolic acid... all of these skincare powerhouses are incredible for tackling wrinkles, reducing the appearance of dark spots and generally improving your skin. But you have to be careful and use them only in moderation. Overloading your skin with such potent active ingredients can irritate even the strongest of skin types. And if you're already predisposed to sensitivities, they can spell disaster.
There are a few golden rules to remember when dealing with active skincare ingredients. First, don't layer more than one active treatment product at a time. Many serums are formulated with more than one active, for sure, but skincare manufacturers know what they're doing. Piling on serum after serum can seriously traumatize your skin. Secondly, go slowly – after patch testing first. This is so much better than applying a new product day after day only to have a reaction a week later when it's too late.
Finally, search out the more sensitive sides of active ingredients. Try bakuchiol rather than retinol, lactic acid instead of glycolic acid and sodium ascorbyl phosphate instead of l-ascorbic acid. These will have similar effects to their powerful cousins, but with far fewer side effects. We're currently head-over-heels for our new Rejuvenating Longevity Serum which packs a punch against skin aging thanks to nature's gentler answer to retinol, bakuchiol.
Mistake #6. Skipping Sun Protection
It goes without saying that the sun has to make an appearance here. Because, sorry sun, but you're bad news for the skin. And even worse news for sensitive skin.

Sensitive skin can be very reactive to weather temperatures and conditions, becoming flushed, prickly, tingly or itchy when exposed to things like wind, cold, heat, and especially sunlight. Sun skin allergies are also real. So much so that it's a medical condition with a fancy name: polymorphous light eruption (PLME).
This is why sunscreen has to be a non-negotiable step in your skincare routine. Just remember to stick with mineral formulations that use gentle ingredients like zinc oxide to protect your skin. Our SPF 30 Mineral Sunscreen with Vitamin C is a winner.
Mistake #7. Smothering Your Face In Sulfates
Synthetic fragrance isn't the only irritant in skincare. Sulfates can also be a complete pain for certain skin types.
Sulfates are used a great deal in skincare formulations because they're damn good at cleansing the skin, removing oils, dirt and product residue very effectively. However, they're kind of too good if that makes sense, drying out your skin and often causing problems like dryness, itching, redness and breakouts. Especially around the sensitive eye area.
We avoid using the worst sulfate bad boys – sodium laureth sulfate (SLS) and sodium lauryl ether sulfate (SLES) – in favor of kinder-to-skin surfactants that care for your barrier function instead of stripping its life away. Our Soothing Cleansing Milk is the best bet for sensitive skin.
Mistake #8. Ignoring Food Sensitivities
Don't forget, what you put into your body can be just as relevant as what goes onto your skin.
Most people with serious skin conditions like eczema, psoriasis or rosacea are well aware how important diet and food allergies are. Anything from tree nuts (think almonds, walnuts and macadamias), to dairy and yeast can all cause unwanted flare-ups. And the relationship between food, allergies and the skin doesn't stop there. If you have an allergy to a certain type of food, it may also be mindful to not only avoid eating it, but to stay well away from it in your beauty products. 
Food and skin allergies are tricky to self-diagnose but they're important to nail down so if you think you might have an allergy or intolerance to something, it's wise to get help from an allergist or dermatologist straight away.