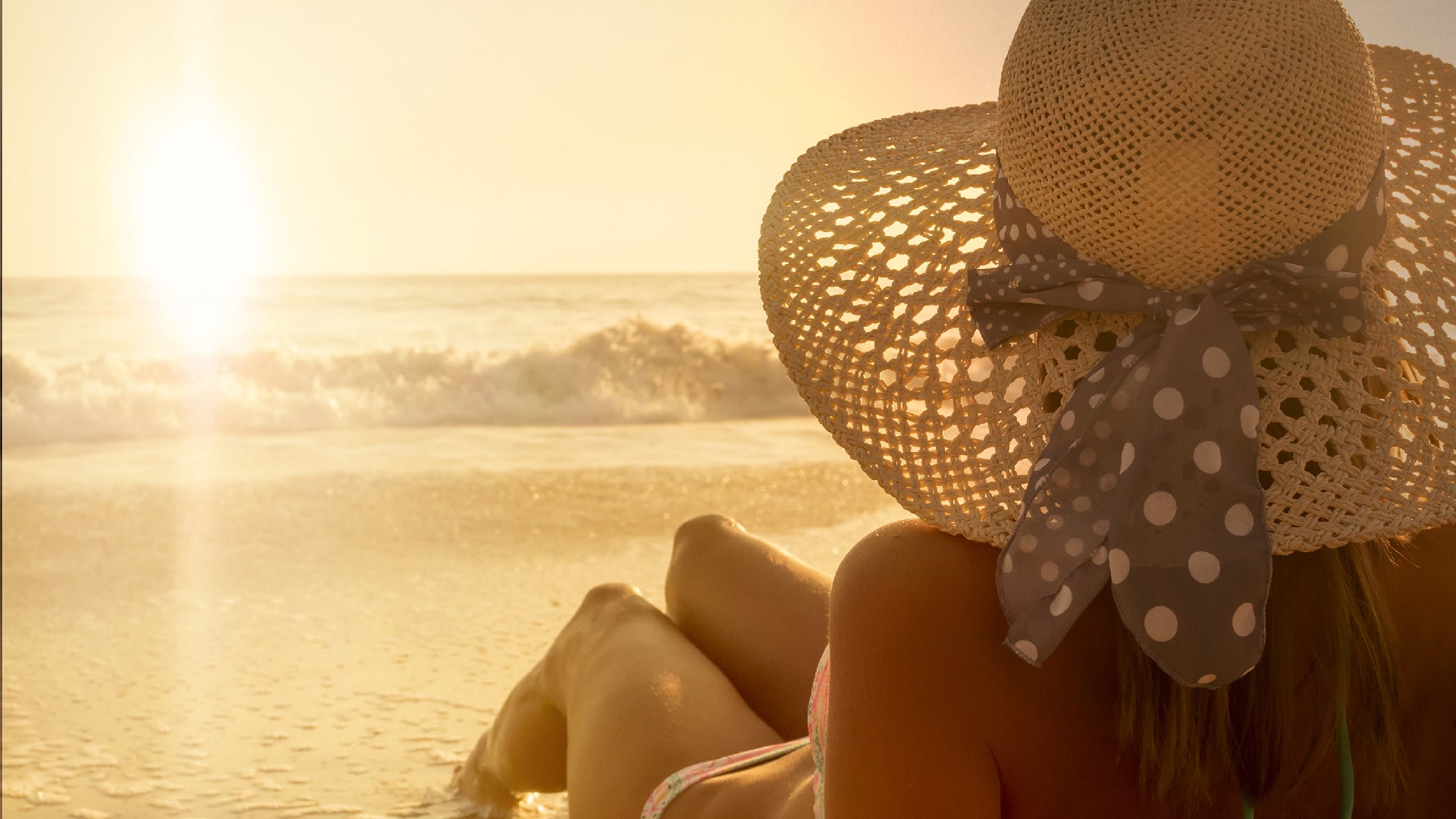 Everything You Need To Know About UV Protection
If you're an SPF-all-year kind of person, hats off to you. But if you're not quite there yet, hopefully we can change that by filling you in on the dangers of the sun's harmful ultraviolet rays.
If only the sun made your skin as happy as your heart. But as delightful as it is to feel the warm rays of sunshine on your skin, the perils of what's going on just below the surface are simply not worth it.
 
The truth is, as far as your skin is concerned, the sun is the enemy. If you suffer with dermatitis or rosacea, you'll be well aware of how heat from infrared radiation can irritate and inflame your skin. And don't even get us started on prickly heat which occurs when blocked pores trap sweat under your skin, causing blisters and bumps that itch and burn like crazy.
No fun at all.
But the sun isn't solely about heat. For where there is sun there is also sunlight. And along with sunlight, comes ultraviolet (UV) radiation – the biggest cause of premature skin aging and skin cancer. Let us explain…
What Is UV Radiation? The Science Bit
The sun is split into many forms of energy called the electromagnetic spectrum. Most of the electromagnetic spectrum is invisible to the naked eye and thankfully the earth's atmosphere protects us from exposure to a lot of the harmful stuff.
But even the light that does reach the earth, which falls mainly in the infrared, visible and ultraviolet parts of the spectrum, has its pros and cons. Infrared radiation creates heat, visible light encompasses everything you see and ultraviolet radiation? Well, other than providing your body with vitamin D which, granted, plays an important role in bone and muscle health, its effects are mainly bad. And they all concern your skin.
But first, it's important to understand the difference between the three types of UV radiation: UVA, UVB and UVC. Bear with us for few more science facts and then we'll move on: promise.
The Difference Between UVA, B and C
UV radiation is split into three types of rays with various wavelengths. UVA rays have the longest wavelength and are able to penetrate right through the atmosphere. UVB rays have slightly shorter wavelengths which means that some get absorbed by the ozone layer, but most work their way through. And then you have UVC rays which are the shortest of the lot and are completely absorbed by the atmosphere. Phew.
This makes your main concerns UVA and UVB rays.
Due to their longer wavelength, UVA rays penetrate right through clouds and windows which means two things. 1. They're present all year round, and 2. They can still get you, even when you're inside. Their wavelength also allows them to penetrate deeper below your skin's surface into the dermis where they can have disastrous effects, producing skin-damaging free radicals, upsetting collagen and elastin production, indirectly harming DNA and accelerating the visible signs of aging such as fine lines, wrinkles, sagging and discoloration.
UVB rays, with their shorter wavelength, are often filtered by clouds and only penetrate the outer layers of your skin. But this doesn't mean they're any less damaging. Far from it. In fact UVB rays are responsible for causing redness, sunburns and directly damaging DNA. They're also thought to be the root cause of most skin cancers.
Protecting your skin from both UVA and UVB radiation, therefore, is super important. In fact, it could not be more important.
How To Protect Your Skin From UV Damage: Your Sun-Safe Checklist
1. Make Sunscreen Your Top Priority
According to the Centers for Disease Control and Prevention, sunscreen is one of the most important ways to shield your skin from damaging UVA and UVB radiation. But it's not enough to grab any old formulation, slap it on your skin and hope for the best. You must also ensure these important details are always top of mind…
Understand Your SPF: Sunscreens must have an SPF (sun protection factor) which denotes how well they block out UVB radiation. SPF 15 blocks around 93 percent with anything above that adding just a small amount of extra coverage. It's generally agreed, however, that SPF 30 is the sweet spot because most of us don't apply enough product! But remember, SPF only speaks to UVB protection, not UVA. This means you must always look for formulations that are labelled 'broad-spectrum' to ensure you have sufficient protection from both. Good news: Our SPF 30 Mineral Sunscreen checks both boxes.  
Don't Scrimp: Speaking of your application, to help you get the protection that's promised on the bottle, you should apply a good two tablespoons to your body and a nickel-sized amount for your face. And if you're in the sun for longer periods of time? Then make sure you reapply every two hours at the very least.
Know That Waterproof Sunscreen DOES NOT EXIST: According to the FDA there is no such thing as waterproof sunscreen because they're always going to eventually wash off. Sunscreen can be water-resistant for 80 minutes at best, so check your product before hanging around in a pool for hours.
Go Mineral, All The Way: The FDA currently deems just two sunscreen ingredients as safe and effective – zinc oxide and titanium dioxide. These are mineral sunscreens that sit on your skin and reflect UV radiation before it has a chance to do damage. This is why our SPF 30 Mineral Sunscreen has been formulated with non-nano zinc oxide. Because it's the best!
2. Cover-Up & Embrace Shade
Broad-brimmed hats, sunglasses, long-sleeved shirts, pants and maxi skirts are great for providing protection from UV radiation so try to cover-up whenever you can and especially during the midday sun. UV radiation is at its strongest between 10 am and 4 pm when the sun's rays have less distance to cover.
Also, make the shade your BFF. Good shade from dense trees, walls, large rocks or an umbrella can protect your skin from around 15 percent of UV light. And that's not to be sniffed at.
3. Avoid Tanning Beds Like The Plague
The sun isn't the only source of UV radiation. Tanning beds use fluorescent lightbulbs that emit a huge amount of UVA radiation, with a little UVB thrown in for good measure. What's more, studies show that this type of artificial UV radiation can be up to three times more intense than natural sunlight.
Add to this the fact that most people don't apply sunscreen before jumping on a tanning bed and this whole sorry affair is asking for trouble.
Say NO to tanning beds. End of.
4. Love Your Vitamins
Exposure to the sun causes free radicals which, as you know, love to ruin your skin, destroying important proteins, breaking down collagen and elastin and making your skin age up lightning fast.
Thankfully, antioxidants are to free radicals what Batman is to the Joker. A total killjoy. Antioxidants like vitamins C and E neutralize free radicals to limit their damage and help keep your skin strong, supple and resilient. We combine these two free radical-fighting powerhouses in our Vitamin C Facial Serum which makes this a great morning treatment to apply underneath your moisturizer and sunscreen to amp up your protection game.
5. Check Your Skin
According to the American Academy of Dermatology, one in five Americans will develop melanoma, the most serious form of skin cancer, in their lives. What's more, the majority of these cases can be attributed to UV exposure. We repeat: protect, protect, protect...
It's also vital to regularly examine your skin and specifically your moles. When caught early, skin cancer has a 98 percent cure rate, so if you notice anything that looks suspicious you should immediately get it checked out by a skin specialist or doctor. Not sure what a suspicious mole looks like? The Skin Cancer Foundation has a great guide here to help you detect the warning signs.