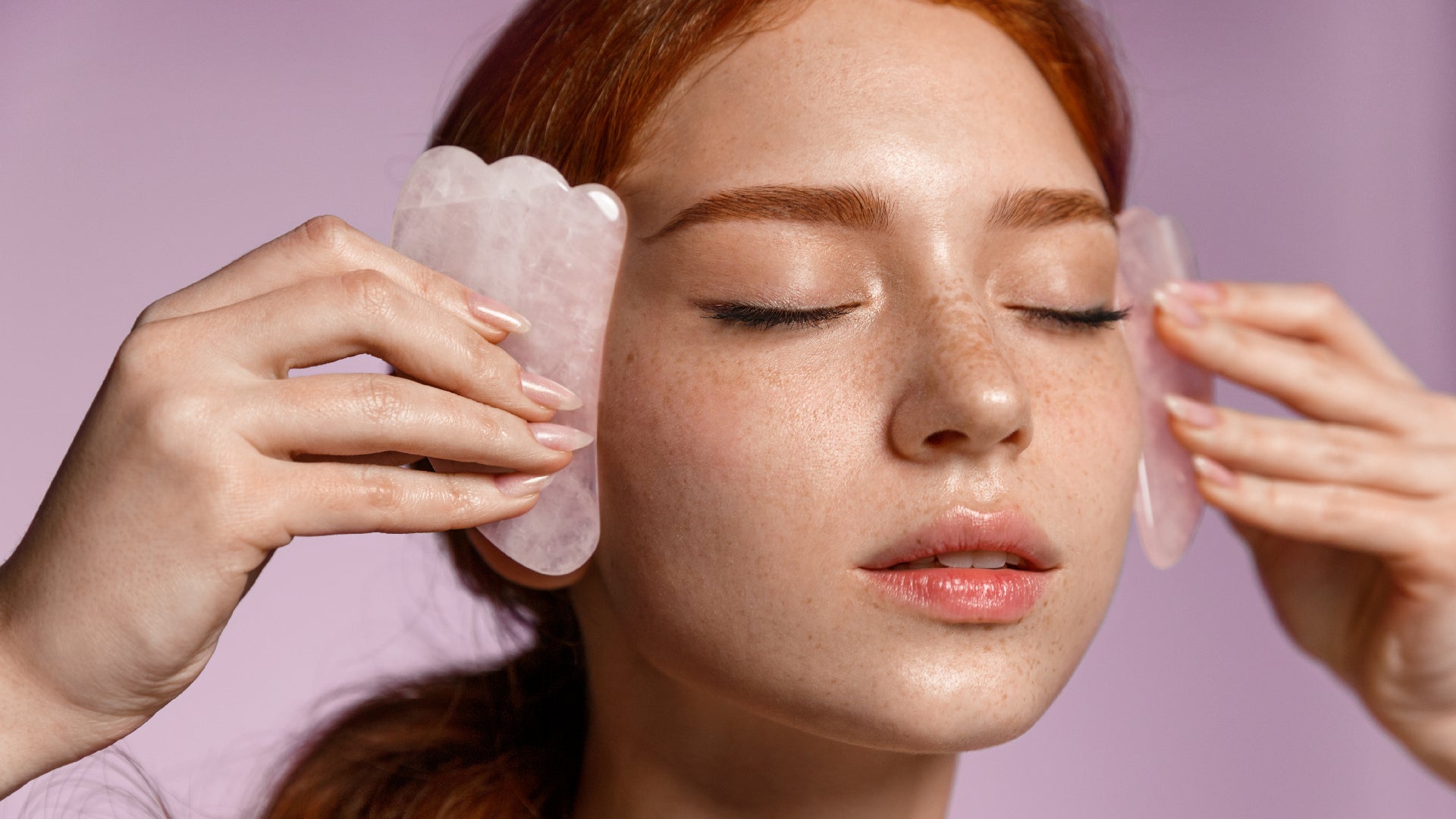 Make The Most Of Your Skincare Tools With These TruSkin Favorites
Ramp up your skincare tools by knowing exactly which skincare products to use with them… and when.
These last few years have seen a massive rise in sales of at-home skincare tools and treatments that give you all the benefits of a spa-like facial without leaving the comfort of your own home. Figures, right? For the most part of 2020 and 2021 your home became your office, your school, your gym, even your hair salon (come on, fess up if you attempted a bad trim/root touch-up last year?). All this meant that popping to your favorite dermatologist or beauty therapist for an hour-long facial simply wasn't an option. So, you started buying stuff to use at home that could help recreate the treatments you'd become accustomed to. And it turned out, most of you quite liked being your own beauty boss. Some of you also became pretty good at using your new skin tool BFF.
However, it's not easy to transform yourself into a whizz at professional-style home treatments. So, if you're yet to figure out how to use your gua sha or derma roller alongside your favorite skincare products, here's our guide to getting it right.
The At-Home Skincare Tool: Cleansing Brush
What It Does: Sonic cleansing brushes and tools use powered bristles that vibrate and pulsate over the surface of your skin. Some use circular motions while others move back and forth, but whatever the technology, this repetitive, time-controlled movement offers similar results: to deeply cleanse your skin, break down dirt and oil, and keep your pores clean and clear. The massaging action has also been shown to help promote a toned, lifted and firmer-looking complexion.
How To Use: Cleansing brushes are extremely simple to use. Moisten your face with lukewarm water and apply cleanser all over your skin – you might need a little more than normal so don't be shy. Next, grab your brush and work it over your face for around a minute. Anything more than light pressure will prevent the bristles from moving properly, however, so go easy. Rinse, dry and you're done. Oh, and we don't recommend using them more than once a day. Too much, people. Way too much.
The Best Skincare To Maximize Results: Of course, a great face wash is your go-to here and we think our Vitamin C Brightening Cleanser is the absolute bomb because it's gentle enough for most skin types and formulated with vitamin C and other potent antioxidants for bright, radiant skin. Exfoliating scrubs should be avoided as these could over-stimulate your skin and cause irritation, dryness and sensitivities.
The At-Home Skincare Tool: Derma Roller
What It Does: Derma rollers are used in microneedling treatments. Microneedling works by using tiny, high-speed needles to produce tiny puncture wounds in your skin. This creates a controlled injury which triggers collagen and elastin production, nudging your skin to renew itself. By doing this, microneedling is said to help reduce acne scars, fine lines, wrinkles and even dark spots. But remember, at-home derma rollers are generally manufactured using shorter needles than the medical-grade ones used by the pros, so be patient with results.
How To Use: Shoving needles into your skin at home might sound like a crazy notion, but derma rollers can be extremely safe to use if you're super careful and follow the instructions to the absolute letter. The first thing to remember is to make sure both your skin and derma roller are totally clean before your treatment, then mentally divide your face into four sections and gently work the roller over small areas within that section two or three times. Rinse your skin afterwards and gently pat it dry.
The Best Skincare To Maximize Results: Microneedling is a great way to help moisturizer and serum penetrate deeper into your skin. Which is good and bad news. First, the bad: microneedling can make your skin sensitive to potent, active ingredients like retinol and glycolic acid – especially if you've not used them before – so tread carefully with anything that could cause a reaction. The great news, however, is that microneedling will really ramp up the effects of some of your less sensitizing, more hydrating ingredients like hyaluronic acid, niacinamide, MSM and vitamin C. We recommend following a derma roller sesh with Niacinamide Facial Serum.
The At-Home Skincare Tool: Ice Globes
What They Do: Ice globes are a bit like jade rollers but, as their name suggests, they're glass or metal wands that have balls on the ends which are designed to be kept in the fridge or freezer. Kind of like rubbing ice cubes all over your skin without the watery mess, ice globes are awesome for the eye area as their globe-like shape makes them easy to negotiate around the orbital bone. However, they're great for soothing redness, minimizing inflammation, boosting circulation and reducing puffiness all over your face. Experts also believe they may help boost collagen to tighten and firm your skin. So, there's that.
How To Use: These are best used in the morning to really wake up your skin and help reduce tired, puffy eyes and skin. Simply grab yours from the fridge or freezer and work it over cleansed, dry skin for 10 minutes or so. Use upwards movements to lift your skin and add radiance, or downwards strokes to encourage lymphatic drainage and reduce swelling, making sure you don't press too hard as this could drag and damage your skin. 
The Best Skincare To Maximize Results: Apply your favorite serum or eye cream before massaging to really super charge all those delicious, skin-loving ingredients. Try Vitamin C Facial Serum to help protect your skin throughout the day.
The At-Home Skincare Tool: LED Facial Mask
What It Does: Loved by the likes of Julia Roberts, Victoria Beckham and Olivia Munn, LED face masks might not be cheap, but, depending on the type of light involved, they've been proven to work on all manner of skin woes including fine lines, wrinkles, dark spots and even acne. They work by using waves of light (usually blue or red) to penetrate your skin and kick-start it to function more efficiently. Red light, for example, promotes collagen production so is great for anti-aging the skin, whereas blue light targets excess sebum to work on reducing acne breakouts.
How To Use: Again, they're all different, but you basically cleanse, tone and moisturize as normal, then power up your mask, select the light you prefer (if there are options), pop the mask over your face and relax. What's more, most masks switch off automatically after 15-20 minutes. What could be easier? Two or three times a week should be about right to give you decent results in just a few weeks.
The Best Skincare To Maximize Results: LED can cause your skin to feel a little dry to begin with so make sure you look after your skin's barrier to prevent unnecessary water loss and help your skin stay hydrated and healthy. Vitamin C Deep Hydration Night Cream is a great shout to apply before bed as this will really enrich your skin with moisture. Perfect the night before (and after) using your mask.
The At-Home Skincare Tool: Facial Gua Sha
What It Does: Pronounced 'gwah shah', this East Asian therapy has been around for hundreds of years and uses a flat, smooth crystal like jade or rose quartz to scrape the skin and move energy (or chi) around the face or body. This form of massage is known to help remove a build-up of lymphatic fluids from the face and around your eyes. It also boosts circulation and relieves muscle tension.
How To Use: Unlike body gua sha therapy which is firm and can cause bruising, using it on your face requires a more gentle approach. Simply place the tool flat against your skin and use the different angles and curves of the tool to fit the contours of your face. Apply gentle pressure and use a combination of long and short strokes across the surface to stimulate lymphatic drainage and reduce puffiness. Start once a week and then build up to more frequent use as you get more into a routine.
The Best Skincare To Maximize Results: To get the most from gua sha, cleanse and tone your skin first, then apply a small amount of facial oil to reduce drag and maintain a smooth surface as you massage your skin. If you want to concentrate on puffy eyes, firstly: great idea. And secondly: apply Hyaluronic Acid Eye Cream first for awesome, eye-rejuvenating benefits.