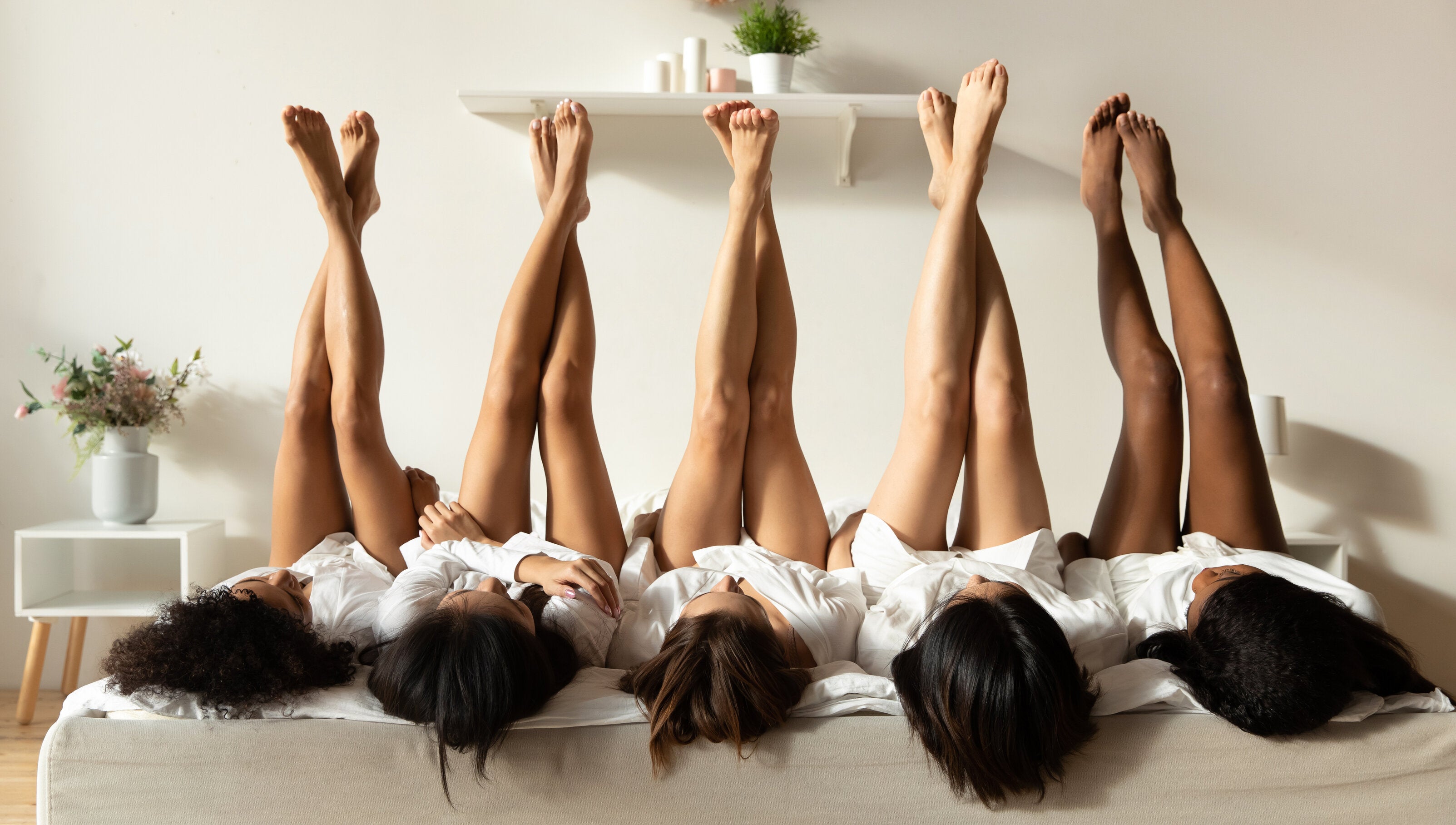 Body Basics: 10 Tricks For Younger Skin From Head-To-Toe
If you're the type of person who lovingly exfoliates, treats and moisturizes your face religiously… but then stops at your chin, congrats on the former, but shame on you for the latter. The fact is: ageless skin should never begin and end with your face.
Obviously, your face is the first area others see and it's exposed to environmental stressors on a daily basis, so needs a lot of TLC. And yes, the skin on your face is also thinner than the rest of your body, making it more delicate and sensitive to the elements. But the thing is, there's so much more to beautiful, healthy skin than just your face.
Think about this: the front of your head accounts for just 4.5 percent of your total surface area. Now, that's a lot of skin going unloved and uncared for – 95.5 percent of it to be precise. Food for thought, right?
So, if you reckon it's time to pour some attention onto that large expanse of skin from your chin to your toes, then good on you. Here's how…
1. Exfoliate All Over
Gentle exfoliation is just as important to your body as it is to your face.
According to the American Academy of Dermatology (AAD), you lose between 30,000 and 40,000 skin cells every day, and if you let these dead skin cells sit around on the surface of your skin, they'll make it look dull and miserable. Nobody wants that. To give your dead skin cells a little nudge in the right direction (ie: down the drain), exfoliate twice a week with a gentle, pH-balanced scrub, or try using a loofah as you cleanse. It really is as simple as that.
2. Try Dry Body Brushing
Dry body brushing is also a great (and inexpensive) way to encourage cell turnover. It works by stimulating both your circulatory and your lymphatic systems. The lymphatic system is what keeps your body's immune system in check by draining and removing dead cells, metabolic waste and toxins. Allow your lymphatic system and your blood flow to become sluggish and your skin will thank you in the form of dry patches, dullness, cellulite, acne and, well, need we go on? Thought not.
To really work both systems, brush your body daily, before showering, working from your ankles upwards and using long strokes or circular motions. Be gentle (it's not supposed to be torture) and avoid open wounds, rashes, varicose veins, freshly shaven legs and sunburn. After a few weeks, guaranteed you'll notice your skin is softer and much more radiant. Plus, any product you apply to your body afterwards is going to be more readily absorbed and therefore way more effective. Gotta love that.
3. Moisturize Daily
Just like the skin on your face, your body becomes drier and itchier in the fall and winter as the climate gets cooler, windier and less humid. So, while you might have been able to 'get away with' not moisturizing from head-to-toe in the summer months, that won't be the case for the rest of the year.
If you buy just one moisturizer this fall, make it TruSkin Vitamin C Moisturizer which is packed with vitamin B5, shea butter, aloe, green tea and pure organic jojoba oil for a lightweight, yet super-effective full body moisturization. Vitamin C also helps fight free radicals and leaves your skin literally glowing. Granted, there's no such thing as a 'miracle' cream, but this one comes darn close. Use it every day after bathing and showering and apply it while your skin is still slightly damp to help lock moisture in.
4. Target Acne
Pimples on your face are bad enough, but when they rear their ugly heads on your back, chest and buttocks? Well, that's just rude. Again, dry skin is often the culprit, especially at this time of year when skin overcompensates for things like dry, cold weather and indoor heating.
To treat acne gently and effectively, target flare-ups with a balancing cleanser and never forget to moisturize with a non-pore-clogging, light lotion. You could also spot treat pimples with products containing benzoyl peroxide, witch hazel or tea tree oil.
Sweating under heavy coats, panty hose and sweaters won't help the acne sitch either, so wash your clothes regularly and wear natural fabrics as much as possible to stop sweat and oils from getting trapped on your skin.
5. Protect Your Hands
Let's get one thing straight, any skin that's not covered up by clothes needs to be protected from the sun – whatever the weather. Love your tinted, SPF 30 moisturizer and wear it all year round, without fail? High-fives to you. But what about your hands?
Oh.
Hands are exposed to the elements just as much as the skin on your face, yet they rarely get looked after or smothered in SPF. The skin on your hands also contains very few hair follicles and only a very thin layer of fat, making it prone to dryness – especially with all the hand washing you're doing these days. Poor mitts, they literally stand no chance.
To keep them hydrated and protected, apply moisturizer after washing your hands and slather sunscreen over the top before going outside.
6. Be Skincare Savvy
Don't be fooled by anti-cellulite or firming creams that over-promise – if they sound too good to be true, they probably are. The fact is, no cream can melt away fat or get rid of your cellulite: that's what surgery and aesthetic treatments are for.
If you are looking to help firm, tone and smooth the skin on your legs and booty, however, dry body brushing (see above) is a great play. Moisturizing your skin daily with an antioxidant-rich lotion that's pumped full of ingredients to boost collagen and elastin production will also go a long way in helping reduce orange peel thighs.
7. Avoid Hot Baths
Although super-tempting on a Sunday night with a glass of red and some relaxing beats, a long soak in a hot bath is bad, BAD news for your skin. Hot water strips the skin of its naturally protective lipid layer, making it super-dehydrated and more susceptible to irritation and sensitivities. And if you're an eczema or rosacea sufferer? Don't even go there.
The longer you're in hot water, the worse it is for your skin, so either stick with warm showers or if you can't give up your weekly soak, limit your bathing time to 10 minutes and add a little lavender or chamomile oil to your tub to help reduce dehydration. Essential oils can be unpredictable, however, so if you've got sensitive skin, tread carefully.
8. Nix Annoying Bumps
Do you suffer with pesky, sometimes itchy little bumps that like to hang out at the tops of your arms or thighs? This is called keratosis pilaris ('chicken skin' to its frenemies) and is caused by a build-up of keratin in the hair follicles.
The best way to treat keratosis pilaris is three-fold. First, avoid abrasive body scrubs in favor of a weekly chemical exfoliation – scrubs will just aggravate the skin and potentially make the situation worse. Second, always moisturize after showering or bathing. And third, try a gentle, topical retinol treatment. Derived from vitamin A, retinol helps increase cell turnover which will prevent keratin from clogging up your skin.
9. Pamper Your Neck & Chest
While the skin on most of your body is thicker than your face, this is the opposite when it comes to the skin on your neck and décolletage. And not only is it thinner, but it has fewer sebaceous glands, so if you leave it to its own devices it'll feel dry and age quicker than you can say, 'time for a neck lift.'
The trick is to treat these areas as you would your face. Whenever cleansing or exfoliating, smooth any extra product down your neck and over your chest area. Similarly, treat them to a little of your facial serum every now and again, especially if it's a brightening one – the décolletage is particularly prone to dark spots.
Lastly, moisturize both your neck and chest area daily with an antioxidant-rich moisturizer containing hydrating ingredients like hyaluronic acid or ceramides.
10. Add A Little Glow
A vacay tan might not be an option right now, but that doesn't mean your skin can't have a little bit of a glow. Granted most of your skin is going to be covered up during fall and winter but that 'aint necessarily so, so if you fancy self-tanning (especially for the holidays), we say go for it.
If you've followed these tips, you'll already have the ideal base for a flawless tan, so grab a tanning mitt to protect your hands and go. Just remember to work on clean, dry skin and other than your knees and elbows, leave your skin unmoisturized because oily residue will cause the color to streak.