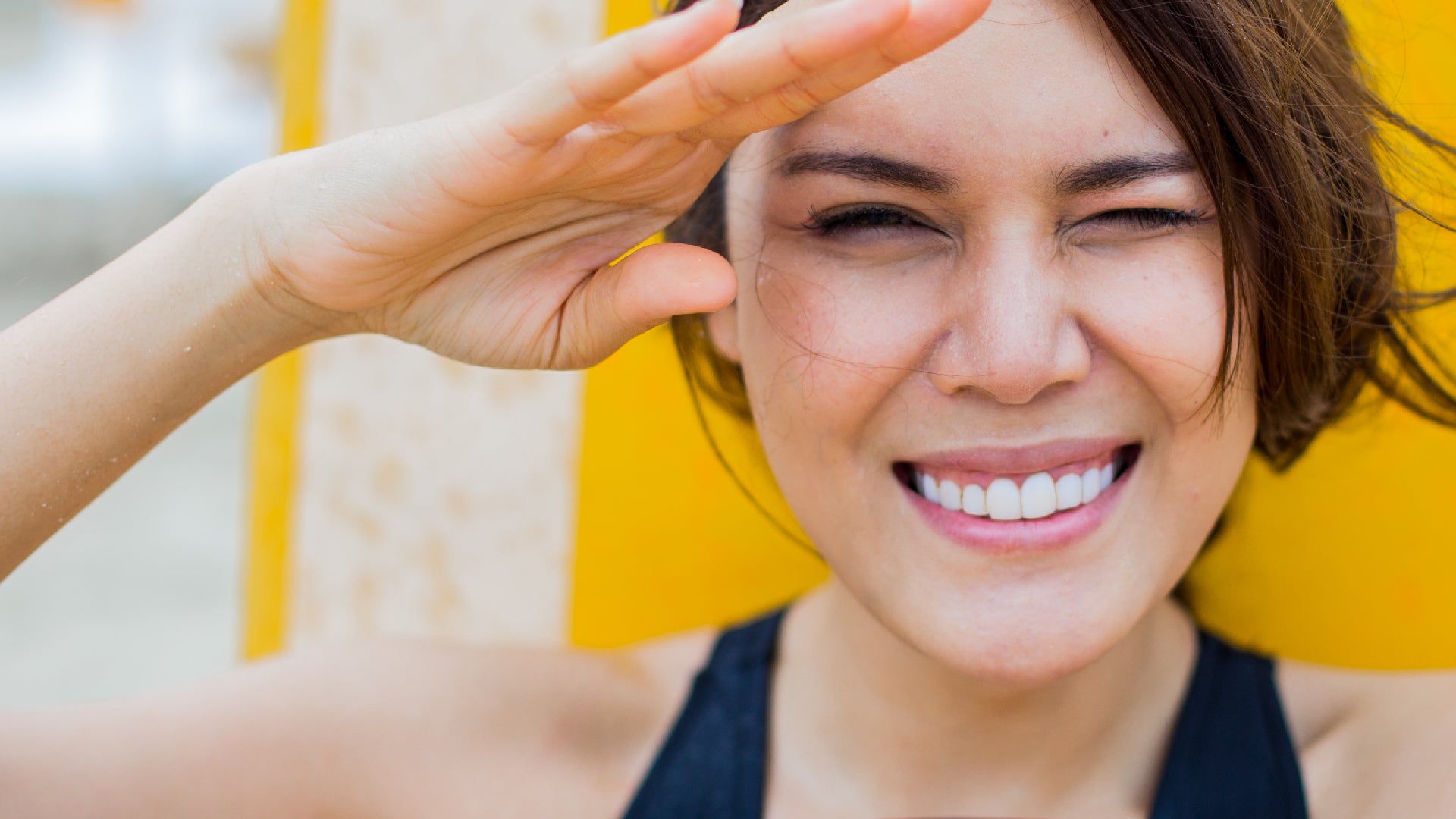 Why You MUST Apply Sunscreen All Year Round
Oh sunscreen: you've got to love it for its valiant effort in the war against wrinkles. But, actually wearing it on a daily basis? Kind of annoying, right? Well, not any more. Say hello to one of the latest additions to the TruSkin family, SPF 30 Mineral Sunscreen with Vitamin C.
Facial serums are awesome for fighting off environmental nasties and targeting all manner of skin concerns. Toners are also fabulous for treating your skin and preparing it for moisturizer. But in terms of non-negotiable essentials, the big three are, without a doubt, cleanser, moisturizer and sunscreen. After all, without a daily ritual of keeping your skin clean, moisturized and protected, you may as well not bother with the rest.
Now, all this chat isn't meant to make you throw away your much-loved skin allies. Far from it. Serums, eye creams, toners and oils are extremely powerful tools for flooding your skin with hydration, antioxidants, peptides and nutrients. What we're trying to stress, however, is the importance of the skincare fundamentals.
And sunscreen is one of, if not THE most important of those fundamentals.
The Importance Of Daily Sunscreen
Speak to any beauty editor, dermatologist or skin expert and they will undoubtedly agree on one thing: daily, broad-spectrum sunscreen is crucial if you care about maintaining healthy skin. It's the most important way to ward off the signs of premature aging (beware dark spots, lines and wrinkles), but not only that; according to the Skin Cancer Foundation, regular use of SPF 15 can reduce your risk of developing certain skin cancers by as much as 50 percent.
And it's not just when you're lounging on the beach or picnicking in the park that sunscreen is important. In fact, you should really be wearing it on exposed skin every day of the year. Dramatic? Not even. The sun is present even when it's cold outside because sunshine is about light, not just heat. So, while you might not feel the sun beating down on your skin on cold, cloudy days, it's still there doing its thing. If it wasn't? Well, frankly, it would be nighttime. UVB rays (the ones that burn your skin) are strongest in the summer, for sure, but they can still burn your skin if you're not careful. What's more, those equally-as-treacherous UVA rays (that ones that are responsible for deeper skin aging) are constant all year – rain or shine, blue skies or clouds. In fact, according to the American Academy of Dermatology, up to 80 percent of the sun's harmful UV rays can penetrate right through clouds.
Mic. Drop.
Your New BFF In The Fight Against Sun Damage
No matter how many times we talk about the damaging effects of the sun, it's clear that applying sunscreen every day can seem like a real chore for many. We've heard all the excuses in the book, from 'sunscreen makes my skin breakout,' to 'I don't have time for yet another step in my morning routine.' Well, we hear you. And this is why we decided to launch our very own SPF 30 Mineral Sunscreen to help deal with the damaging effects of the sun while being a product you might actually want to use.
Stacked with skin-protecting ingredients like our favorite free-radical-busting antioxidant, vitamin C, along with vegan marine collagen to enhance elasticity and moisturization, and aloe vera juice to soothe and shield the skin, SPF 30 Mineral Sunscreen can be used on top of moisturizer or instead of – your choice. If your skin is super-dry, you'll love it as an addition to your Vitamin C Brightening Moisturizer, but many customers say they use it instead of moisturizer, applying it after their favorite hydrating serum to lock in moisture and protect their skin. So, that extra step you didn't want to deal with? Done.
The Secret Sauce
Recently awarded one of the Absolute Best New Sunscreens for 2022 by Stylecaster, the secret to SPF 30 Mineral Sunscreen's success is its smart non-nano zinc oxide formulation. Bear with us for a minute while we explain the science.
As you probably know, there are two main kinds of sunscreens available: chemical and mineral. Chemical sunscreens use chemical ingredients (dur!) like octisalate and oxybenzone to absorb UV radiation and help protect your skin from the sun. The problem with these are that they can be irritating for acne-prone or sensitive skin. Plus, the FDA is still unsure as to their safety and effectiveness. That's what we call a major red flag, right there.
Mineral sunscreens, on the other hand, contain, yes you guessed it, minerals like zinc oxide and titanium dioxide which instantly block the sun's rays. These naturally protect your skin from both UVA and UVB radiation and are very well tolerated by all skin types. The only downside to mineral sunscreens? They've traditionally felt thick and sticky to apply and often leave a white residue on the skin. Many mineral sunscreens use nano-sized zinc oxide because its tiny size means it's less whitening on the skin. The only problem there is, is that certain studies indicate that nano particles have the potential to negatively affect the environment, causing harm to marine life.
As you know, we're not down with that. At all. Which is why we worked out a way to formulate non-nano zinc oxide into our SPF 30 Mineral Sunscreen. A non-whitening, lightweight cream that won't leave your skin feeling heavy or weighed down. It's also cruelty-free, vegan friendly and reef-safe, which makes it the perfect addition to anyone's morning routine.
Fast becoming a TruSkin fan favorite, now you have NO excuses not to protect your skin from sun damage every day of the year.
Literally none.