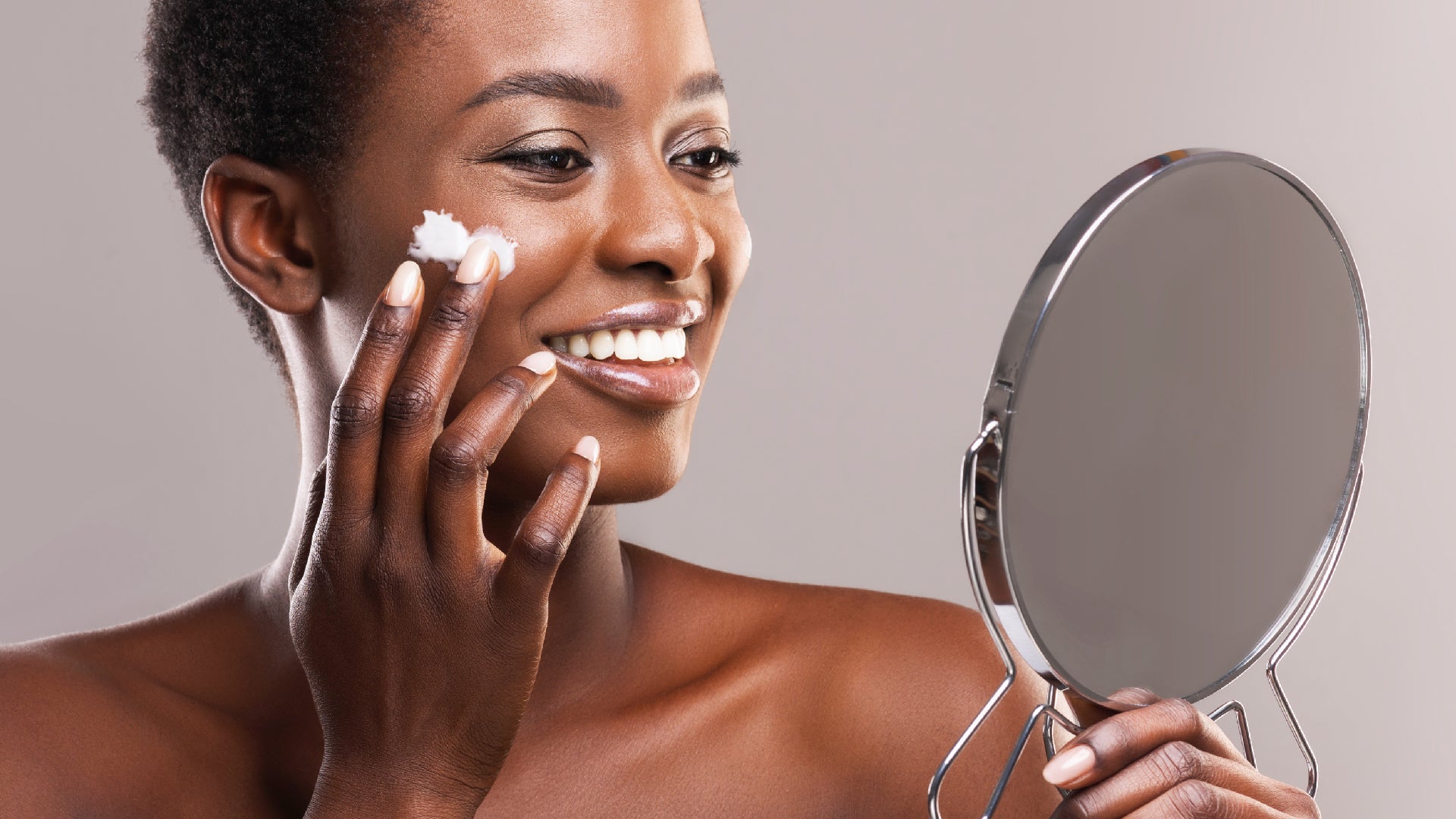 The Importance Of A Consistent Skincare Routine
No matter your skin type or concerns a consistent routine is the only way to maintain the fabulous skin you deserve.
We may live in a world of filtered, unrealistic Instagram photos but, here at TruSkin, we're all about enhancing your REAL skin. Sure you might hate your greasy t-zone, dark spots, crow's feet or frown lines but the truth is, these small (and we stress 'small') imperfections do not define you and don't need to be hidden behind. You are so much more than the odd wrinkle or chin pimple. You are awesome, and that's something to be celebrated.
Now don't start rolling your eyes in a 'that's easier said than done' fashion – hear us out because we have our own skin woes to bear, too. The thing is, we've learned over the years that you may not have the skin you had 10 years ago and this understanding is the first and most important step to being happy in your skin. Instead of reminiscing about your plump teenage skin, it's all about working with what you have right now.
But how do you successfully do that? Well, we truly believe that looking after your skin with a consistent skincare routine is the absolute foundation for an awesome complexion. What does a consistent routine mean? Thankfully it doesn't mean standing over your vanity for hours on end applying an infinite cocktail of products day and night.
In fact, a solid, effective skincare routine requires just six products...
1. Cleanser
Cleansing your skin is often thought of as kind of a must, but not really that important in the grand scheme of things. Big mistake. If you don't get rid of all that debris, you might as well throw the rest of your products away because they won't work to the best of their abilities if they have all those surface nasties to get through.
We believe there are three important things to remember when cleansing your skin. 1. Choose formulations that aren't loaded with chemicals and are free of irritating ingredients like sulfates, parabens, silicones and PEGs because these can upset your skin's important barrier function and exacerbate dryness, dehydration, redness and breakouts. No matter your skin type, gentle is always the way to go. Try Vitamin C Brightening Cleanser which is perfect for daily cleansing.
2. Use only room temperature water. Anything too hot will also compromise your barrier function and have the same disastrous results. And 3. Take your time as you cleanse. Splashing your face, throwing a bit of cleanser at your skin and immediately rinsing it away is not going to do a great job. Instead, use your fingers and hands to massage your skin for a good couple of minutes to stimulate blood flow (hello radiant skin) and encourage lymphatic drainage (ditto!).
2. Toner
Hate the thought of drying out your skin with toner? Well, get that entire idea out of your head right now, because these days facial toners are so much more than alcohol-fueled lotions designed to suck all the life out of your skin. They're actually an important step in your routine and, depending on your skin type, the benefits of a facial toner are endless. They can be saviors if you're looking to balance, hydrate, calm or soothe your skin. And then some…
Our Ocean Mineral Super Toner, for example, floods your skin with skin-boosting treats like glycolic acid, vitamin C, MSM and botanical extracts. Even better news: simply spritz it on your skin after cleansing and this entire step is done and dusted in a matter of seconds.
3. Serum
Straight after toning comes your treatment serum. Serum should always be applied before eye cream and moisturizer because it's lighter in consistency so needs cleaner, bare skin in order to do its job properly. Apply moisturizer first and it literally stands no chance of penetrating your skin.
Another fact for you: serum is a vital part of anyone's skincare routine. How so? Because its small, molecular structure means it can deliver active ingredients to your skin way quicker and deeper than regular moisturizer.
If you're not sure where to start with serum, don't sweat it: we have an incredible collections of facial serums to suit every skin type. Looking for a gentle, antioxidant serum that won't irritate your sensitive skin? Then our Niacinamide Facial Serum is right up your alley. Searching for an awesome all-round anti-ager to boost your flailing collagen supplies? Then look no further than our new Peptide Facial Serum. Whatever your needs, we've totally got your back. Just remember to only apply a couple of drops to your face and neck, and gently smooth or press it into your skin for the best results. Oh, and don't forget to patch test first – serums are pretty potent so you should always make sure any new one is compatible with your skin before using it on the reg.
4. Eye Treatment
After allowing your serum to settle for a minute or so, apply an eye treatment. The skin around your eyes is notoriously dry and fragile making it very susceptible to the slings and arrows of everyday life – ie: sun damage, environmental pollution, stress and lack of sleep. Face moisturizer, however, can be a little heavy for this area, so stick with an eye treatment that's been specifically created to treat the delicate skin around your eyes.
The golden rule when applying eye cream is that less is more – just a pea-sized amount will take care of both eyes easily. And don't be too heavy-handed as you apply it. A great trick is to use your ring fingers to dab it around your eyes. This automatically forces you to use a lighter touch.
We have two equally awesome eye treatments: Peptide Eye Gel and Hyaluronic Acid Eye Cream, so take your pick. You can't go wrong with either!
5. Moisturizer
Water makes up around 64 percent of healthy skin so it's vital you help your skin stay hydrated 24/7. And moisturizer is the best/only way to do this. Serums are fabulous, for sure, but they don't contain the slightly richer emollient ingredients that seal hydration into your skin and help reduce transepidermal water loss (TEWL).
Look for kind-to-skin formulations that contain a combination of ingredients to both hydrate your skin (aloe vera, glycerin and hyaluronic acid) and lock in moisture (shea butter, jojoba oil and friends). Try Vitamin C Brightening Moisturizer for the morning and Vitamin C Deep Hydration Night Cream before bed.
At night, moisturizer should be the final step in your routine, but in the morning there's one final step to come. And it's a VERY IMPORTANT one…
6. Sun Protection
Last, but by no means least, is sunscreen. Yes, applying SPF can seem like a chore but rain, shine, blue skies or gray, sunscreen is non-negotiable every day of the year. The facts are, it's the most important (and effective) anti-aging product you could ever use and it can reduce your risk of developing skin cancer by up to 50 percent.
According to the Skin Cancer Foundation, you should choose a broad-spectrum formulation that offers a protection of at least SPF 15 (preferably 30), and you must apply around a nickel-sized amount to your face every morning. Sounds like a bore? Then try our brand new SPF 30 Mineral Sunscreen which is lightweight, easy to apply and bursting with skin goodies like vitamin C, aloe vera, vegan marine collagen and the king of sun protection, zinc oxide.
Now For The Hard Bit…
Once you've got all this down, the important thing is to stick with your chosen routine – morning AND night. Too tired to wash your face before bed? Tough. Can't be bothered to apply sunscreen in the morning? Unlucky. The bottom line is that if you want to enjoy your best skin for as long as possible, you have to keep at it.