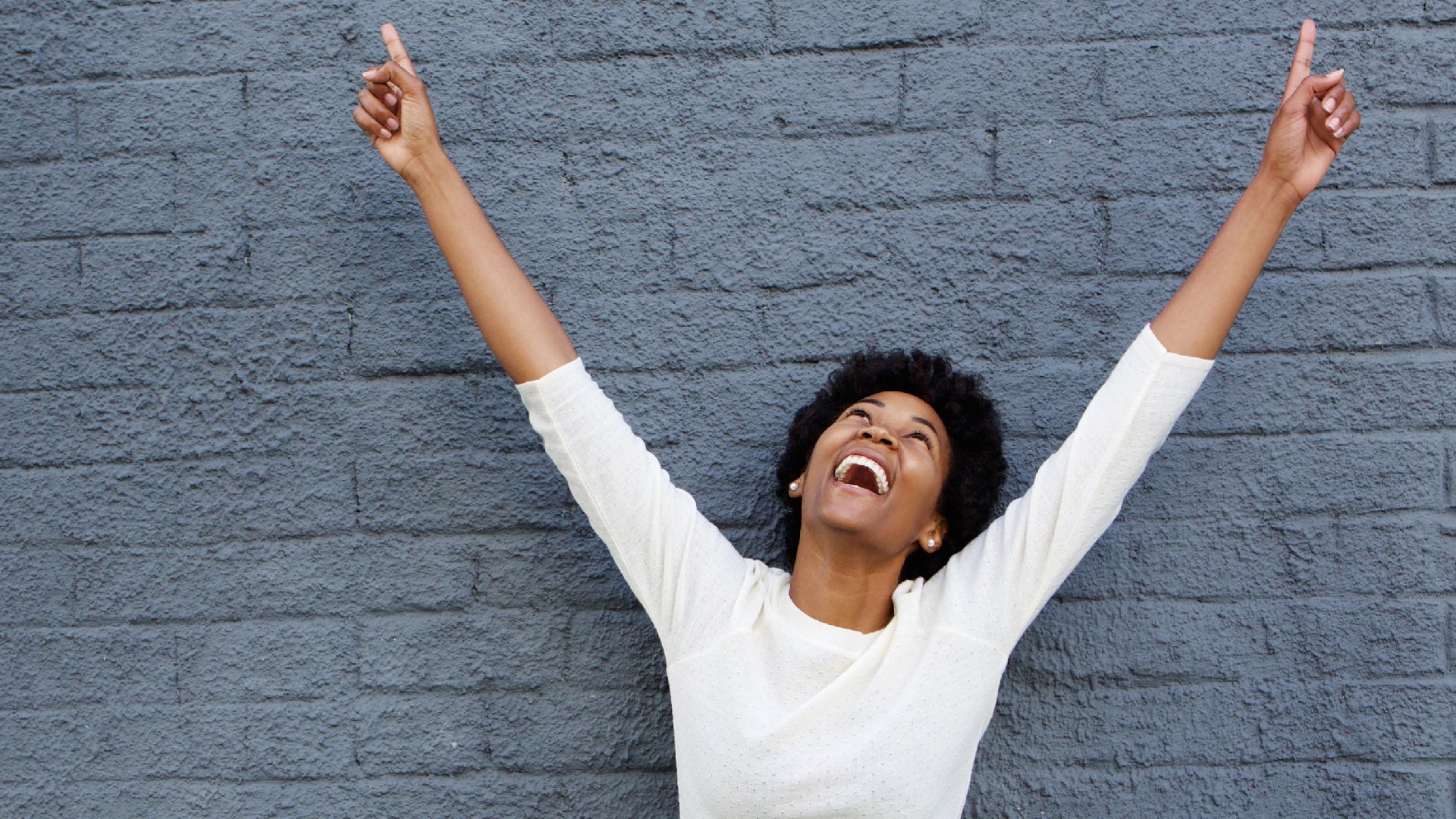 Good News! Your Skincare Goals Just Got Closer
Realistic skincare goals are the bomb. Because there's always room for improvement when it comes to the look and feel of your skin.
Let's get one thing clear. Striving for skin perfection is not something we subscribe to here at TruSkin. Better skin? Sure. But perfect skin? Hell no. In fact, does that even exist outside Hollywood movies and retouched glossy magazine covers? Probably not.
That being said, there's nothing wrong with wanting to improve what you've been blessed with. That's just human nature. Whether you're done with your dull, lackluster skin or totally over your monthly breakouts, these are the kind of skin issues we can get on board with. Because wanting better things for your skin is realistic. It's also attainable – especially when you're armed with the right tools and a side of skincare knowhow.
On that note, read on for five of the most common skin goals – plus how to flip them into reality…
Skincare Goal #1: Glowing Skin
Dull skin that lacks radiance hits us all at some point. And whether it's a temporary, day-after-the-night-before blip or a more long-term grievance, dull skin is usually related to one big issue: dehydration.
Dehydration can be a problem for any skin type – dry or oily – and it happens when your skin isn't retaining enough moisture. Not to be confused with dry skin, which lacks sebum, dehydration occurs thanks to things like cold weather, stress, a lack of sleep, poor skincare choices and surprise, surprise, sun damage. Basically anything that screws up your barrier function and compromises your skin's ability to hold onto water.
But dehydration isn't the only reason your skin might look kind of sad. Poor cellular turnover can also be an issue. Healthy, adult skin has a turnover rate of around 28 days (give or take) but as you age, this gets longer as your skin cells become sluggish and dead ones hang around longer than necessary.
To help get your glow back, we recommend two important things. First, increase your skin's moisture levels by applying a hydrating serum twice daily. Try one that contains ingredients like hyaluronic acid or aloe vera. We love Hyaluronic Acid Serum when our skin is feeling thirsty.
Second up, add a little gentle exfoliation into your skincare routine. Our Charcoal Clarifying Cleanser is a great choice because it contains citric acid, a chemical exfoliator that helps dissolve the bonds that bind dead skin cells together.
Skincare Goal #2: Smaller-Looking Pores
Pores are kind of annoying, we agree. But they're actually super important for your skin to function so don't give them too much of a hard time, OK?
Your body has two types of pores: those that produce sebum (oil) and others than produce sweat. Oil-producing pores are tiny little openings found at the top of your hair follicles where they release sebum to moisturize and soften the skin. 
This may sound innocent, but the problem starts when your sebaceous glands produce too much sebum than your skin really needs, causing your pores to stretch and become blocked. This is very common for oily and combination skin types, but here's the thing – your pore size is determined by genetics which means that, no matter what you do, you can't physically shrink them. However, there are many things you CAN do to help strengthen and firm your skin, and simultaneously help keep your pores in decent shape.
Keeping your skin clean and your pores clear of excess oils, makeup, sunscreen and the like is your most important play, but don't go too nuts. Gentle is the key. Try our new Tea Tree Super Cleanser+, followed by Ocean Minerals Super Toner for a pore-kicking cleansing routine that won't strip your skin completely dry.  
Skincare Goal #3: Less Visible Wrinkles
As the most common signs of aging, fine lines and wrinkles are a bugbear we all have to face at some point. And while it's easy to say, 'don't worry about them,' it's much harder to actually put that into practice.
Lines and wrinkles usually appear on and around areas of the face that experience repeated muscle movement. This is because repetitive motions like laughing, frowning and smiling cause weaknesses and dips in the skin which, as your skin matures and it loses valuable proteins, don't bounce back like they used to.
Once wrinkles start to set-in, they're pretty tricky to eradicate with skincare products alone, but the best way to keep them at a minimum is to look after your collagen levels. And this is where the mighty retinol steps in.
Retinol is the gold-standard of skincare because it actually 'communicates' with your skin at a cellular level, encouraging it to rev up collagen and elastin production, accelerate cell turnover and neutralize skin-damaging free radicals. Pretty good stuff.
Try applying our awesome Retinol Facial Serum nightly (after patch testing, of course) to improve the appearance of your fine lines and wrinkles – and to help stop new ones from forming!
Skincare Goal #4: Fewer Breakouts
Pimples, spots, zits, breakouts, whatever you call them, welcome they are not. So annoying, then, that acne is the most common skin condition in the US and affects around 50 million of us every darn year!
Acne rears its ugly head (pun absolutely intended) when your pores get blocked up with an excess of sebum that mixes with dead skin cells and bacteria. Thanks to genetics, you're either susceptible to acne, or you're not. But plenty of other triggers can contribute to the frequency and severity of your breakouts. Hormones – yeah those again – are a major trigger, as is stress.
Obviously you can't miraculously change your genetic makeup but there are plenty of skincare ingredients and helpful tricks for treating and controlling your breakouts. Our absolute go-to is Tea Tree Super Serum+ which combines tea tree oil with salicylic acid and niacinamide to create a powerful, yet gentle way to balance your skin and deal with unwanted pimples. Tea tree is one of the best ingredients for acne as its anti-inflammatory, antimicrobial AND way less irritating than things like benzoyl peroxide. What's more you only need to apply it two or three times a week to see experience visible results.
Skincare Goal #5: A More Even Skin Tone
Fed up with dark spots that are totally killing your skin's mojo? Dark spots, aka hyperpigmentation, appear when your skin produces too much melanin which is the pigment that gives it its color. The three main triggers are your hormones; skin trauma like a bite, burn or pimple; or the sun.
We like to blame the sun for all manner of things where the skin is concerned. But this is totally legit for it really does have a lot to answer for. Dark spots included. Even if the sun wasn't the original trigger, the sun makes any dark spot so much worse in the long run.
This is why protecting your skin from the sun's evil rays is the single most important thing you can do for dark spots and patchy skin. Broad-spectrum sunscreen is a must (hi there SPF 30 Mineral Sunscreen with Vitamin C) but don't dismiss antioxidants, either, which have a very clever way of neutralizing free radical damage and shielding your skin from cumulative photodamage. Our go-to is always vitamin C which not only protects your skin from damage but also helps to fade the appearance of uneven skin that's already come and bitten you on the butt! Try our classic Vitamin C Facial Serum twice daily, swapping it out for Vitamin C Super Serum+ two or three times a week, to really hit dark spots where it hurts.