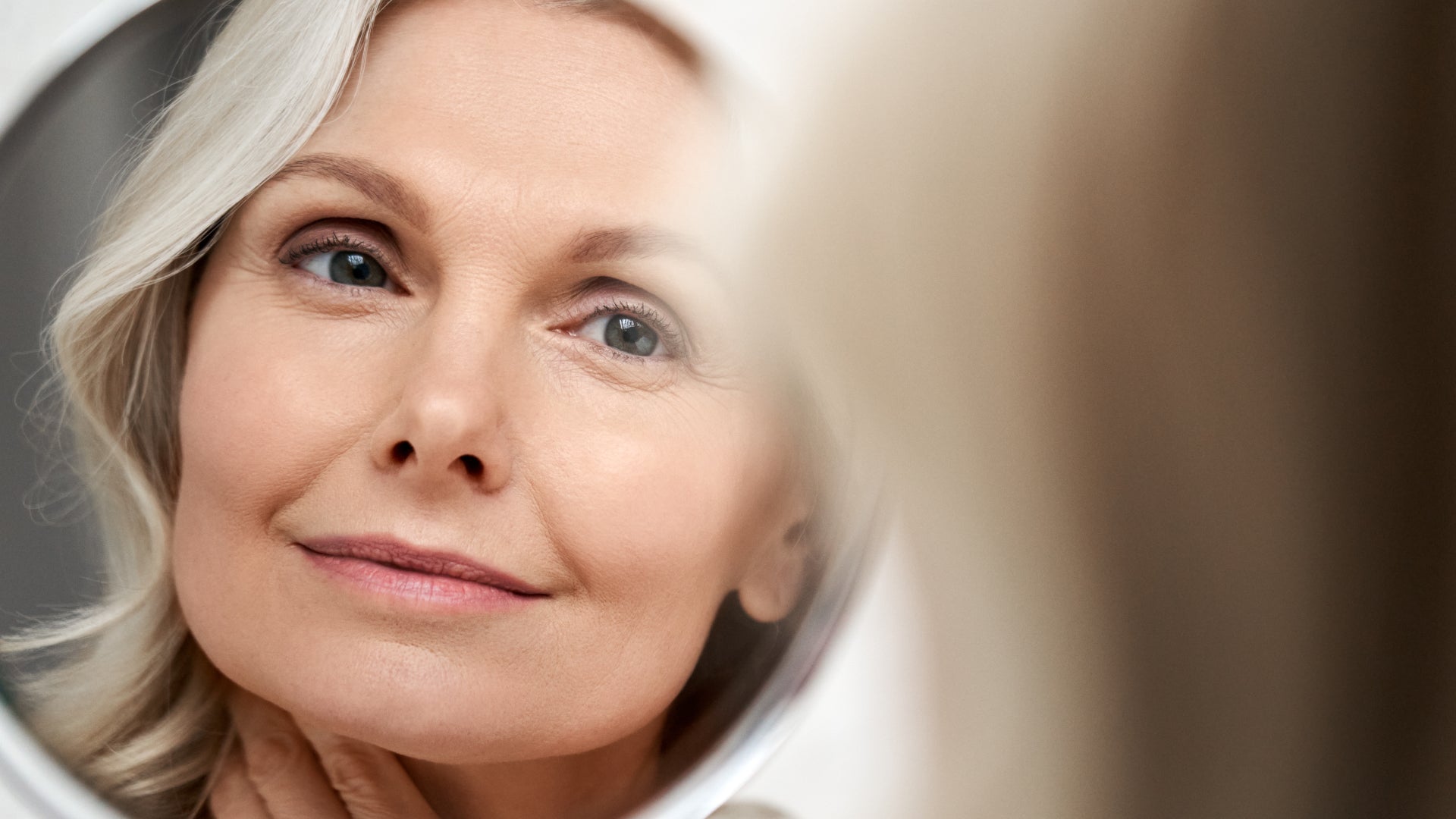 Why Everyone's Talking About Skin Barrier Protection
Skin barrier protection is on everyone's lips right now. Why? Because this uppermost layer of your skin is a real workhorse – and it needs looking after if you want it to function properly. Here's how…
Like many skincare brands, beauty blogs and glossy magazines, we often talk about the skin barrier. It's super important for the health of your skin. Which means it's also super important for how your skin looks and feels on a daily basis.
But what is this elusive skin barrier? And why does it play such a vital role? Well, your skin's barrier is basically its uppermost layer – the very top of your epidermis that's made up of around 20 layers of cells and known in the beauty biz as the stratum corneum. This top brick wall-like layer arguably works harder than the rest of your skin put together because it acts like a security guard to protect your skin and your body from the outside world, preventing moisture from getting out and external irritants from getting in.
Of course, the aging process weakens your skin's barrier as it naturally loses vital moisture, ceramides and cholesterol over time. Which is a bummer. And if you suffer with sensitive skin? Well, that's got a lot to do with having a thin or compromised barrier that's unable to effectively keep pesky irritants like pollution, toxins, UV radiation and harsh chemicals at bay. These environmental stressors not only cause things like irritation, dryness, dehydration and redness for your skin, but they simultaneously keep chipping away at your skin's barrier function, weakening it and making it even more prone to damage.
The basic premise is this: you must keep your skin barrier thick and resilient if you're serious about achieving and maintaining healthy, strong skin. An efficient, hardworking barrier will make your skin look far better than one that's not doing so well – think radiant, smooth, even... you know the drill.
So, want more intel on how to protect your skin's all-important barrier? Read on for our five golden rules…
Rule #1: Pare Back Your Skincare Routine
Gosh, it's tempting to lavish your skin with every vitamin, acid and goodness knows what other skin-loving ingredients you can get your hands on. And while complicated skincare routines might sound awesome in theory, too much of a good thing can reap disastrous results – especially where your skin's barrier is concerned.
The key to a solid barrier-strengthening regimen is to keep it simple, yet effective. Easier said than done? Actually, no. Just avoid overloading your skin with tons of serums, essences, oils and potions containing active ingredients that could work against each other and irritate your skin. It's as simple as that, really. Stick to a basic cleansing, toning and moisturizing routine, and add in just one treatment product, two at the absolute max – one for use in the morning and one for nighttime.
Our favorite serum for nourishing barrier function is Niacinamide Serum. Niacinamide has been shown to help boost ceramide production and is one of the best antioxidants for sensitive skin. Apply it before moisturizer for fabulous results.
Rule #2: Up Your Moisturizing Game
Moisturizers are key for hydrating the top layers of your skin and preventing transepidermal water loss (TEWL). And as you know, moisturizing is an important step in any skincare routine – whether your skin is oily and prone to breakouts, dry and itchy, or somewhere in between.
When it comes to skin barrier protection, the key is to find an effective moisturizer that's packed with reparative ingredients like glycerin, hyaluronic acid, ceramides and botanical oils rich in essential fatty acids. We love Vitamin C Brightening Moisturizer.
Extreme dryness can seriously damage your skin's barrier, leaving it vulnerable to external aggressors like pollution, UV radiation and the like, so if your barrier function has gotten out of whack and you're experiencing a lot of dryness and abnormal sensitivities, moisturizer alone might not be enough. This is where a barrier cream may be needed. Barrier creams not only hydrate the skin and prevent dryness, but they also provide a kind of protective seal over your skin to repair damage, allowing your barrier to heal itself and therefore do its job better.
Rule #3: Press 'Go' On The Ultimate Protection Plan
Supercharged moisturizing is all well and good for building up your barrier function and healing your skin, but you also want to prevent further damage, right? Right. Well, on top of applying a broad-spectrum sunscreen every day, another great way to do this is to incorporate a topical antioxidant into your daily routine.
Antioxidants are the bee's knees at neutralizing cellular damage caused by environmentally-induced free radicals. This means they're a must if you want to look after your valuable collagen and elastin supplies. And, btw, you absolutely do want to look after collagen and elastin because they're crucial for the integrity of your skin's barrier – and your skin's health, in general.
But as we mentioned, don't overcomplicate your routine by bombarding your skin with too many antioxidant treatments. Find one you love for the morning (vitamin C is awesome!) and apply another before bed. Our Retinol Serum is a fantastic overnight treatment boasting antioxidants known to boost cellular turnover for stronger, brighter skin. Retinol can be potent, however, so always patch test it first and introduce it slowly into your routine to make sure you don't compromise your skin's protective barrier.
Rule #4: Try Not To Stress The Small Stuff
Stress is an ugly beast when it comes to your skin's barrier. Not only has it been proven to deplete your skin's production of healthy oils and valuable moisture, but stress also alters your skin's pH level, produces unnecessary free radicals and triggers various hormones (hi there, cortisol), which can result in inflammatory reactions and all sorts of consequences like itching, redness and flaking skin. Stress has also been directly linked to chronic skin conditions including rosacea, psoriasis, acne and eczema. All of which are barrier issues. Sigh.
Managing stress isn't simple and unfortunately, there's no solution that fits all. You could be totally into meditation or you might hate the thought of it. But try to think of something that relaxes you and do this for a good amount of time, every day. Perhaps it's reading a book, deep breathing, or going out for a walk. Even just watching your favorite show. Whatever your jam, find time to regularly do it. Honestly, this is the best place to start. And your skin will thank you for it.
Rule #5: Say A Big NO To Harsh Skincare Ingredients
We believe some ingredients have no place on your skin. Cleansing detergents like sodium laureth sulfate (SLS) and sodium lauryl ether sulfate (SLES), for example, alter your skin's pH and strip your barrier of essential oils. Yes, they're fabulous at getting rid of built-up dirt and debris, but tbh, they're almost TOO good, so they end up leaving your skin's barrier fragile and weak. The good news is we don't include such nasties in our face washes, so you know you're getting good and clean with Vitamin C Brightening Cleanser or Charcoal Clarifying Cleanser.
While we're on the subject of too much of a good thing, you might want to avoid synthetic fragrance in your skincare (which can seriously irritate sensitive skin) and try cutting back on physical exfoliation with things like cleansing brushes, mitts and abrasive scrubs. These can also upset your skin's barrier if not used with care.
Of course, we can't leave before finally mentioning a few other lifestyle habits that can do a real number on your skin's barrier. Smoking, cruddy sleep and a poor diet are just a few and we're sure you can think of many others – one of which starts with an 'a' and ends with an 'l'.
The simple answer to this whole skin barrier protection game? Be nice to both your body and your skin. That is all.