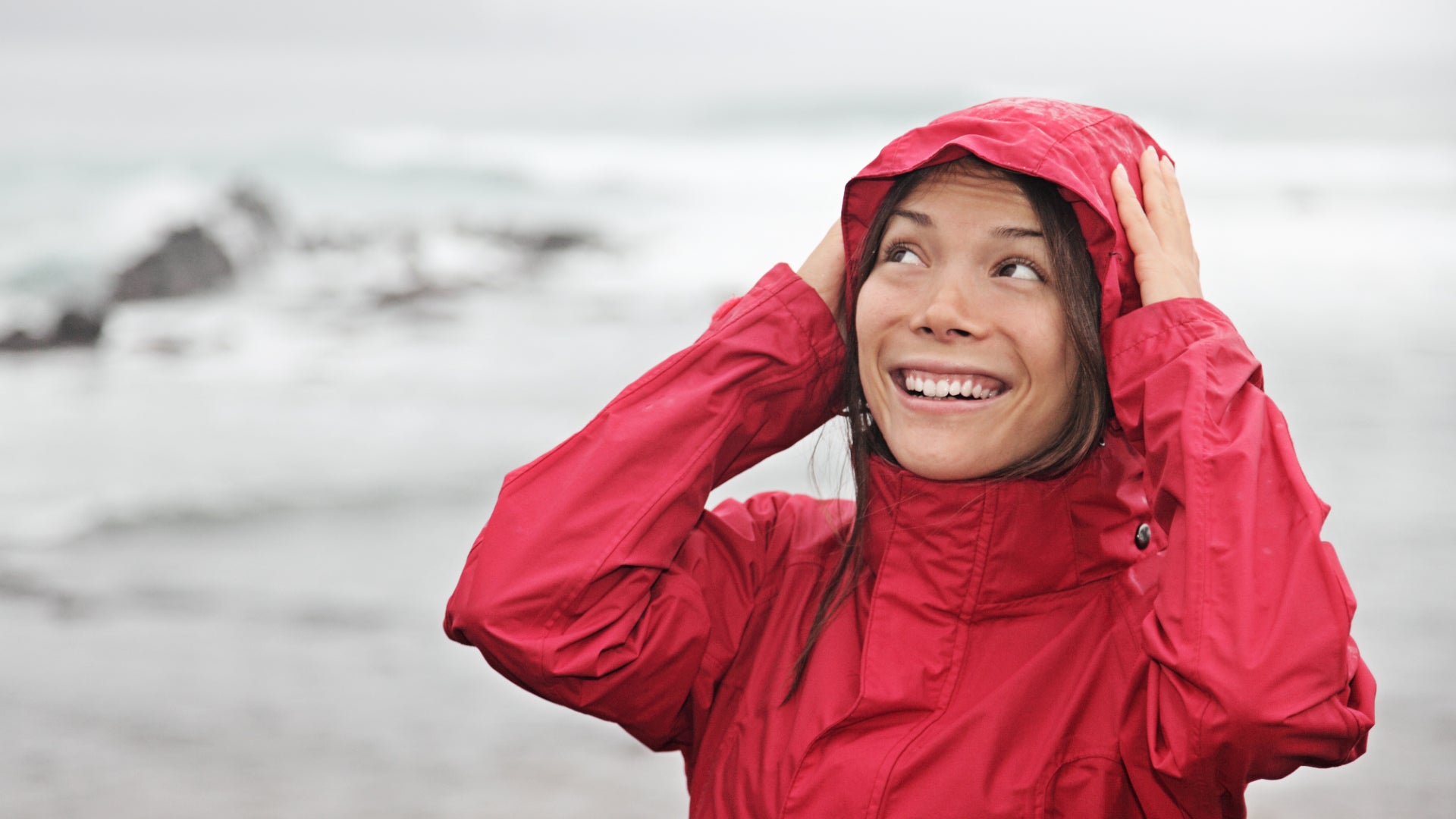 Why Dull Weather Shouldn't Mean Dull Skin
Summer may be history (for now), but dull weather doesn't mean your skin has to look equally as cruddy.
It's only November and we're already missing those long, sunny days when our skin automatically glowed with health. Dang. But here's the thing: just because the weather has become duller, colder and a little gray around the edges, your skin can still be as radiant as a balmy, July day. You just need to know how to boost your circulation, encourage healthy skin turnover and maintain clean, clear, hydrated skin.
Sounds too much like hard work? On the contrary. Below, ten quick and easy tips for glowing skin ­– all year long.
1. Exfoliate, Baby!
Exfoliation is definitely 'the one' when it comes to quick fixes for brighter, happier-looking skin. And the reasons are simple. Exfoliating your skin – whether you use a scrub, mitt, cleansing brush or chemical treatment – encourages your cells to turn over more efficiently, ridding the surface of dulling dead skin cells and allowing all of the fresh stuff to take their place.
Over-exfoliating can have the opposite effect, however, breaking down your skin's important barrier function and causing your skin to become angry, red, irritated, dry, pimply or any number of other things that aren't top of your skin's wish list. The key, therefore, is to go gently – we recommend using a kind-to-skin chemical treatment like our new AHA, BHA + PHA Liquid Exfoliant – and start out just once or twice a week until your skin acclimates. Sure, you can slowly build up to daily use but listen to your skin and don't push it. Less is best.
2. Embrace The Upside Down
Want to immediately get blood flowing to your skin with absolutely zero effort? Simple: hang your head upside down for a couple of minutes each day. This immediately rushes circulation to your face and neck, flooding your skin with radiance-boosting oxygen and nutrients. And don't worry if you can no longer contort your body into a headstand. Just lie back on your bed, face up, and tip your head back over the edge. Everyone can do that. Stick with two or three minutes, max, however. Any longer might make you feel funny. And yes, 'funny' is the scientific word for it!
3. Go Big On Hydration
Dehydrated skin is a major cause of dullness because thirsty skin is unable to reflect light as well as soft, hydrated skin.
So word of warning: never let your skin get too parched, people. Drink plenty of water and layer a hydrating serum under your moisturizer to ensure you draw lots of moisture to your skin's uppermost layers. We're all over the epic combo of Hyaluronic Acid Facial Serum, followed by Vitamin C Brightening Moisturizer.
More on the mighty vitamin C in a sec…
4. Try A Quick-Fix, DIY Face Mask
Blending your own, DIY face mask may remind you way too much of your teenage years, but get the right formula and you'll be on to a real winner. We're big fans of mixing together plain yogurt, avocado and a teaspoon of honey and slathering this all over our face and neck for around 10 minutes. Yogurt is great for soothing inflammation and gently exfoliating the skin while honey and avocado add that vital hydration and moisturization. 
Needless to say, remember to rinse thoroughly. Well, dur.
5. Moisturize Before Bed
Of course you're not going to skip moisturizer in the morning (ARE YOU NOW!?) but before bed, certain skincare practices often go out of the window. Because tiredness, laziness, a few too many wines… things get in the way.
However, if you really want your skin to be happy, healthy and glowing, neglecting your night time routine is a big mistake. And no, swooshing a cleansing wipe over your skin does not count.
Every night – without fail – cleanse your face and neck, apply your favorite serum and never forget to moisturize with a gentle but high-powered night cream. Our Vitamin C Deep Hydration Night Cream is awesome for refueling your skin as you sleep – literally wrapping your skin in nutrients, antioxidants and rich botanical extracts. It's a must if you want to wake up with radiant skin before you even look in the mirror.
6. Eat Your Way To Radiant Skin
Antioxidants are a super important part of your diet, whatever your health and skincare goals. But for a brighter, more radiant complexion, they are everything. Of course, we're never going to deprive you of your favorite treats every now and again, but as a rule, try to include more nuts, seeds and colorful fresh fruit and veggies in your diet. Specifically, reach for things like strawberries, broccoli, grapes, walnuts and almonds.
7. Get Up Close & Personal With Vitamin C
Vitamin C is non-negotiable in the search for glowy skin. It just is. With decades of research under its belt, it's been proven time and again for protecting your skin from the nasty effects of environmental free radical damage. And if you weren't aware of just how damaging free radicals can be, know this. They're seriously bad news for your collagen, breaking it down and killing your skin's plump, radiant mojo.
But that's not all, vitamin C also helps inhibit melanin production to help keep dark spots and patchy skin in check. Honestly, it's a skin brightening shoo-in.
If you're worried about the potential irritating effects of vitamin C on your sensitive skin, you're right to. But it's not out of the question for any skin type, as long as you look out for gentler derivatives like sodium ascorbyl phosphate (SAP). We only ever use SAP in our vitamin C products because it's effective, for one, and way less irritating, for another. What's not to love?
8. Kickstart Circulation With Gua Sha
Massaging your skin with your hands and fingers is a great way to give circulation a kick up the booty. But if you fancy going the extra mile, try a little facial gua sha.
Fast becoming a given in many a proficient skincare routine, gua sha is an East Asian massage technique that involves working a flat, rounded gua sha tool over the skin to relax your facial muscles, encourage microcirculation and help reduce puffiness while boosting radiance and firming the skin. You simply hold the tool (usually made from jade or rose quartz) flat against your skin and then stroke the curved side in one direction over your face and neck. We like to apply a facial oil first to help it glide over your skin more smoothly. You could also do it while your skin is wet, after cleansing.
9. Don't Skip Toner
Many people can give or take toner but if you're looking to really amp up your glow, a great toning product can prove an awesome tool to have in your skincare arsenal. Of course, it's all about choosing the right one but go for deeply hydrating formulations or anything with gentle, skin-nourishing ingredients and you'll find your skin instantly looks perkier. Added bonus is that toners can help the rest of your regime penetrate your skin more effectively.
10. Fake It, Till You Make It
Of course, makeup can be a true friend when your skin is not playing fair. Illuminating lotions or 'glotions' that combine moisturizing benefits with subtle color and highlighting shimmer are great for faking lit-from-within skin. But they can be little too shimmery for some – especially if you have oily skin. A great trick? Mix a drop with your regular foundation or moisturizer to dilute the shimmer.
You could also try dusting a mineral highlighting powder over the high plains of your face to draw attention and reflect light. Just don't go too 'bronze' with the shade as warm, dark tones can age you up lightning fast.