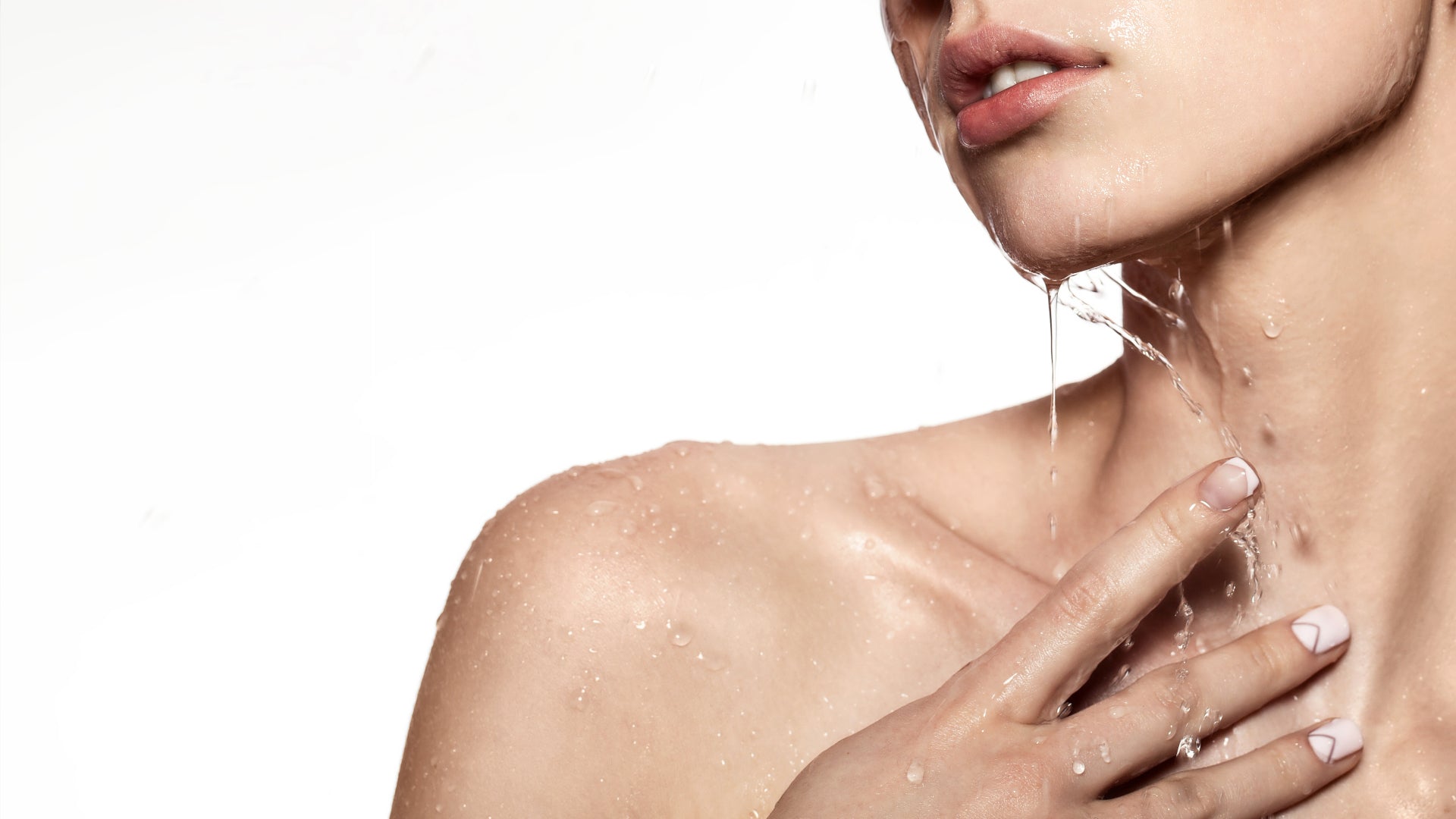 Let's Talk About TEWL (That's Transepidermal Water Loss, BTW)
Just when you thought you'd nailed everything from AHAs to GAGs, another skincare acronym joins the beautysphere. Say hello to TEWL, people. And listen carefully, because it's an important one that's all about the ultimate essence of life: water…
Water is a vital component of your skin. Healthy skin contains around 64 percent water and is the building block of new skin cells and the key nutrient for their survival. In order to maintain truly hydrated skin, your skin needs to be drenched with plenty of water. Not oil (that's what determines the dryness of your skin), but pure, simple water.
You know the deal when it comes to hydrating your skin. Yes, drinking plenty of water and eating a water-rich diet is vital for your overall health, but very little of this water actually reaches your skin. How so? Because other vital organs need it much, much more. In fact, your skin is way down on the pecking order which is why you need to include humectants in your skincare routine. More on those later…
So, what's this all got to do with the elusive TEWL? Let's see, shall we?
What Is TEWL?
TEWL stands for transepidermal water loss which is all about the amount of water that evaporates from your skin's surface into the air. Research shows the average amount of water lost by the skin every day is around 300-400 ml although this depends on many factors. Your genetic makeup obviously predetermines how well your skin naturally regulates your level of moisture retention, but many other internal and external factors come into play, including things like humidity, skin damage, poor skincare and your hormones.
There's also one very important factor you have the ability to look after – and equally to destroy. And that's your skin's barrier function.
Your skin is made up of three main layers: the deep hypodermis, the dermis which sits in the middle and the top layer which is called the epidermis. Your skin's barrier function is the uppermost layer of the epidermis and is your skin's ultimate layer of protection, working like a brick wall to protect you from environmental damage, block out irritants and help retain moisture in your skin, therefore reducing transepidermal water loss. A poor barrier function means moisture is easily lost from your skin's surface, causing a spike in TEWL and all manner of problems including dehydration, dryness, lines, wrinkles, itchiness and irritation. Skin disorders like psoriasis, rosacea and eczema can also be exacerbated by too much TEWL.
Bad. News.
How To Minimize TEWL
It figures that if you look after your skin's barrier, your TEWL will look after itself. But is that easier said than done? Actually no. Sure, your barrier function naturally weakens with age (no surprises, there), but there are many ways to care for it which will simultaneously reduce TEWL, balance your moisture levels and keep your skin softer, stronger and healthier.
Here, three important tips for top-of-the-class TEWL…
1. Avoid A Harsh Cleansing Routine
Too much face washing and exfoliating with hot water and harsh products is the ultimate devil for your skin's barrier function. For starters, it strips your skin of any moisture it naturally has... plus it gives nothing back.
Cleansers containing nasty chemicals like sulfates, for example, can be extremely detrimental to your barrier function. Yes, they work like dogs to lather up and remove oil, dirt and bacteria from the surface of your skin, but they also strip away protective cholesterol, fatty acids, ceramides and other nutrients, allowing moisture to escape way too easily for our liking.
Avoid ingredients like sodium laureth sulfate (SLS) and sodium lauryl ether sulfate (SLES) which are the worst offenders and instead, choose cleansers that contain gentle, non-drying alternatives like disodium lauryl sulfosuccinate or disodium 2-sulfolaurate. Good news: we use these in our Vitamin C and Charcoal cleansers.
2. Keep Your Skin Hydrated AND Moisturized
Applying water to your face is all well and good, but if you don't seal it in quickly with a hydrating moisturizer, it'll evaporate from the surface of your skin in no time.
The most well-rounded moisturizers contain ingredients that offer both hydration and moisturization. What's the difference? Well, hydration adds water to the skin while moisturization helps your skin keep it there. Yes, it's that simple. To achieve all of this, look for formulations containing a combination of humectants, emollients and/or occlusives.
Humectants draw water to the skin's surface either from the air, or from deeper within your skin's dermis. They work like a sponge and are an essential way to hydrate your skin and maintain a soft, supple surface. Hyaluronic acid is a super effective humectant, but we also love ingredients like glycerin and aloe vera.
Emollients, meanwhile, include things like coconut oil, shea butter, jojoba oil and squalane which work to smooth and repair cracks in your skin to help prevent TEWL. Occlusives like cocoa butter and beeswax are similar, but they're often richer, heavier and create a physical barrier on the surface of your skin. Occlusives aren't great for oily or acne-prone skin types, however, as they can clog your pores. Just a little side-note to bear in mind.
Depending on your skin type, choose a moisturizer that contains a blend of humectants and emollients or occlusives. Our Vitamin C Brightening Moisturizer contains aloe, kosher vegetable glycerin, jojoba oil and shea butter which checks those boxes nicely. Always apply it immediately after cleansing or applying serum to further reduce TEWL.
3. Invest In A Humidifier
A humidifier is a great way to force moisture into the air, especially in the winter or if you live in areas of low humidity. But why is this important for your skin? Simple. Dry air automatically compromises your skin's barrier function by stripping your skin of its natural oils. Without this protection, TEWL increases and skin becomes dry, flaky, cracked and may even start to peel.
Invest in a humidifier for your bedroom (this is where you spend the most of your time, after all) and if it allows you to control the humidity, set it to between 40 and 60 percent. This is the sweet spot for skin hydration.