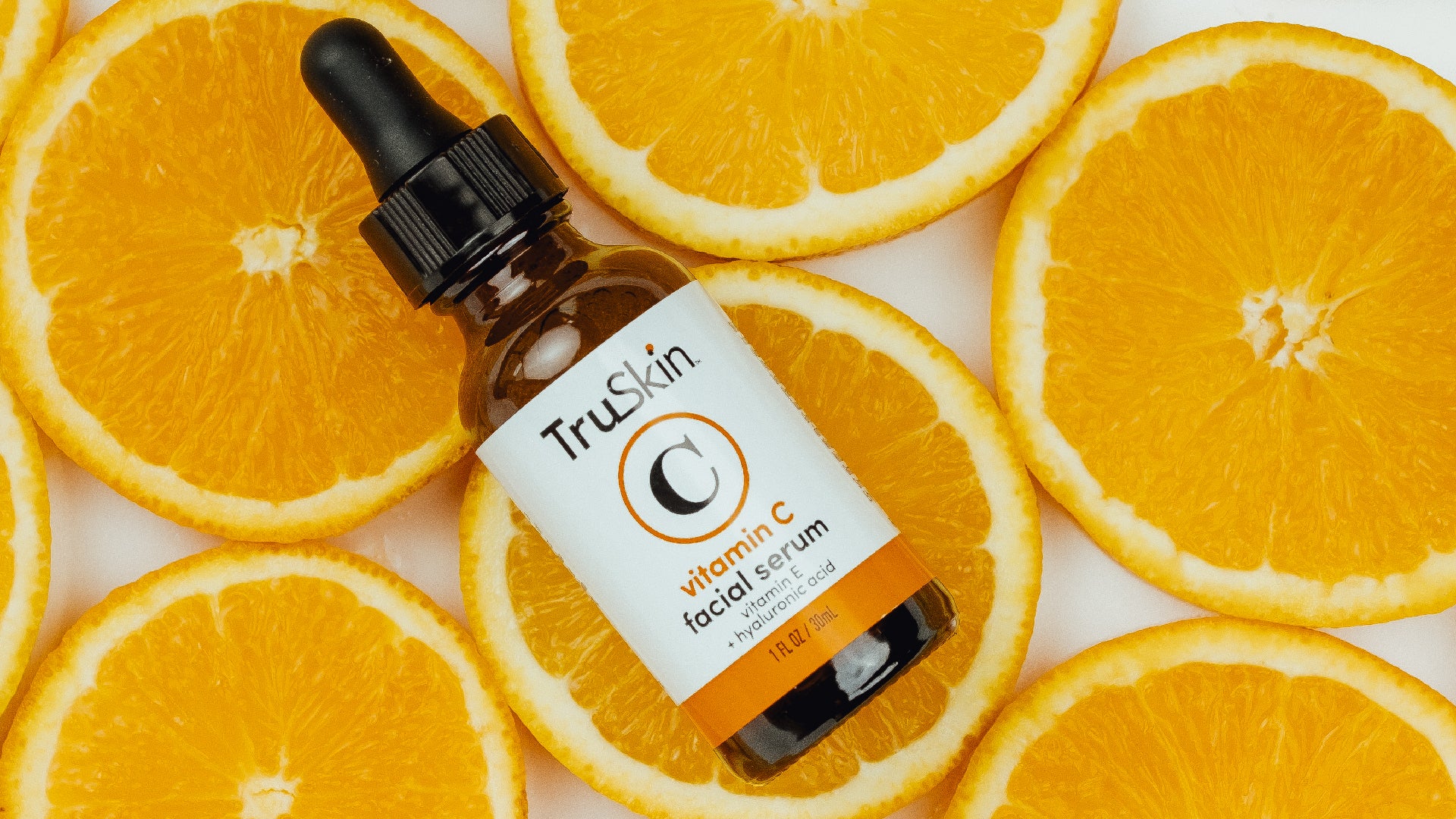 Your Most Common Skincare Questions – Answered!
Because we don't profess to know EVERYTHING about skin, but we like to help out as much as we can.
Incoming: the five most common questions we've received over the last year from you, our favorite TruSkin customers. Oh, and more importantly, their answers. Because what would be the point of questions without answers?
1. How Do I Choose The Right Products For My Skin Type?
Knowing your skin type is obviously the first and most important step here. Then and only can you make a considered judgement on which products and ingredients will best suit your skin.
To figure out your skin type, wash it with a gentle cleanser like Vitamin C Brightening Cleanser, then pat it dry with a clean towel and leave it for about an hour. After this hour, study your skin in the mirror and touch it. If it feels and looks pretty similar to how it looked immediately after cleansing, it's normal. If it looks shiny and feels greasy to the touch it's oily. Maybe it feels tight and looks patchy and dry in places? Then it's dry. And if it's a mixture of all three, it's combination.
Once you've nailed this, it's much simpler to build your routine. For oily skin, your regime should include products that contain ingredients like tea tree oil, charcoal and salicylic acid which cut through excess oils and help balance your skin. Check out our Charcoal Face Wash and Tea Tree Serum if you haven't already.... Don't forget, however, oily skin requires moisturization and hydration just as much as other skin types so make sure you get a good fix of lightweight ingredients like hyaluronic acid and glycerin – preferably in gel or lotion formulations. Avoid occlusive ingredients like rich butters and heavy oils as these create a barrier on the surface of your skin and block pores.
On the opposite side of the spectrum, occlusives are ideal if your skin is dry. Shea butter, olive oil, cocoa butter and coconut oil, for example, are perfect for locking in moisture and boosting your lack of natural oils, so make sure any moisturizer you choose is packed with occlusives, as well as humectants like HA, aloe and glycerin. Be careful around potent active ingredients like glycolic acid and retinol as these could cause extra dryness. But that being said, you don't need to avoid them altogether. Just be wise, listen to your skin and always patch test new products before using them for the first time.
If you have combination skin, your routine should be based around balancing oily areas and moisturizing the dry ones. Again, hyaluronic acid is ideal for hydrating without overloading your skin, so definitely include this in your daily regime. And spot-treat oily areas with tea tree oil.
Of course, if you have normal skin, you can get away with most things (lucky you), but don't get too cocky and throw caution to the wind or you could become plagued by irritation or breakouts. Be gentle with your skin and always patch test new products.
2. What's The Correct Order For Applying My Different Skincare Products?
It can be tricky to know in which order to apply your products but you just need to remember one simple thing. After cleansing and toning, your products should always be applied in order of weight, from light to heavy. Thinner products can't penetrate through the thicker ones, so this rule makes perfect sense when you think about it.
This means that first comes serum, then your eye treatment, followed by moisturizer and finally sunscreen. If you like to use a face oil, this should come between moisturizer and sunscreen.
Easy when you know.
3. Do I Really Need To Use Toner?
Ah, the million dollar question. Well, in all honesty, like most skincare products, whether you use toner or not is all down to choice and what you want to achieve from your routine.
But first, let's get one thing straight: toners are not what you remember from years gone by. Most skincare manufacturers have realized that stinging formulations and squeaky clean skin are no longer what consumers want, so things like drying alcohols and eye-watering chemicals have been removed. Nowadays, toners are more about treating, hydrating or gently exfoliating your skin in order to prime it for the rest of your routine. Of course, they're optional, but as are serums and eye creams, so if you want to do the best for your skin, we say go for it.
Our Ocean Minerals Super Toner contains collagen-boosting peptides to strengthen your skin, glycolic acid to encourage cell turnover and a whole bunch of antioxidants to protect your skin from the daily onslaught of environmental damage. Now, why wouldn't you want to give your skin all that?
4. What Is A Serum Supposed To Do?
Serums are like the super-powered tequila shots to your 'gin and tonic' moisturizer. OK, bad analogy, but you understand what we're getting at, right? Extremely potent, serums exist to deliver concentrated levels of active ingredients right where your skin needs them. Unlike moisturizers which are thicker and contain larger, heavy molecules, serums are super lightweight and have much smaller molecules which are able to penetrate your skin quicker and deeper.
This means that while they're not an essential part of your routine (unlike cleanser, moisturizer and sunscreen) they pack a real punch and can make a remarkable difference to the look, feel and health of your skin. If yours is feeling dehydrated, for example, and your moisturizer isn't cutting the mustard, a hydrating serum is going to be exactly what it needs. Or perhaps your skin is feeling dull and needs a high-powered pick-me-up? Then a serum containing brightening vitamin C can reap a thousand rewards.
Serums might be tiny, but they're invincible. Check out our range of serums for all skin types and concerns, right here.
5. What Does Vitamin C Do For My Skin?
Speaking of vitamin C, this is the one ingredient that seems to baffle you the most. But, the good news is we know a lot about vitamin C. Like, a helluva lot, so hit us with your questions as we love hearing from you…
In the meantime, what exactly is vitamin C in skincare and what are its benefits? Well, pure vitamin C (also known as ascorbic acid) is an essential nutrient and powerful antioxidant that's produced synthetically for everything from cleansers and toners to moisturizers and serums. It's actually one of the most highly studied ingredients in skincare so you know you're getting the real deal, and it works hard to fight free radical damage to boost collagen production, even your skin tone and basically give you better, more glowy skin.
The only problem is that pure vitamin C is highly volatile and can be a little irritating, especially if you have sensitive skin. This is why we use a gentler, more stable version called sodium ascorbyl phosphate, or SAP to its friends. And yes, that includes you.
SAP is a salt derivative of ascorbic acid which converts to vitamin C once it's been applied to your skin. This makes it way more tolerable while still being extremely good at its job. The saltiness is also why many of our vitamin C-enriched serums have a slightly cloudy look to them. Just remember, cloudy is good and a sure sign of brighter times ahead. For your skin and your mood.
Because looking good always makes you feel great.
And can we have a high-five for that?