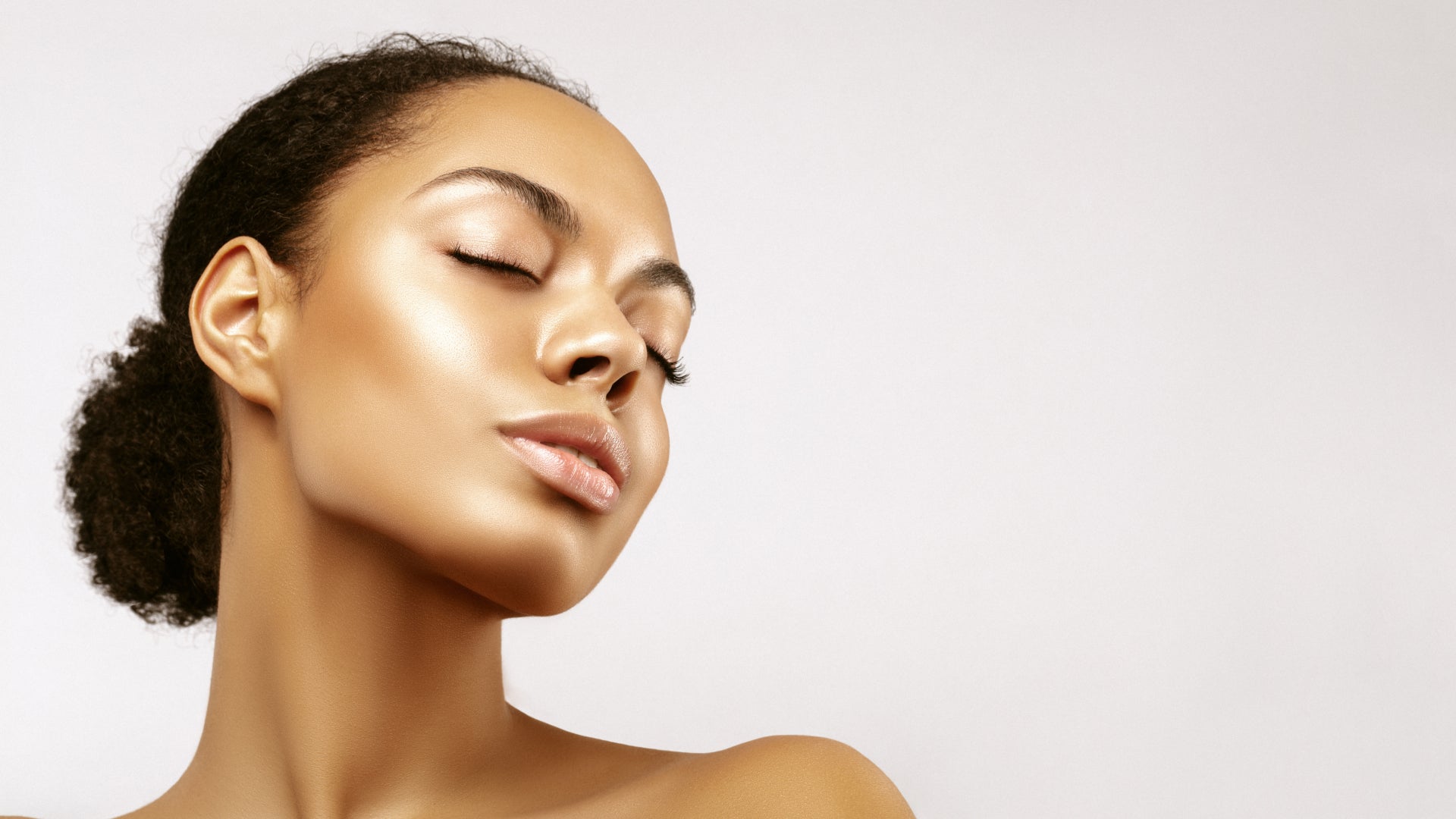 Genius Tips For Glowy, Summer Skin
Ready to get your glow on, peeps – without having to reach for your shimmering bronzer, of course? Excellent timing, we're on it…
There's a fine line between glowing skin and shiny skin. The former's something we all strive for, but the latter's not so appealing. The difference is that glowing skin is radiant and healthy, whereas shiny skin is often due to an excess of oils (or sweat… or both!). Of course, you can't change your genetic makeup and suddenly transform your oily skin into a perfectly balanced, flawless complexion. And similarly those of you with dry skin know you can't magically force your skin to start naturally producing more oil. But what you can do is help what Mother Nature gave you to boost your glow and up your skin's radiance game.
Here's how…
Glowy Skin Rule #1: You Gotta Exfoliate, End Of
Clean skin is obviously super important here, so make sure you cleanse gently twice a day. Use upwards strokes as you cleanse your face to ensure you get right into the pores and always rinse thoroughly with lukewarm water. You could even try a final splash with cool water to really boost your circulation… if you can bear it.
But clean skin doesn't stop there. Gentle exfoliation is also vital. For your face, we advise using a chemical exfoliator that contains AHAs or BHAs such as glycolic, lactic or salicylic acid. Unlike scrubs which can sometimes be a little abrasive on your face, chemical exfoliators break down the bonds that hold dead skin cells in place. This helps them gently slough away without you forcing them off. Try Vitamin C Super Serum+ which contains salicylic acid to exfoliate and balance sebum at the same time.
When it comes to your body, a salt scrub is a fabulous way to buff away rough skin and boost your glow. Or try using a loofah or body mitt with your favorite cleanser.
Glowy Skin Rule #2: Don't Underestimate The Power Of Toner
Never sure whether you really need a toner in your life? Well, if you're looking to get your glow on, the answer is simple: you do. Today's new generation of toners aren't just there to make up the skincare numbers, in fact they're quite the opposite, working hard to hydrate, feed and balance your skin. And healthy skin is the absolute foundation of radiant skin. 
Looking for the perfect toner for the job? Then try Ocean Minerals Super Toner which contains glycolic acid to accelerate cellular turnover, vitamin C to protect and brighten, plus MSM, a sulfur compound that boosts collagen production and significantly helps improve the tone and texture of your skin. This awesome toner also comes in a handy spray bottle meaning you can spritz it on thirsty skin any time you please.
Glowy Skin Rule #3: Go To The Upside Down
It might be a while since you did a headstand, but if you're a yoga pro, you're in luck here. Being upside down for two or three minutes a day is a great way to boost blood flow and oxygen to your face for an instantly more glowing complexion.
Not a headstand kinda girl? Then lay on your back and tip your head back over the side of your bed. Same result, less falling over.
Glowy Skin Rule #4: Concentrate On Dry Skin
Dry skin is a fact of life, but this doesn't mean you have to resign yourself to it, or worse, leave it untreated, to become even drier and potentially irritated. Dry, flaky patches are often due to an impaired skin barrier, so make sure you look after it by soothing and replenishing your skin from head-to-toe with gentle skincare products (no synthetic fragrance or unnecessary chemical, thanks) and an impeccable moisturizing routine.
Moisturize after every time you cleanse and make sure your chosen formulation includes a combination of humectants, emollients and/or occlusives. Humectants draw water into your skin, emollients smooth cracks and occlusives lock all that moisture in. Our Vitamin C Deep Hydration Night Cream combines glycerin, aloe, botanical oils and cocoa butter which checks all those boxes nicely. It also contains the mighty vitamin C. Speaking of which…
Glowy Skin Rule #5: Embrace Brightening Skincare Ingredients (cough, vitamin C)
When it comes to brightening your complexion, certain skincare ingredients punch way above their weight. Retinol, niacinamide and kojic acid, for example are all fabulous for helping to brighten uneven or dull skin. But the absolute queen of brightening? Vitamin C. It's everything.
Vitamin C (ascorbic acid) is a potent antioxidant and works hard to protect your skin from the damaging onslaught of free radicals caused by environmental aggressors like that pesky, but beautiful sun. It also reverses existing damage and inhibits tyrosinase, the enzyme that fuels melanin production. All this combines to help reduce dark spots and mottled skin while amping up your skin's radiance like nothing else.
Pure vitamin C can be volatile, however, and too potent for sensitive skin types, so we use a gentle, but super effective derivate called Sodium Ascorbyl Phosphate (SAP to its friends). You'll find it in all of our vitamin C products and is the reason some of them have a cloudy look to them – it's the sodium component of our awesome vitamin C doing its finest work, right there.
Glowy Skin Rule #6: Try A Little Dry Body Brushing
If you've never tried dry body brushing, the time is now. A fabulous way to encourage cell turnover, dry body brushing stimulates your circulatory and lymphatic systems to effectively remove dead cells, metabolic waste and toxins. After a few weeks, guaranteed you'll notice your skin is softer and much more radiant. It also prepares your skin for your moisturizer, allowing it to be more readily absorbed and therefore way more effective.
The best time to dry body brush is in the morning, before showering. Work from your ankles, upwards using long strokes or circular motions and be gentle, especially over delicate areas like your tummy and chest. You should also avoid open wounds, rashes, varicose veins, freshly shaven legs and sunburn.