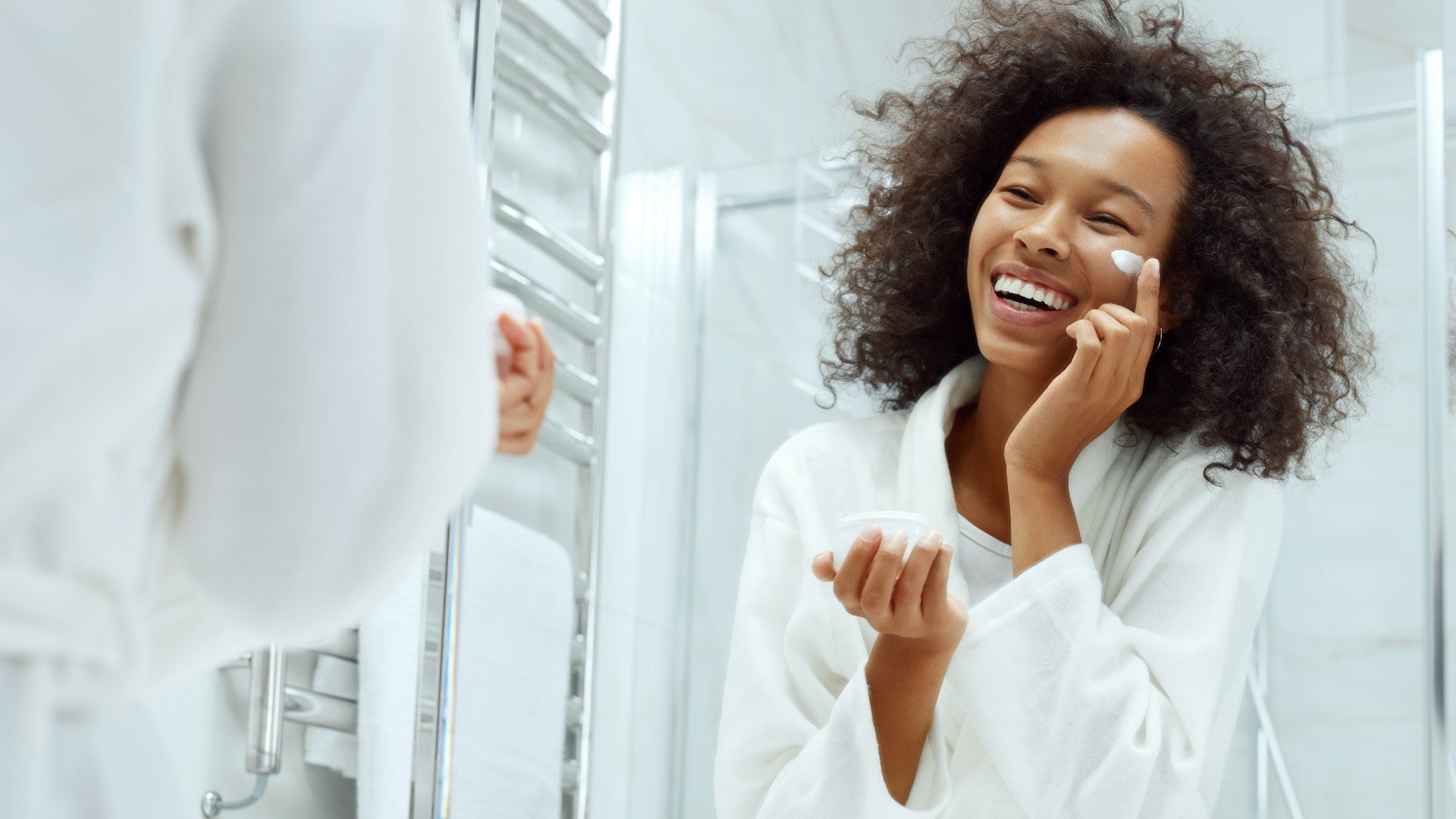 5 Of The Best Exfoliation Tips You Never Knew You Needed
It might be thought of as an 'extra' step in your skincare routine, but exfoliation can make or break the condition of your skin.
Reckon you're a dab hand at exfoliating? Got the product, worn the t-shirt and all that? Well, as great as you might be, there's always room for improvement. Whether it's getting your frequency absolutely correct, knowing when is the best time to exfoliate or learning how to exfoliate your face and neck without damaging your skin there are many ways to do better.
So if you hate resting on your laurels when it comes to the health of your skin, read on for five important exfoliating lessons you need to know…
1. It's Better To Under-Exfoliate Than To Over-Exfoliate
The first, and undoubtedly the most important rule when it comes to exfoliating your skin is to never, ever, overdo it.
Here's the thing, exfoliation is your way of stimulating your skin to turn over at a faster rate, removing dead, hardened cells from the skin's surface while encouraging the fresher, younger ones to reveal themselves. All this helps remove toxins, unclog pores, control breakouts, fade surface level dark spots, smooth lines, balance oil production, allow the rest of your skincare routine to work better and, well, you get the picture.
Of course, your skin has its own pre-programmed way of shedding millions of dead skin cells every day – a process called desquamation – but things like aging and environmental damage slow this process down from around 28 days to as long as 80 days. And this is not good news. Slow, sluggish cell turnover means that instead of naturally sloughing away, dry, old skin cells get stuck at the surface causing your skin to look dull, patchy, congested and dehydrated.
So you get the picture that exfoliation is pretty important. Well, here's the catch. Exfoliating your skin too hard or with high concentrations of super-potent ingredients will speed up cell turnover way too much. And this can totally upset your skin's barrier function, stripping away important proteins and oils, leaving it open to irritation, breakouts, redness and stinging.
This is why it's key to be gentle. If you like to use physical exfoliants like scrubs, cleansing brushes or facial mitts you should only ever use very light pressure, and avoid harsh tools and products that make your skin sting or hurt. On the other hand, if you prefer chemical exfoliants that harness the powers of hydroxy acids such as glycolic, salicylic and lactic acids, try to avoid super high concentrations and don't attempt any kind of DIY mixology. Mixing and matching such potent ingredients is best left to the skincare professionals. Otherwise it inevitably does not end well.
2. Yes, You CAN Alternative Between Physical & Chemical Exfoliants
While we're on the subject of physical and chemical exfoliation, the good news is you don't have to choose between the two. Of course, you should never scrub your skin and then immediately apply a chemical exfoliant afterwards. Or even on the same day for that matter. This is completely over-egging the pudding, plus you know all that irritation we just spoke of? Well, double exfoliation is opening up the door for sore, sensitive skin.
However, you can certainly alternate between the two if you tread carefully and don't overdo it. Just remember to stick to two or three times a week with your face scrub, then on alternate days, apply a gentle-on-the-skin chemical exfoliant.
And boy, have we got just the product for that!
Say hello to our new 6% AHA, BHA + PHA Liquid Exfoliant which is formulated with an incredible blend of glycolic acid (an AHA), salicylic acid (BHA) and gluconolactone (PHA). Together with vitamin C this fragrance-free, pH-balancing treatment has been specifically formulated to offer an effective way to increase skin turnover, with less of the irritation often associated with acid exfoliants. The key is the 6 percent sweet spot which we believe is just the right amount to care for all skin types – yes, even sensitive.

3. Cleansing Can Be Effective Before OR After Using Face Scrub
Exfoliating your skin with a physical scrub, washcloth or mitt should never replace your cleansing routine. In fact, you should still cleanse your skin whenever you exfoliate.
But should you do it beforehand or after exfoliating? Well, surprisingly you can do either.
Most skincare experts recommend cleansing before exfoliating because this helps remove surface debris like makeup, oils, sunscreen and sweat, allowing your exfoliator to really get to business straight from the off. However, doing the opposite lifts away those dead skin cells first which gives your cleanser a better chance to wash all that debris away.
In short, cleansing first allows for a deeper, more effective exfoliation, while exfoliating first gives you a better cleanse.
Of course, if you prefer chemical exfoliants like our new 6% AHA, BHA + PHA Liquid Exfoliant, this whole point is null and void. You must always apply chemical exfoliants to clean skin for the best results. End of discussion.
4. For Excellent Results, Exfoliate In The Morning
Never quite sure whether to exfoliate before bed or after you wake up? To be honest, any time of the day is good and it really depends on your skin type, needs and routine. However, if you really want to get the most out of your exfoliant, it can be better to use it in the morning.
During the night, your skin repairs and renews itself from the daily grind, leaving you with more dead skin cells to slough away come the morning. Also, most people apply their retinol treatment at night so over-stimulating your skin before using such a powerful product can increase the potential for irritation.
All this combines to, in our opinion, give morning exfoliation the win. And when you add in the fact that our 6% AHA, BHA + PHA Liquid Exfoliant contains skin brightening, free radical-fighting vitamin C to shield your skin from daily damage, it really is a no brainer.
5. Treat Your Exfoliant Like A Retinol Treatment
As previously mentioned, exfoliation isn't like cleansing, moisturizing and applying sunscreen, which should all be carried out on a strict, daily basis. In fact, one of the worst things you can do is to dive in head first, going from no exfoliation at all, to a vigorous scrub every morning.
As with retinol, proceed your exfoliation routine with caution. Start with a gentle product just once or twice a week (having patch tested any new product first, of course), then slowly build up to more frequent use as your skin acclimates. Depending on your skin type, you may be able to work up to daily exfoliation, alternating between scrubs and acids, or you may find your skin prefers a less frequent approach. Everyone's skin is different so you'll need to be the judge of that. Just remember, exfoliating shouldn't sting, cause peeling, or make your skin look red.
And this applies to your body, just as much as your face and neck.