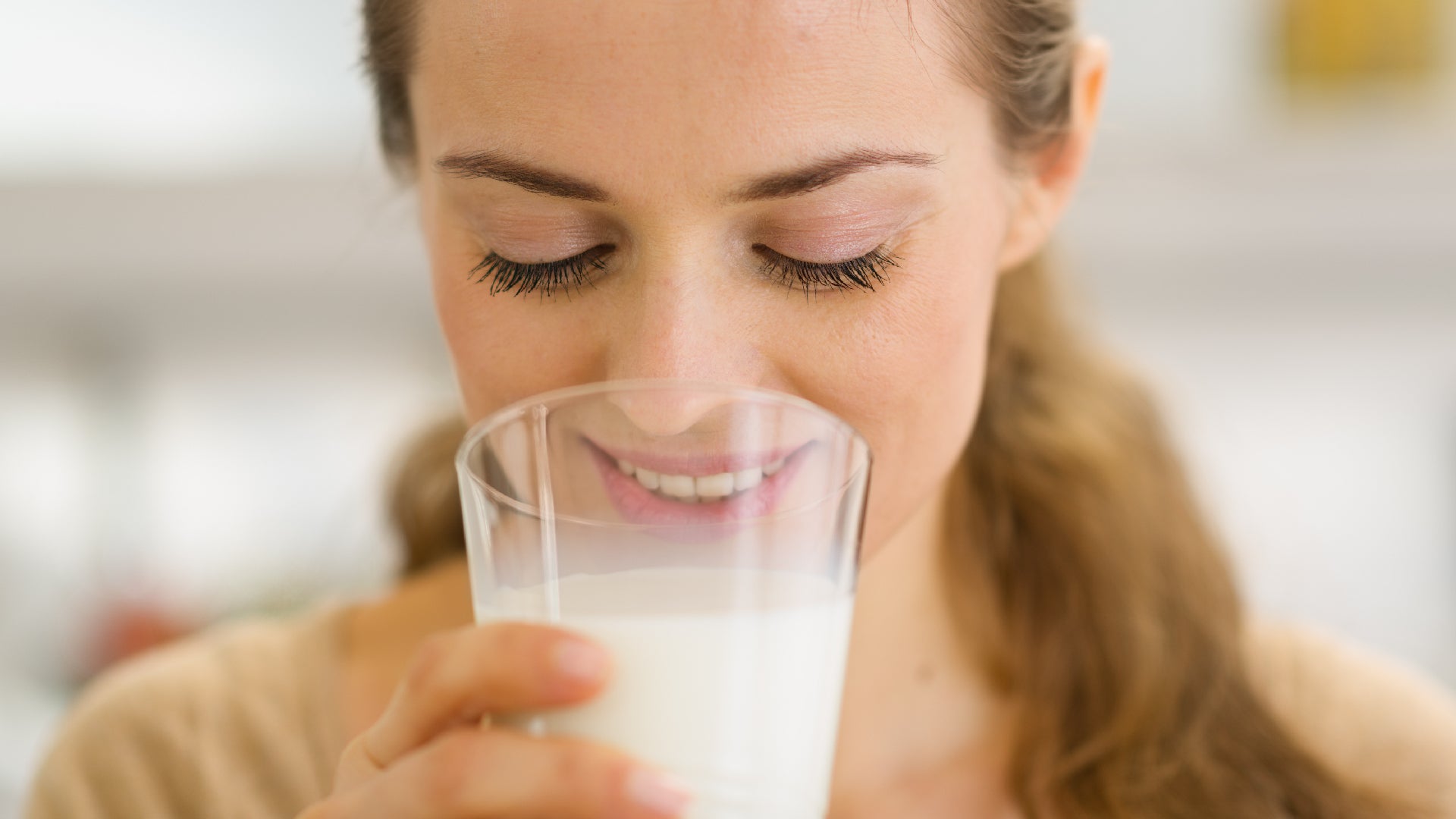 Could Milk Be The Solution For Your Dry Skin?
Turns out Cleopatra's favorite milk baths might not have been such a wild idea, after all.
Milk for dry skin? Yes, word on the street is that the white stuff could be the answer to all your dry skin woes…
It's fair to say that dry skin can be a real nuisance. And if you have it, you won't need reminding of the many frustrations that come with dealing with dryness and flaking skin – especially on your face. Sure, oily skin comes with its own set of bugbears but, given the choice, it would win the 'would you rather?' argument every time.
You see, the thing with dry skin (medical term: xeroderma) is that it often comes with other frustrations like itching, redness, tightness, sensitivities and dehydration. Why is that? Well, dry skin has fewer sebaceous glands than other skin types. And sebaceous glands are super-important for the health of your skin because they produce sebum which contains all manner of fatty acids, wax esters, squalene and triglycerides to lubricate the skin, protect it from outside aggressors and help it retain water. As we said, important stuff.
Unlike oily and combination skin which both contain their fair share of sebaceous glands, dry skin is genetically lacking in these essential oil producers. Hence the dryness. And that's not all. Thanks to a poorly functioning protective barrier, dry skin is also kind of bad at retaining moisture which means it has a tendency to become dehydrated and easily irritated. Then when you chuck things like harsh soaps and hot showers at it? Well, you've got a recipe for disaster on your hands. Sigh.
But it's not all bad news because there are tons of ways to help treat and protect dry skin. Moisturizer, for one thing, is the single most important product anyone with dry skin can have up their sleeves, and ingredients like glycerin, hyaluronic acid, shea butter and jojoba oil can be total lifesavers.
There's also a lesser-known ingredient that's been steadily making its way back onto the beauty shelves and is already making headlines for its ability to care so awesomely for dry skin: milk.
Milk & Your Skin: The Facts
As an alleged devotee to bathing in sour milk, we have to salute the Egyptian queen Cleopatra for knowing her skincare stuff way before her time. Because milk is not only powerful and natural, but it's truly effective.
So what's the deal and why is it so damn good for your skin? Well, milk contains tons of exfoliating and nourishing compounds including minerals, vitamins, acids and antioxidants. One of its biggest plus points? Lactic acid. Like glycolic acid, lactic acid is an alpha hydroxy acid (AHA), a naturally hydrating and exfoliating acid that dissolve the bonds between skin cells to encourage all those unsightly, no-longer-wanted dead ones to slough away. Skin needs gentle exfoliation every now and again because dead skin cells have a tendency to hang around longer than necessary, especially as you get older when cell turnover becomes slow and sluggish. And while harsh scrubs and potent glycolic acid can be too much for dry skin, lactic acid is the best of both worlds, gently removing the dead stuff while caring for your complexion and revealing all that plump, deliciously fresh skin.
However, in our modern world, milk is no longer just milk and given that many people are vegan or lactose-intolerant, it's important to know that plant-based options like rice and oat milk are just as good, if not better for looking after your dry skin.
Oat Milk: The Soothing Treatment
Undoubtedly the most popular of the dairy-free milk alternatives, oat milk has similar soothing, calming and antioxidant effects as its cousin, colloidal oatmeal – another commonly used ingredient in skincare. Made purely from oats and water, its antioxidant benefits are great for warding off environmental skin damage from the daily wear and tear of UV radiation, pollution and the like, while its soothing effects are perfect for reducing irritation and helping to calm dry skin.
Oat milk also has anti-inflammatory properties so may help skin conditions like eczema and rosacea. Oh, and it acts like a humectant, drawing water to the surface of the skin to help keep it hydrated and healthy. Impressive stuff, right?
Rice Milk: The Skin Brightener
While oat milk wins the popularity contest, rice milk is not to be dismissed. Because it's good. Like, really good. In fact, rice milk boasts a whole bunch of skin benefits, not least of which is it ability to help brighten and even out your skin tone while calming the skin and reducing the visible appearance of dark spots. It does this thanks to its natural astringent properties, coupled with its abundance of niacin which is known to have gentle whitening effects.
Rice milk is also packed with free radical-fighting antioxidants (bonus!), plus it contains a vitamin-like component called inositol which helps moisturize the skin and supports healthy collagen production.
Say Hello To New TruSkin Soothing Cleansing Milk!
Hopefully you now understand just how effective milk can be for protecting, nourishing and soothing dry skin. So where's all this leading? Well, after listening to you and realizing that, while our cleansing line-up is downright awesome, it's been missing something specifically tailored to dry skin, we spent hours (more like months!) in the lab formulating an exciting new cleansing milk that cares for your skin without leaving it feeling tight and dry.
And our Soothing Cleansing Milk is finally here! Suitable for all skin types, but specifically created for dry and sensitive skin, this cleansing milk is soothing and lightweight, whipping away make-up, dirt and debris while leaving your skin feeling super soft, nourished, hydrated and comfortable. Bursting with both oat and rice milk (because one's just not good enough for you!) it also contains hyaluronic acid for extra hydration and its soft, milky texture is one you really cannot miss.
Click here to check out the full details and try out new Soothing Cleansing Milk for yourself – trust us, you won't regret it!