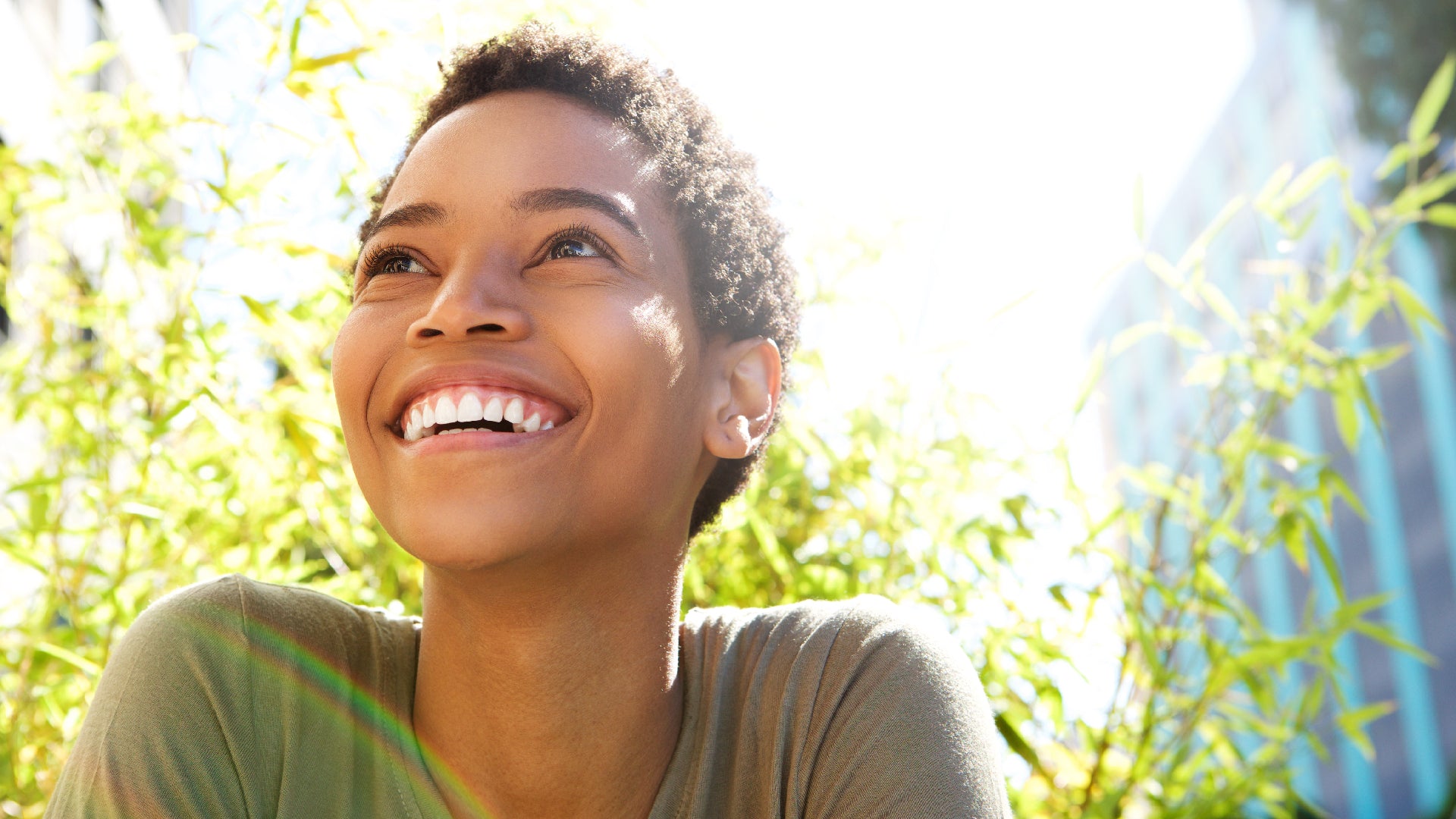 5 Awesome Ways To Give Stressed Skin A Break
Skin in total freak-out mode right now? Then it's time to de-stress and give your poor complexion a break.
Stressed skin is one of life's vicious circles. First, emotional stress sends your hormones out of whack, making your skin dry, oily, itchy or break out. Sad times, indeed. Then, to add insult to injury, you get the 'pleasure' of having to deal with cruddy skin and, heck, that just ruins your self-esteem and makes you feel even more stressed. As we said, a vicious circle.
It's true, emotional anxiety has a massive impact on the look, feel and health of your skin. This is because when you feel stressed, your brain stimulates the release of various hormones (cortisol, to name just one) which upset the equilibrium of your body, disrupting your immune system, wreaking havoc on your skin's barrier function, interfering with the healing process and triggering all sorts of problems, mainly irritation and inflammation.
If this is ringing too many bells in your head right now, chances are your skin and, more importantly, your emotional wellbeing are crying out for some much-needed TLC. Not sure where to start? No problem, we're on it…
1. First, Try To De-Stress Your Mind
Chilling the heck out is easier said than done, but reducing (or at least attempting to reduce) your levels of emotional stress is a major step to mirroring the same effects for your skin. If things are all too much at work, for example, speak out, delegate tasks or learn how to say no. According to the Mayo Clinic, asserting yourself in the workplace – or, in fact, any situation – is one of the best ways to de-stress because it reduces internal conflict and helps you more successfully manage everyday life.
You could also keep a journal. It's amazing how much of a relief it is to write stuff down and get things off your chest. And if you're worried someone might get hold of your pent-up thoughts? Easy, write them down on a scrap of paper instead of a proper journal, then when you're done, you can toss it in the trash.
Of course, these are just a couple of the many ways to help manage stress. There are many tricks for calming your mind and improving your emotional wellness, so if life is kind of overwhelming right now, please make sure you seek professional advice to identify its causes and help you learn to cope.
2. Practice Some True Self-Care
Can you honestly say you've been looking after yourself recently? Maaaybe… but probably not. The thing is, exercise and a healthy, balanced diet are awesome stress relievers.
Exercise stimulates endorphins which are known as 'feel-good' chemicals for good reason. Hint: they make you feel good! Try to up your levels of daily physical activity as much as possible. You might not be up for a 10-mile run at 6 a.m. every morning, but small things like a brisk walk, gardening, swimming, cycling or even doing some household chores will get those endorphins pumping and help lift your mood.
Yoga and pilates are also awesome stress relievers because they help dial back your sympathetic nervous system. This is your body's 'quick response' system which produces that pesky stress hormone, cortisol. If you can, try to combine a mixture of heart-pumping exercise with more relaxing, muscle-strengthening activities for a complete, all-round regimen.
When it comes to your diet, too much sugar, salt, processed carbs and fried foods are absolute devils on your skin, causing harmful free radicals that break down collagen and accelerate inflammation. Instead, feed your skin with stuff it loves – namely antioxidant-rich fruit and veggies, oily fish, nuts and lean protein. Oh, and as tempting as it may be to deal with stressful situations with coffee and doughnuts, try not to make this a habit.
3. Give Your Barrier Function A Break
Your skin's barrier function is its uppermost layer – the very top of your epidermis, which acts like a security guard to protect you from the outside world. It works super hard to stop moisture from getting out and nasty irritants from getting in.
When your skin is suffering, this is a sure-fire indication that your barrier function has been compromised. Many things contribute to this, not least of all stress itself, which depletes your skin's natural production of healthy oils and alters its pH level.
Your skincare routine also has a vital role to play here.
Harsh cleansing with chemical-fueled products can completely strip your protective barrier of important proteins and lipids, so this is a massive no-no, for starters. Cleanse gently with mild, sulfate-free formulations like our Vitamin C Brightening Cleanser and only ever use lukewarm, never hot, water to wash your face.
Another thing: don't forget to moisturize after cleansing, which is VITAL for healthy, stress-free barrier function. Dryness is seriously damaging to your skin's barrier, leaving it vulnerable to transepidermal water loss (TEWL) as well as external aggressors like pollution, UV radiation and the like. Choose smart, all-round moisturizers that combine ingredients to not only help draw water into your skin (eg. aloe, glycerin and hyaluronic acid) but also lock moisture in (eg. shea butter and stearic acid). Vitamin C Brightening Moisturizer is always a great shout.
4. Think About Everything You Put On Your Skin
Bombarding your skin with active ingredients like retinoids and glycolic acid can be way too much for some skin types to cope with. Sure, these ingredients are awesome for tackling lines, wrinkles, dark spots and acne, but you can most definitely have too much of a good thing.
If your complexion is feeling totally out of whack, it's worth looking at your routine to see if it contains too many active ingredients that are potentially fighting against each other or are simply proving too potent for your complexion. Pare back on treatment serums (you really only need one in the morning and one at night, anyway) and consider dropping down your usage to two or three times a week. You never know, this could easily de-stress your skin with very little effort.
On the flipside, ingredients to include in your routine are those crammed with calming, hydrating or soothing benefits. Aloe, vitamin E and niacinamide are three that immediately come to mind and – bonus – you'll find all of these ingredients in our Niacinamide Facial Serum. Just saying.
5. Optimize Bedtime
Getting your beauty sleep is essential for the health of your skin because overnight is when it repairs and heals itself from the slings and arrows of the day. Skip too many zzzs and your skin misses out on all that vital time in which collagen production ramps up to boost regeneration and antioxidants kick in to reduce damage and revitalize your skin.
As you know, eight hours of sleep is the recommended amount (or somewhere between seven and nine hours, according to the National Sleep Foundation) but it's not all about quantity. In fact, the quality of your sleep is just as important.
To totally boss your best night's sleep, ensure you nail this checklist:
Go to bed at roughly the same time each night.
Don't go to bed hungry, full or having just drank a ton of caffeine or alcohol.
Ensure your bedroom is dark, quiet and at a comfortable, slightly cool temperature.
Avoid using your phone, laptop or tablet for at least an hour before bedtime.
Take a few deep breaths as soon as you get into bed to lower your heart rate and make you feel relaxed.
Gently cleanse, tone, treat and then moisturize your skin with Vitamin C Deep Hydration Night Cream to give your skin the best chance to rejuvenate itself.
Finally, remind yourself how well you're doing at life – every single day. And when you look in the mirror, try to see the good stuff. A positive outlook on life is absolutely priceless for stress-free skin.