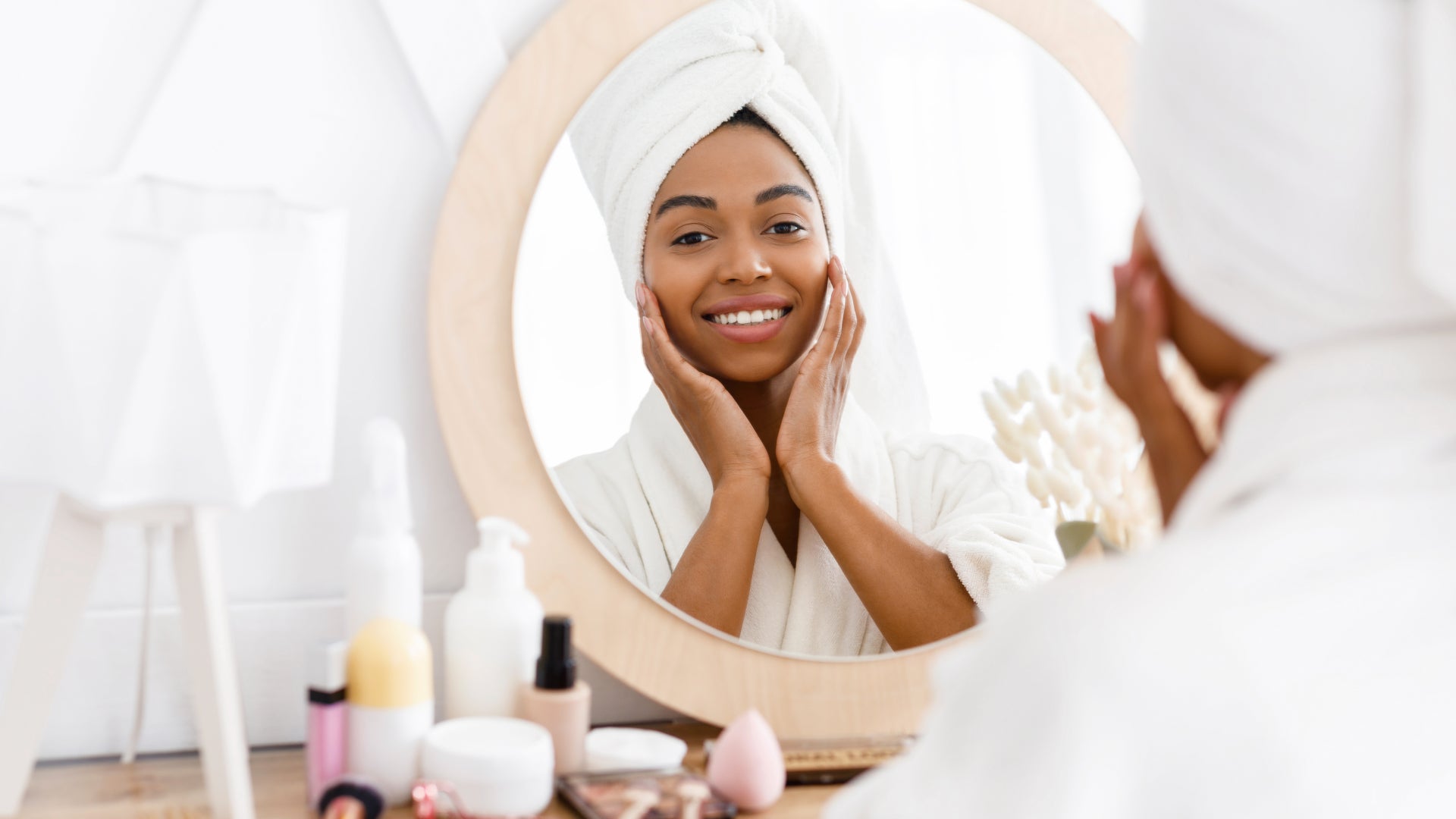 Why A Solid Routine Is The Key To Your Best Skin Ever
Because if your routine is all over the place, your skin could easily end up in the exact same boat.
Do you love your skin? And we're not talking about your so-called imperfections because you'd be kind of weird if you truly loved your dark spots, lines and pimples. No, what we're actually talking about is your skin as a whole. That massive and super important organ which accounts for around 15 percent of your entire body weight, covers an average of 20 square feet and is your body's first line of defense against the world and everything it throws at you.
Understanding your skin and coming to terms with the fact that it may not be what it used to be is the first step to loving your complexion. And the second? Working diligently every single day to help protect, treat and maintain what you now have.
We believe that looking after your skin with a consistent regime is the single most important way to help balance your skin, prevent acne, treat dryness, reduce the visible effects of aging and so on and so forth. By sticking to a routine that includes gentle cleansing, targeted treatments, smart moisturizing and, of course, that all-important sun protection, you can rest assured you're doing everything you can to manage the effects of time. And by doing this you automatically maximize your skin's full potential. Which is all you can ask for, right?
So, how do you know what's the correct routine for you? Well, first you need to understand your skin type.
What's Your Skin Type?
Sure, you may have days when your skin feels oilier than others, but do you honestly have oily skin? And yes, your skin may feel a little irritated sometimes (don't we all!), but is it genuinely sensitive?
To work out your true skin type, wash your face with a mild cleanser, then pat it dry and leave it completely bare for an hour or so. After this time, study it in the mirror and feel it with clean hands. If it feels tight and a little itchy it's dry; if it looks shiny and feels greasy – especially around your t-zone – it's oily; if it's a bit of both it's combination and if it looks the same as it did an hour ago – ie: peachy keen – then we hate you (jokes) because you've been blessed with the much-coveted normal skin.
Once you know your skin inside out, you can then tailor a smart routine that caters for both your skin type and your current concerns. Trust us, this knowledge is worth its weight in gold.
How To Build An Awesome Skincare Routine
Here's how to nail the five most important steps…
1. Cleansing
No matter your skin type, gentle is always the way to go when it comes to cleansing your skin. Choose products that are free of irritating ingredients like sulfates, PEGs, phthalates, silicones and bad alcohols, and make sure you cleanse every morning and night – without fail. Your skin is subject to all manner of toxins, chemicals and pollution throughout the day, not to mention the natural oils and sweat that blend with your makeup and build up on the surface of your skin. All this simply has to go before turning in for the night if you want to keep your skin clean, clear and healthy.
When you cleanse, use lukewarm water only as hot water could cause redness and irritation. Massage your face and neck (don't forget your neck, people) using the pads of your fingers to boost blood flow and lymphatic drainage, then rinse thoroughly and pat dry with a clean towel. That communal hand towel the whole family uses to dry their hands? Unacceptable for the delicate skin on your face.
2. Toning
After cleansing, don't forget to spritz your skin with toner. Long gone are the days when toners stripped your skin of every last drop of oil, claiming to be the cat's whiskers for getting rid of acne spots but often making matters worse. Nowadays, toners are formulated to flood your skin with hydration, antioxidants, minerals, peptides, exfoliating acids, the works.
Even the most sensitive of skin can benefit from toner. Take our Rose Water Refreshing Facial Toner, for example. This 100 percent pure and natural Moroccan rose water gently balances, hydrates, calms and heals the skin, making it ideal for all skin types, but particularly great for irritated skin.
Simply mist it all over your skin immediately after cleansing. So easy, but so effective.
3. Treating
Now's the time to apply your eye treatment and serum. Serum should come first, straight after toning, and remember, less is more. Apply just one or two drops to your fingers, then smooth or press it all over your face and neck. Take care not to massage it in too much as serums are formulated to penetrate your skin without too much effort on your behalf.
Think about what niggles you about your complexion and choose your serum accordingly. Are you concerned with dehydration? Then something with hyaluronic acid or glycerin should be your first port of call. Perhaps you want to target the visible signs of aging. Then you can't go wrong with retinol. Or maybe your skin is looking dull and you want to up your radiance game. Say hello to vitamin C. We have a whole team of serums just waiting to help deal with your skin woes. You're welcome.
After applying your serum, allow it to settle for a few minutes while applying an eye cream or gel to moisturize this notoriously dry area and target issues like dark circles or puffiness. The skin around your eyes is around 10 times thinner than the rest of your face, so avoid applying your regular moisturizer here – it could overload the skin and cause irritation or bags.
Again, a tiny amount of eye treatment is plenty, so dispense just one pump between the pads of your ring fingers, then dab it gently all around your eyes, taking care not to apply too much pressure or drag the skin. Big no-no, right there.
4. Moisturizing
Give your serum and eye treatment another minute to settle before applying the next stage in your awesome routine: moisturizer. This will help avoid pilling –  those annoying balls of product that build up on the surface of your skin.
Your moisturizer should be formulated with a blend of humectants (to hydrate) plus emollients and/or occlusives (to smooth and seal in moisture) and should be targeted to your specific skin type. Look out for oil-free, gel formulations if your skin is super oily, and richer butters or balms if you're extremely dry.
Lotions and creams are ideal for normal or combination skin types, but if they've been formulated cleverly they can be great all-rounders for all. Our Vitamin C Brightening Moisturizer, for example, is an awesome choice for hydrating, moisturizing, brightening and protecting most skin types. Same goes for Vitamin C Deep Hydration Night Cream.
Apply a dime-sized amount all over your face and neck, using the palms of your hands. Start either side of your nose and sweep it out towards the hairline. Repeat this a few times, then work in the same motions over your forehead, chin, jawline and neck.
5. Protecting
Your nighttime regime is now complete. Not so for the morning because there's one vital component missing here: sun protection. Of course, great serums and moisturizers will be packed with antioxidants to help protect your skin from sun-induced free radical damage, but you must further protect it with a broad-spectrum sunscreen every day of the year: rain or shine.
Unlike the rest of your regime, sun protection is not something you can afford to scrimp on. The Skin Cancer Foundation recommends a good nickel-sized dollop for your face, so don't be tight and apply it evenly and generously.
Now, Stick With It, People
You know your skin type, you've pinned down an awesome routine, now all that's left to do is to stick with it. Of course, the odd lazy evening when you're too tired to spend 10 minutes on your skin is OK, but try to keep up with a consistent routine as much as you can. And no matter how tired you are, at least cleanse and moisturize your precious skin before bed.
Your skin will thank you for it, we promise.