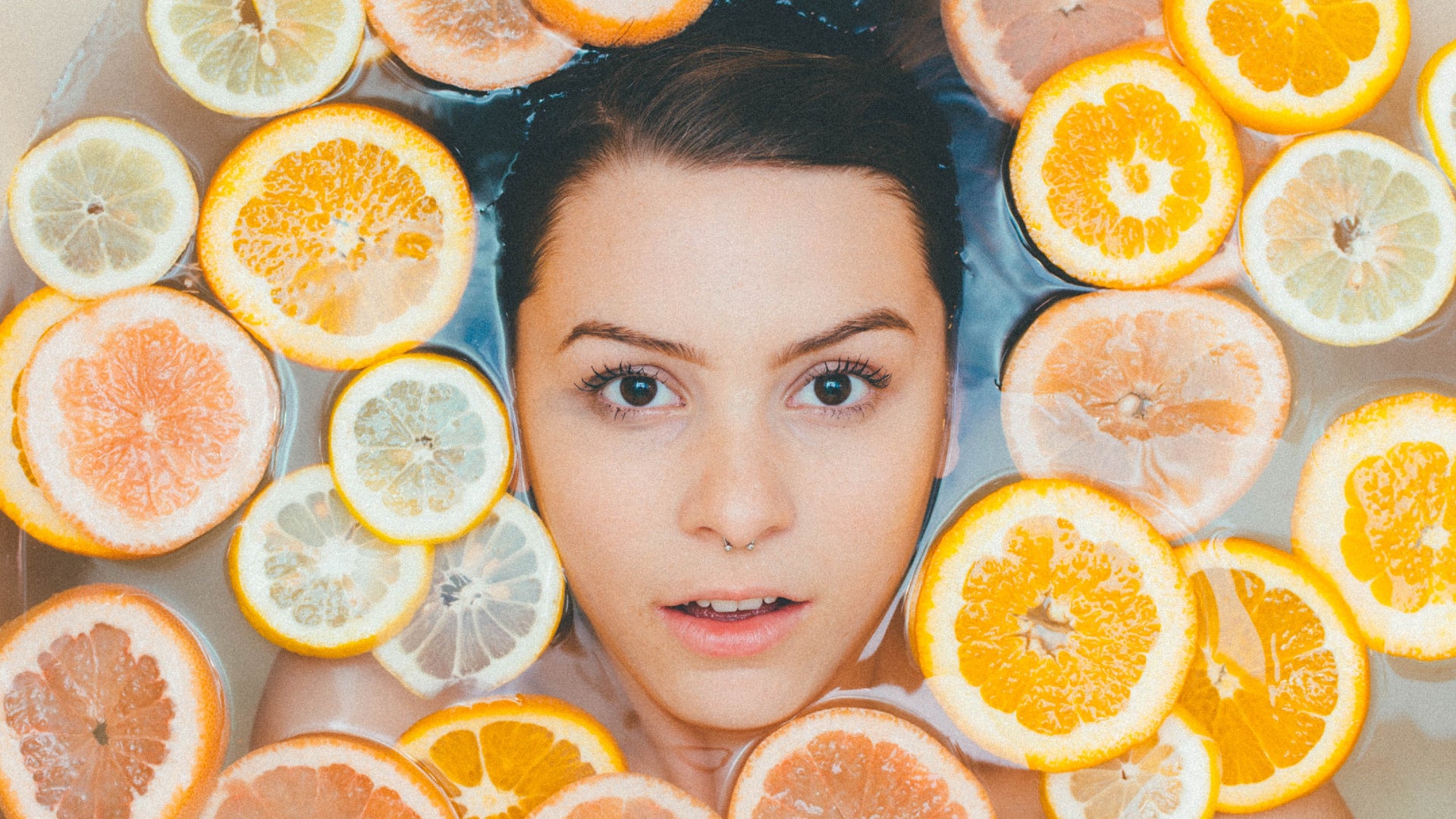 Antioxidants And Your Skin: What's The Deal?
With their countless skincare benefits, antioxidants are to skin what Netflix is to your couch – sheer bliss. Here's everything you need to know about these super-effective skincare powerhouses…
Sure, many beauty buzzwords are on a need-to-know basis (yes, we're talking to you glycosaminoglycans), but there are a few key terms and ingredients you really have to understand. And antioxidants are right up there.
Here at TruSkin, we truly believe antioxidants are the key to a healthy, radiant complexion. How so? Fair question, so let's buckle up for a few facts, shall we?
First, a small science lesson. As far as your skin is concerned, antioxidants are naturally-occurring vitamins and minerals that help prevent damage caused by free radicals. What are free radicals? They're the result of exposure to light, heat, pollution or other external aggressors and for fear of bombarding you with too much chemistry spiel, they're highly reactive, unstable atoms with unpaired electrons in their outer shells. This means that to stabilize themselves they tend to snatch electrons from other atoms or molecules (think DNA, collagen and elastin), resulting in what's known as oxidative stress. And this is where antioxidants come to the rescue. Unlike other vital skin cell components that become damaged when they lose electrons, antioxidants can donate them to free radicals without losing their own stability.
Still with us? Good! :-)
The human body naturally has a very efficient antioxidant defense system. Unfortunately, the inevitable aging process, together with overexposure to the sun, pollutants or other lifestyle nasties such as smoking, alcohol and poor nutrition, disrupts this defense system and free radicals start to take over. This causes damage not only to your skin, but to the health of your entire body.
Staying out of the sun, wearing a high, broad-spectrum sunscreen and having a healthy, balanced diet are all important ways to protect your skin from the visible effects of free radical damage such as lines, wrinkles, sagging and discoloration. But include a hard-working, clinically-proven antioxidant (or two) in your daily skincare routine and you immediately ramp up your skin's ability to win the war.
Here are some of the best antioxidants the skincare world has to offer…
The TruSkin Big 5
1. Retinol: The Ultimate Age-Fighting Hero
You'll see retinol splashed all over the skincare shelves. And for good reason. As a vitamin-A derivative that gets converted into retinoic acid when applied to the skin, retinol works by increasing cell turnover to help exfoliate, repair and strengthen the complexion. Unlike full-strength prescription retinoids like tretinoin, however, retinol needs to go through two steps to become retinoic acid. This makes it much gentler and tolerable on the skin and why it's seen as the darling of anti-aging, antioxidant ingredients.
Great For: Improving fine lines, wrinkles, discoloration and poor texture.
Find It In: Retinol Moisturizer
2. Niacinamide: The Gentle Skincare Giant
If there were a prize for the most unassuming hero of antioxidants, niacinamide would win, hands down. This water-soluble form of vitamin B3 is found in many foods like meat, grains and leafy greens, and its skin-loving powers are often harnessed by the beauty industry. Why? Because niacinamide has the innate ability to strengthen the skin's protective barrier by increasing its ceramide and fatty acid levels. This not only helps prevent environmental damage, but visibly improves the appearance of the skin.
Great For: Reducing redness, blotchiness, brown spots and enlarged pores. Sidenote: it's also well tolerated by sensitive skin types.
Find It In: Tea Tree Clear Skin Serum Serum
3. Vitamin C: The Super Antioxidant
Skincare skeptics may try to convince you that topical vitamin C is unstable and therefore pointless. Not so. Vitamin C is a super-effective antioxidant that boosts collagen production, lightens pigmentation, adds clarity, provides UV protection and, well, the list goes on. You just need to find the right form of vitamin C, which, in our opinion is Sodium Ascorbyl Phosphate (SAP). SAP is known for being much more stable than l-ascorbic acid, and many find it to be much less likely to cause irritation. Win-win.
Great For: Boosting radiance, reducing inflammation and breakouts, and improving poor texture.
Find It In: Vitamin C-Plus Super Serum 
4. Vitamin E: The Sun Damage Savior
A seasoned skincare vet and loved by many, vitamin E is a big-hitter when it comes to helping prevent and correct sun damage. It's also a darn good moisturizer. There are many types of vitamin E, but you'll most commonly see this lipid-based antioxidant listed in your day cream as tocopherol or tocopheryl acetate. On its own, however, it's easily oxidized so can quickly become ineffective on contact with the skin. This is why you'll generally find it combined with another antioxidant powerhouse like vitamin C which instantly makes it more stable and beneficial. Antioxidant cocktailing, hey? You've got to love that.
Great For: Treating dry, rough or photodamaged skin.
Find It In: Vitamin C Serum
5. Hyaluronic Acid: The Moisturizing King
Hyaluronic Acid (HA) is arguably one of the best, most effective skincare ingredients available. Found naturally in your body and particularly abundant within the skin's structure, HA is a humectant, which means it works like a sponge to trap moisture in your skin – up to 1000 times its own weight in water, in fact. The problem is, it gradually depletes as you age, which is why including a topical botanical HA in your skincare routine is such an awesome idea. Along with its moisturizing prowess, HA also reportedly promotes collagen production, reduces inflammation and fights free radicals. Yes, it's that good.
Great For: All skin types (even sensitive) to help maintain soft, supple skin and fight premature aging.
Find It In: Hyaluronic Acid Serum For Skin & Face