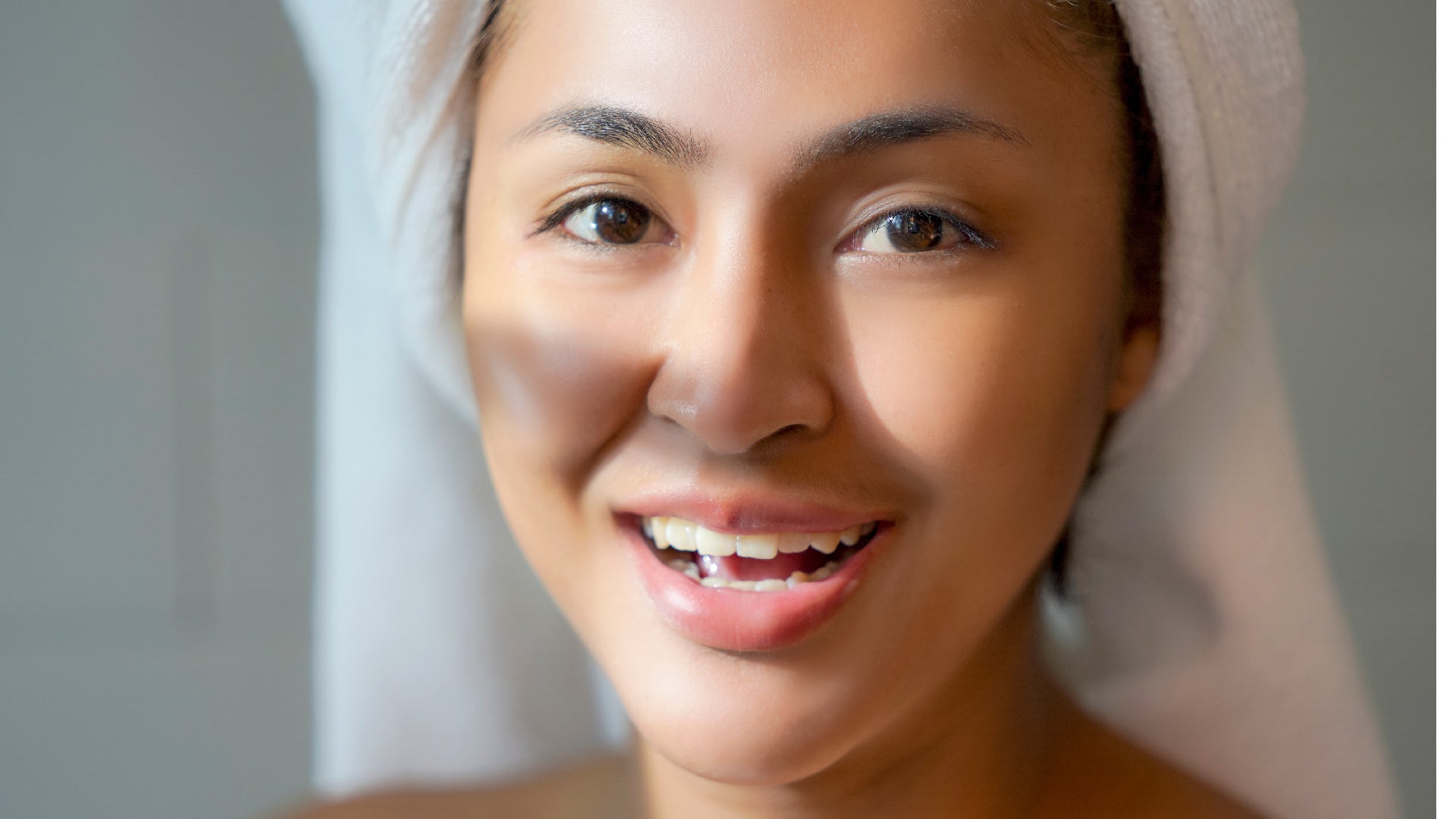 Tiny Skincare Tweaks For Insanely Better Skin
Because one small change to your skincare routine = a giant step for the look and feel of your skin…
It's easy to get into a rut with your skincare routine. We get that. After all, when things are ticking along nicely and your skin seems to be behaving well enough, why put a cat amongst the pigeons?
Don't get us wrong, we're all about consistency here at TruSkin. Finding your routine mojo – and sticking with it – is worth its weight in gold. But, unless you're some kind of inch-perfect superhero who never puts a foot wrong (does that person even exist?), improvements to your skincare routine can always be made. This could be adding an extra treatment serum to your bedtime regimen to help resist the signs of aging now you've hit 30, or it might be something as simple as washing your bedsheets more often (*note to self, right there!). Whatever your routine looks like, we know that you (and us included) can always do better.
Read on for some simple tweaks to help upgrade your skincare jam. And excellent news: not only are they super speedy and completely effortless, but they won't cost you a dime.
First, Detox Your Beauty Cabinet
When was the last time you looked at your product arsenal to figure out which products you actually use and see visibly results from? If the answer is anywhere between six months ago and never, then now's the time to change that.
Products have a shelf-life and, unless otherwise stated on the packaging, should generally be used within a year of opening. And if you're not sure how long that dusty serum has been hanging around at the back of your cabinet? Then apply a little to the back of your hand. If it smells funny, has changed color or looks separated – toss it. Using 'off' products on your face can cause all manner of unwanted issues so avoid even the slimmest chance of that happening by ditching anything old and unused.
Not only can you do without all those 'passed their best' products, but neither do you need 20+ skincare products that overload your skin and cause potential irritation. Instead, basic is best. Of course, by basic we don't mean sticking with a cruddy soap and bog-standard moisturizer. But cleanser, eye treatment, serum (or two), moisturizer, night cream and sunscreen are perfectly adequate. In fact, this combination is the perfect sweet spot in our humble opinion.
Read Your Labels
You might think you know how to cleanse and moisturize your skin because you've been doing it for years. So why read the labels? What could possibly go wrong? Similarly, your skin is super strong and has never reacted to a product in the past, so why should you bother familiarizing yourself with a new product's ingredients and instructions? Well, the most important thing to remember is that every skincare formulation is different. Sure, washing your face is essentially washing your face, but maybe your new cleanser contains super-strong active ingredients that might irritate your skin if you go in all guns blazing. Or perhaps it's best applied to dry skin first, then rinsed off with water. Who knows if you don't check first?
Take a minute or so (because honestly, that's all it will take) to read any new skincare labels before using products for the first time. And while you're at it, go back and read your existing ones to check you're applying those correctly, too. You never know, you may just learn something new. And your skin will thank you for it.
Cleanse For An Extra Minute
Rushing through your skincare regimen is a real shame. Not only because applying products should be enjoyable, rather than a chore, but also because taking your time will reap countless rewards.
Cleansing, for example, is often looked over as something to be swiftly checked off your list before getting to the main event of applying treatment serums and moisturizers. Huge mistake. Cleansing is the absolute foundation of great skin, removing potentially pore-clogging debris from the surface while preparing your skin to absorb and maximize the benefits of the rest of your routine. Do it badly, or too quickly and you won't do a great job. That's the truth.
So word to the wise: Take. Your. Time. Just a couple of minutes is all it takes to get rid of all that built-up grime, oil, sweat and makeup. Grab your favorite formulation – we have three awesome ones to choose from – and apply it to damp skin, then use your hands and pads of your fingers to gently work it all over your face and neck. Sweep it all over using stroking, lifting motions then massage it in circular motions to help boost blood flow and lymphatic drainage. Honestly, there is no easier way to improve the radiance of your skin.
Swerve The Hand Towel
Being aware of the quality and cleanliness of your face towel is a great way to level up your skincare. How so? Because old or dirty towels can be a breeding ground for germs and bacteria. And this is far from ideal for your skin – especially if you're prone to breakouts.
This means it's super important to set aside a specific towel for drying your face. Communal bath or hand towels? Unacceptable. Choose cotton or cotton blend towels as these combine the ideal blend of softness and absorbency alongside a little gentle exfoliation. Wash yours after every other use (yes, that means every day!) and replace them every few years.
Layer Up
Skincare layering is an incredible way to supercharge your routine by injecting (not literally, of course!) extra hydration, antioxidant protection, strengthening or acne-fighting ingredients into your skin without too much hassle.
But if you're going to do it, you need to get your order right.
The general rule is that your thinnest products should be applied first, with the thickest, most dense-feeling products going last. This means the order goes as follows: cleanser, toner, serum, eye cream, moisturizer, facial oil and sunscreen.
Another important thing to remember is not to bombard your skin with every AHA, BHA, retinol and vitamin C product you can get your hands on. These are all potent ingredients that can quickly overload your skin, resulting in redness, dryness, excess oils and/or irritation. Take it easy and apply just one serum at a time. Of course, you might want to invest in two or three to tackle different concerns and that's fine. In fact we love the combination of Vitamin C Facial Serum and Retinol Facial Serum. But we never use them both at once. Instead, apply them on alternate days, or try one in the morning and one at night.
Wear Sunglasses Every Day
OK, so this isn't strictly a skincare tweak, but sunglasses are an awesome way to protect the skin around your eyes from aging up lightning fast, so we're going with it. Plus it's easy, stylish and chances are you have a few pairs of sunnies anyway – so why not make the most of them by wearing them even on cloudy days?
The skin around your eyes is thinner and more fragile than the rest of your face which means it's less able to protect itself from the damaging rays from the sun. And the sun is always there – rain or shine – so protection shouldn't be kept aside for sunny days only.
Shield your eyes every time you go outside with sunglasses that offer both UVA and UVB protection. Go for plastic instead of metal frames to avoid reflecting damaging sunlight onto your cheeks, and choose mirrored over tinted lenses as these are more effective at blocking out those nasty rays.
Trust us, this is an awesome way to help ward off the visible signs of aging around your eyes. Plus, if you combine it with a daily eye treatment like Peptide Eye Gel you'll be laughing.