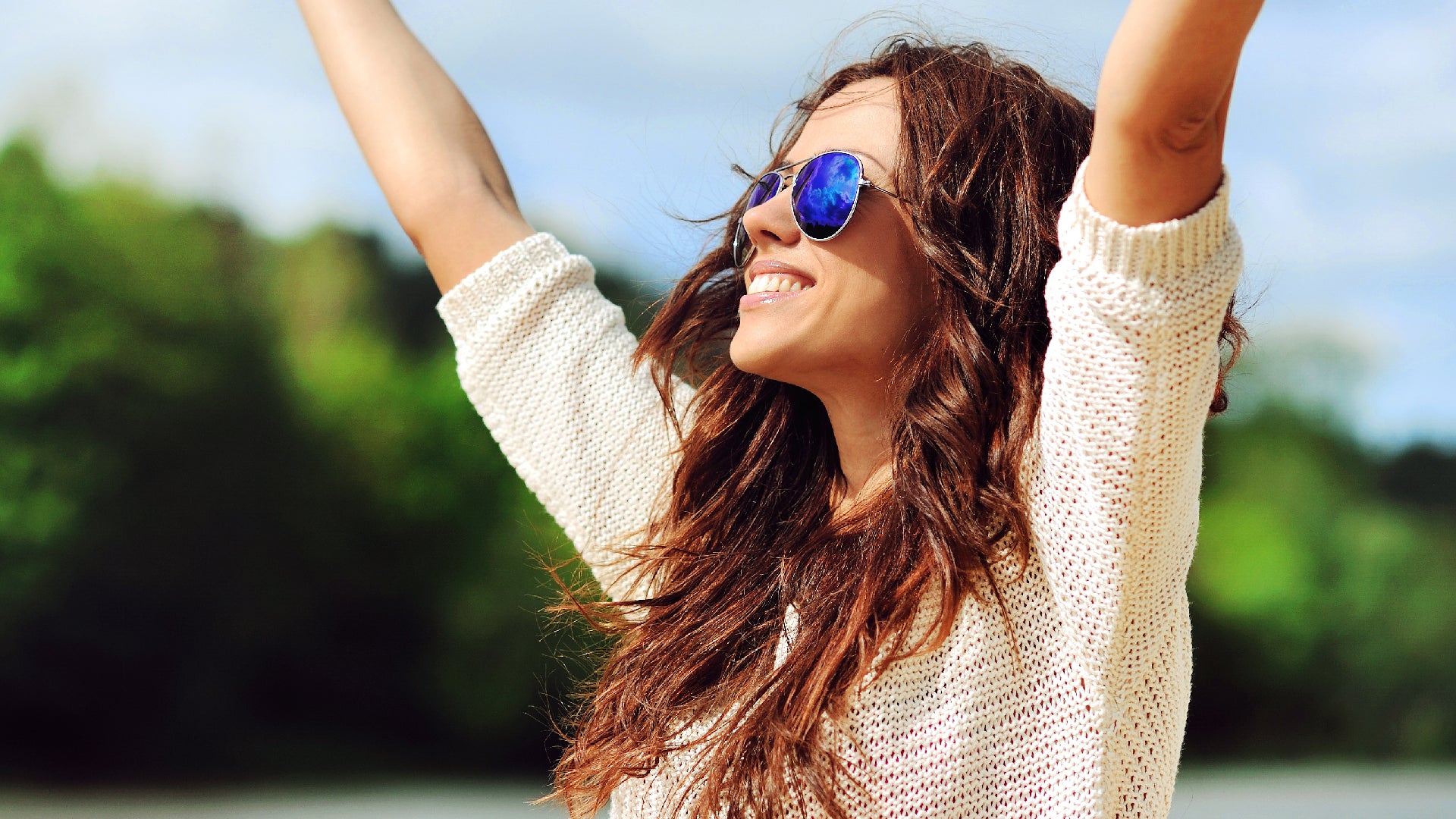 Is Your Skin As Healthy As It Can Be?
If not, we can help with that...
Healthy skin might sound like the stuff of pipe dreams, but if you forget about striving for perfection, it's not so out of reach. It's really more about looking after your skin as best you can – making good lifestyle choices, nailing an awesome skincare routine and cutting down on the things that might upset your skin both in the short- and long-term.
Your skin is the largest organ of the body and it's super important for, well, life. It might not help you breathe or pump blood around your body, but it provides essential protection for your entire body and, just like your lungs and heart, it's darn important. Not only does the skin regulate body temperature and protect your internal organs, but it also prevents potentially toxic germs, viruses and infection from entering the body as well as vital fluids from escaping.
As we said, important stuff.
So, what can you do to look after this essential organ and ensure it's a) doing its job properly and b) looking its absolute best?
Here, we share our five top tips for healthy skin…
5 Ways To Improve The Health Of Your Skin
1. Keep Your Skin Clean
Dirty skin can't function properly, so it's vital to maintain a consistent cleansing routine that removes oil, dirt, sweat and environmental pollutants from the surface.
Whether you prefer a water-based cleanser, oil, cream, lotion or micellar water it's important to choose a gentle formulation that's free of parabens and sulfates so that it does a great job without stripping your skin of essential oils. All of our cleansers are dermatologist tested and formulated without the most common nasties. What's more, there's something for everyone in our range. We're currently in love with NEW Tea Tree Super Cleanser which is crisp, fresh and perfect for removing impurities without leaving the skin tight or dry.
Cleanse your skin morning and night to remove surface debris, and avoid using scorching hot water (this is just as drying as chemical-laded cleansing products). Use a gentle touch to massage your skin all over – neck included – then gently pat your skin dry with a clean towel. That hand towel everyone uses in the bathroom? Unacceptable.
Finally, while we're on the subject of cleanliness, it's just as important to keep anything that touches your face clean. This means laundering your bed linens weekly (more often for pillowcases), cleaning your makeup brushes and smartphone frequently and washing your hands more regularly than you're already doing. All of these things will keep bacteria away from your skin, helping to reduce breakouts and other skin woes.
2. Eat More Nutritional Food
It's all well and good looking after your skin from the outside, but aging develops underneath the surface, so truly healthy skin must start from within. And this means you need to think about what you eat.
A well-rounded, balanced diet is the key so make sure you include tons of fresh fruit and veggies to get your daily intake of skin-loving antioxidants, vitamins and minerals. Other skin-loving goodies? Omega-3 fatty acids which are fabulous for regulating sebum production while improving the fatty acid composition in your skin. All this is awesome for helping to reduce irritation, dryness and dehydration.
But that's not all. Things like selenium, zinc and lutein are also great additions to your diet, helping to protect your skin, reduce inflammation and aid healing.
The over-riding rule is thus: avoid things like processed meats, sugar, fried food, carbs and too much salt. And swap them out for fruit, veggies, oily fish, olive oil, nuts, poultry and pulses.
Research has also shown that reducing your calories may be another way to help slow down the rate at which your skin ages. So there's that...
3. Drink Less Wine
While there's nothing wrong with the odd glass of wine/hard seltzer, too much booze can totally kill your skin's mojo.
Alcohol expands your blood vessels and inflames the tissue which can make your skin look way redder than normal. Sure, this is temporary to begin with, but keep drinking the hard stuff and after a few years this will turn into facial redness that just won't go away.
Booze also sucks moisture from your skin causing dehydration and the inevitable fine lines and wrinkles. Furthermore, it causes your sebaceous glands to go into overdrive, which makes your skin look super greasy. Not to mention the added woe of more frequent breakouts.
Our advice? Drink less units of alcohol… and less often. And remember, clearer alcohol is better, so if you're going to sip on anything go for spirits like vodka, gin or tequila, mixed with soda water (zero sugar, yay!) and a squeeze of lime.
4. Be Kind To Your Skin's Barrier Function
Your skin is split into three main layers: the subcutaneous layer (the fatty section deep down at the very bottom); the dermis in the middle (where the blood vessels, nerves, sweat and oil glands live) and the epidermis which is the top layer you can see.
Right at the top of the epidermis is what's called the stratum corneum. Built from around 20 layers of cells this uppermost layer is kind of like a brick wall, made from keratin and held in place by ceramides, cholesterol and fatty acids. Together with your skin's NMF (natural moisturizing factor) it's your body's first line of defense against the environment. And this is what's known as your barrier function.
The reason your barrier function is so important for healthy skin is because it works super hard to keep all the good stuff in and the bad stuff out. If it's in great shape, it helps your skin stay soft, supple, moisturized and free from irritation, dryness and sensitivities.
Everyone's barrier function is different and it's one of the main causes of sensitive skin so if this is you, take it as a sign that yours is compromised. But don't freak out, because there are plenty of ways to look after and strengthen your barrier function to help improve the health of your skin.
Harsh cleansers are a no-no (see above), as is over-exfoliating your skin and showering or bathing in scorching hot water.
Then there's moisturizer. Moisturizers are extremely important for the skin as they seal in hydration, balance sebum production and keep your barrier function in tip-top shape. Use one after every cleanse (and this includes your body as well as your face) and try applying yours to slightly damp skin to further increase hydration in your skin. We love Vitamin C Brightening Moisturizer every morning and Vitamin C Deep Hydration Night Cream before bed.
5. Say A Big NO To The Three 'S's – Stress, Smoking & The Sun
Three of the worst things for the health of your skin? Stress, smoking and the sun.
Stress triggers all manner of skin issues as it unbalances your hormones, increases inflammation and impairs your barrier function, reducing its ability to retain moisture and fight off potentially damaging irritants. Of course, stress can be hard to manage but breathing exercises, me-time, good sleep and a well-rounded, balanced diet are all great for your mental wellness.
Smoking, on the other hand, contains a whole barrage of chemicals (more than 4,000!) that destroy collagen and elastin and cause the blood vessels in your skin to narrow, therefore restricting its access to nutrient-rich oxygen. Cue sagging skin, uneven tone, poor texture, dullness and dehydration. The answer? Quit. Need help with that? Check out these tips from former smokers.
And finally, the sun. Ask any skin expert to recommend the single most important thing you could do for the health of your skin and they will all say wear sunscreen. Sunlight causes skin aging and, according to the Skin Cancer Foundation, regular use of sunscreen can reduce your risk of developing skin cancer by up to 50 percent. This means it's not only vital for the health of your skin, but the health of your entire being.
Wear SPF 30 Mineral Sunscreen every morning without fail. We'll end it there.