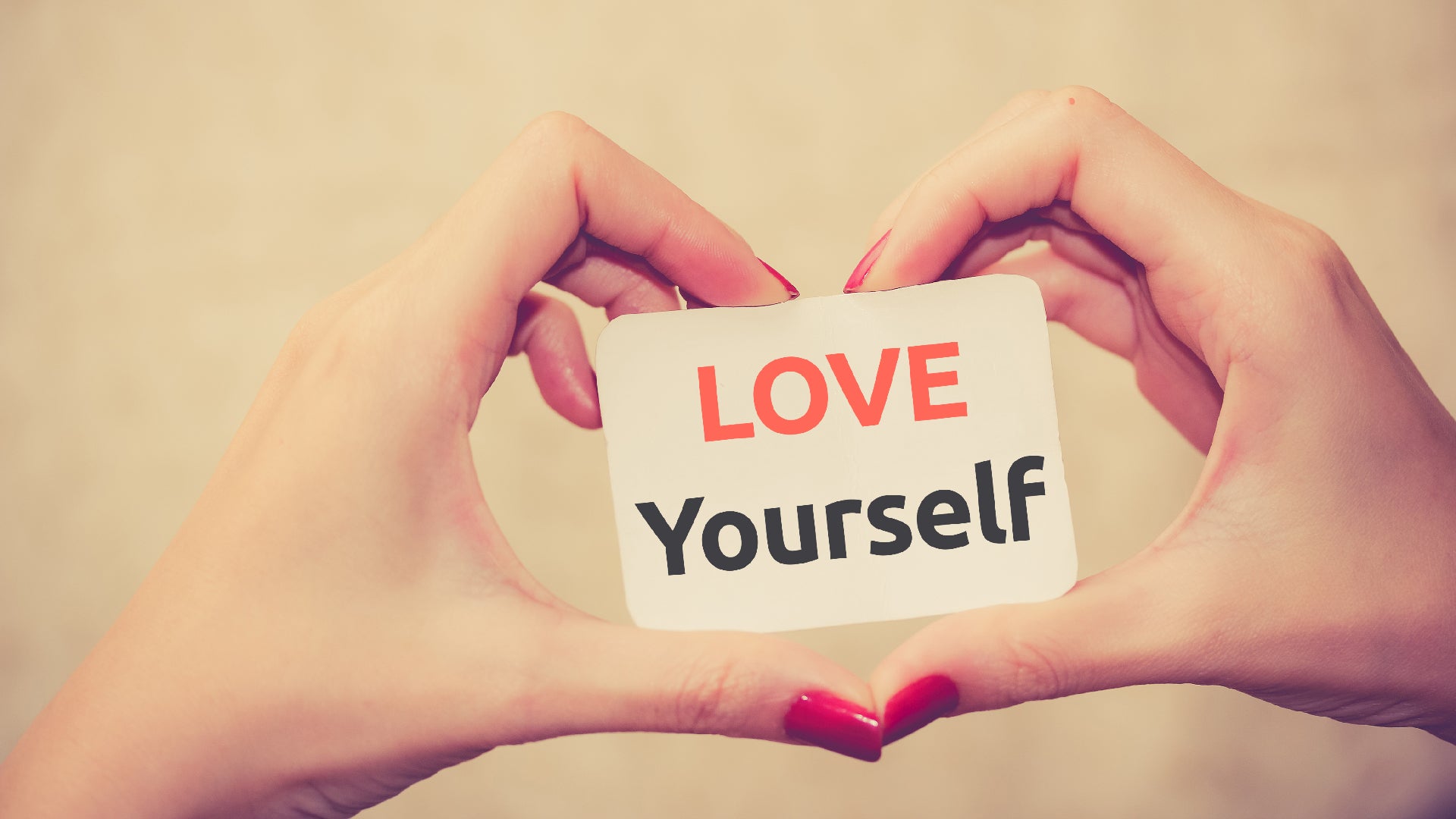 Love Yourself (& Your Skin!) This Valentine's Day
It's time to be grateful for the now and show love for the future by embracing and appreciating the skin you're in. 
Hands up if you can't help but focus on your skin's so-called 'flaws' rather than its many amazing strengths. Don't worry, you're not alone. For some reason, it's much easier to look in the mirror and see an oily t-zone, crow's feet and sagging jawline staring you back in the face, rather than all the good stuff like your smooth forehead, even skin tone and very few wrinkles. Human nature: it's a funny old thing.
But today, we're here to flip this whole lack of skin-appreciation – and consequent self-appreciation – on its head. It is the season of love, after all. And that means unconditional love.
Not sure where to start on this journey of self-love? Then read on for some simple ways to change your mindset and show your skin how much you value it.
First, Write A List Of Your Skin's Good Points
Sure, it's easy to make a list of everything you hate about your skin, but the target here is to take note of some of the stuff you love, or at least like, about it. This list can include anything, such as the fact that your skin doesn't break out every month or that having oily skin means you have very few fine lines or wrinkles. Literally, anything.
Grab a pen and paper (come on, let's do this right now), stand in front of a mirror and make a list of five skin positives without thinking too much about it. And remember, this isn't bragging. Far from it. It's simply about acknowledging all the good stuff your skin has blessed you with. And doing this automatically helps you stop sweating about the so-called 'bad' stuff.
Learn How To Take Compliments
Are you guilty of answering back with 'this old thing?' whenever someone compliments your outfit? Or muttering something along the lines of 'you should see me without makeup on' when another person comments on how young you look? Why do we do that? What is it that stops us from taking the compliment and graciously saying 'thank you'?
People give compliments because they genuinely like or appreciate something about you, and they want to make you feel good by telling you so. Simple as that. So, next time someone pays you a compliment, smile, enjoy it and be grateful. You'll feel so much better for it.
Boost Self-Love With A Little Self-Care
One of the best ways to show yourself how much you care is to treat your skin (and your world) with love and respect. This means avoiding harmful chemicals, saying no to animal testing and trying to adopt a cleaner, greener skincare regimen by reducing wasteful packaging, using reusable cotton pads and recycling your bottles as much as possible.
Also, how about a little pampering me-time every now and again? Giving yourself a facial is the ideal way to spend some quality time on yourself and enjoy the healing power of touch. Experts agree that self-massage helps lift your spirits and alleviate mental anxieties. Not to mention the immediate boost to your complexion, of course.
Here's one of our favorite facials you can easily do at home…
1. First, set the scene to promote a stress-free zone. Lock your bathroom door to keep your housemates/partner/children away, light a scented candle and pop on a relaxing playlist. Oh, and do NOT take your smartphone into the bathroom with you – TikTok can wait.
2. A clean base is key, so wash your hands first, then deep cleanse your skin with Charcoal Clarifying Cleanser, taking two or three minutes to massage this all over your face and neck.
Starting at your forehead, place your fingers just above your brows then press them up toward your hairline in a smooth, sweeping motion. Repeat this a few times, then place your hands on either side of your nose in a prayer-like position and smooth them across your cheeks to your temples. Again, repeat this a few times before working in a similar motion over your chin and jawline. Finish by smoothing your hands up from the base of your neck to your jaw a few times. Heaven.
Rinse with lukewarm water and pat your skin dry with a clean (VERY IMPORTANT) towel.
3. After cleansing, spritz your face with Ocean Minerals Super Toner, which contains exfoliating glycolic acid, as well as MSM, peptides, antioxidants and botanical oils to hydrate, nourish, and promote firmer-looking skin.
4. Next comes your treatment serum. Depending on your skin type and needs (not 'concerns,' remember?), we have a whole collection of plant-powered serums packed with skin-loving ingredients. What's more, many of them are now available in your favorite Target, Walmart and CVS stores, as well as online at Amazon.com.
Our bestselling serum and fan favorite is Vitamin C Facial Serum, which you can find in most Target and CVS stores. What's more, check out Walmart for the mini travel-sized version, which doubles as a cute trial size and allows you to access your favorite serum on-the-go!
Apply a few drops of serum to your face and neck after toning by applying it to your fingertips and patting or smoothing it gently into your skin.
5. To finish, apply Hyaluronic Acid Eye Cream around your eyes (a tiny amount is all you'll need), then smooth your favorite moisturizer all over. We love to show our skin the most amount of love before bed, so our go-to post-facial moisturizer is Vitamin C Deep Hydration Night Cream. But if you're a morning kinda gal or guy, try Vitamin C Brightening Moisturizer, also available at CVS. 
Last, But Not Least... Smile!
Research shows that people who smile more often look younger and infinitely better than those who are, well, a tad grumpy. Smiling not only uses fewer muscles than frowning, it raises your cheekbones, lifts sagging skin and adds a sparkle to your eyes. Smiling also releases endorphins and serotonin which immediately help relieve stress, calm your body and elevate your mood.
Gotta love that.