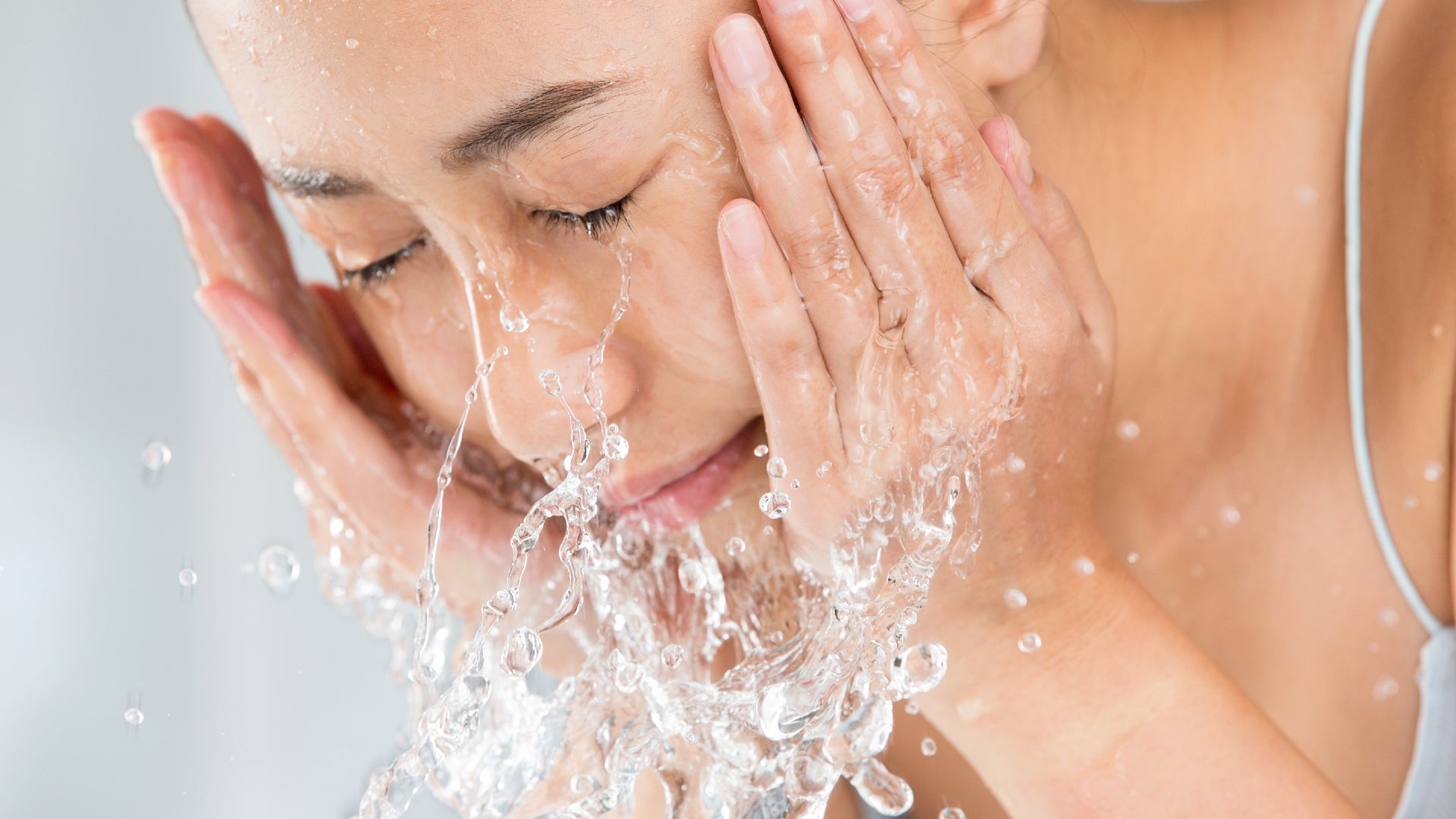 Skincare Hacks That Work… But Don't Cost A Dime
Excellent news: these genius skincare tricks will literally cost you nothing.
A consistent skincare routine is the first step to awesome skin, but did you know there are further ways to help make the most of what nature gave you? What's more, some of the most effective skincare hacks are totally free.
So, without further ado, let's check them out, shall we?
1. Wash Your Hands Before Cleansing
Cleansing is one of the most important steps in your skincare routine, but are you guilty of washing your face without washing your hands first? Yeah, you're not the only ones. But do you really want to be transferring all that grime from your hands to your face? Thought not. Even if your hands don't look dirty, chances are they'll have recently touched any number of surfaces since you last washed them, so just give them a quick clean before cleansing or touching your face to reduce your chances of transferring bacteria, oils, dirt and other chemicals from one place to another. Fail to do this and you could increase your risk of sensitivities, irritation and acne flare-ups. 
Similarly, if you like to use a face cloth, make sure you wash it every day. Without fail.
2. Brave A Cool Rinse
Speaking of cleansing, a final rinse with cool water is an old but great Hollywood trick that helps soothe, tighten and depuff your skin. Charlize Theron is apparently a big fan of this hack (erm, we'd all love skin like hers, right?) and the legendary Joan Crawford swore by running an ice cube all over her face.
Cold water not only improves circulation to the skin to give you a fabulous, instant glow, but it acts like an astringent to help keep your pores in great shape. But remember, using cold water for your whole cleansing routine might not offer the level of cleanliness you're after. We recommend (as does the American Academy of Dermatology) using lukewarm water along with an effective but gentle cleanser like our Skin Clearing Charcoal Face Wash to cut through oils and remove makeup and pollutants that may have built up on your skin throughout the day. Rinse thoroughly and then turn on the cold faucet for a quick final rinse with cool water.
3. Sleep On Your Back
When it comes to bedtime, one thing is almost as important as getting your eight hours of zzzs. And that's the position in which you sleep. Lying on your front is the biggest no-no since smushing your face into your pillow is asking for wrinkles (aka sleep lines) to become permanently etched into your skin. This friction between your pillow and your skin can also trigger acne mechanica which is when skin flares up due to continued rubbing and pressure.
Your best bet is to sleep on your back as this keeps your face, and in fact your neck, well away from constant friction from your pillow. It also allows your night creams and serums free to do all their good work without fear of being absorbed right into your pillowcase – which is so not cool. Lastly, sleeping on your back helps minimize puffiness around the eyes as it reduces excess fluid from pooling. You know, gravity and all that.
4. Apply Skincare To Damp Skin
Applying serums and moisturizers to dry skin is fine and you'll reap their benefits, for sure, but if you want to really get the most from your treatments, apply them when your skin is still slightly damp after cleansing. By applying serum or moisturizer to damp skin you help lock in extra moisture. Damp skin is also more receptive to skincare ingredients, allowing them to penetrate quicker and more effectively. It figures, therefore, that by improving absorption you get way more bang for your beauty buck. 
If you have sensitive skin, however, you should tread carefully with this one. Active ingredients like vitamin C and retinol are pretty powerful, so if your skin is reactive you might not want to up their potency. Instead, stick to applying them to dry skin – always performing a patch test first, of course. 
5. Try A Facial Steam
If you're prone to acne, redness and flushing, you can skip this one as steaming will make your conditions worse. But for the rest of you, if you're looking for a super cheap (read: free) radiance boost, you can't go wrong with a facial steaming sesh.
Steaming increases perspiration to help remove toxins while simultaneously enhancing circulation to boost the flow of oxygen and nutrients to your skin. Win-win. It also helps hydrate your skin as long as you immediately (within a minute) apply serum and/or moisturizer to seal all that water in.
Don't bother spending your hard-earned dollars on a high-tech facial steaming machine, however, simply place your face over a bowl of recently boiled water for 5-10 minutes, placing a towel over your head to trap in the steam. Just remember not to get too close to the surface of the water (ouch) and give it a minute or so to slightly cool down after boiling.
If this doesn't sound like your jam, another option is to submerge a clean towel in hot water, then wring it out slightly, lie on your back and drape it over your face.  
Limit steaming to once or twice a week as any more than this could make your skin dry and dehydrated which is literally the opposite of your goal.
6. Keep Your Eye Gel In The Fridge
We don't subscribe to the 'keep all your skincare products in the refrigerator' idea, and would never recommend you waste your money on those cute, Insta-worthy beauty fridges that can set you back a couple of hundred dollars. Yes, they're adorable, but quite honestly, they're kinda pointless. After all, skincare products have to go through vigorous shelf-life testing before they're released to market, so why should they need refrigerating? Answer: they usually don't.
There are two exceptions to this rule, however. After-sun, for obvious reasons, and eye gel.
Keeping your eye gel in the fridge will offer a delicious cooling sensation to the skin around your eyes, giving a doubly soothing effect. As an added bonus, the coolness will also constrict the blood vessels to reduce puffiness or swelling and help revitalize tired eyes.
If you suffer with morning puffy eyes, you should 100 percent try this trick. You won't regret it.