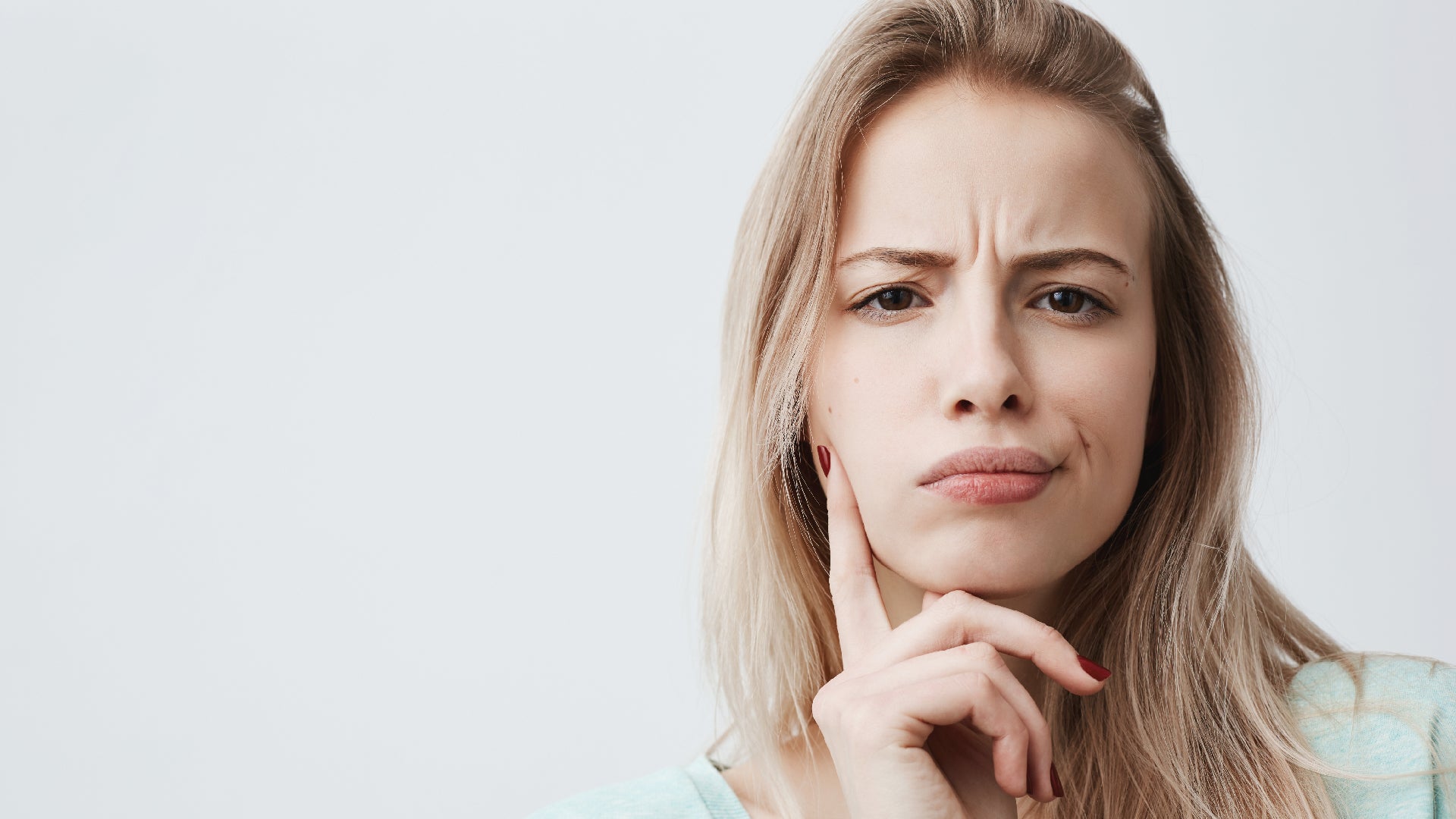 How To Deal With Your Most Niggling Beauty Bugbears
It's time to take control of your least favorite skin concerns with these simple skincare updates.
Let's get one thing straight: perfect skin is the stuff of fantasies. What you see on the red carpet, for example, requires hours of preening and painting, not to mention the years' worth of treatments and tweakments undertaken at the doctor's office. 
However, in-office treatments aren't for everyone and constantly striving for perfection can be an exhausting game to play. That's why we prefer to work with what nature gave us by looking after our skin through smart skincare and lifestyle choices. Sure, these kinds of habits will never eradicate wrinkles, plump up thin lips or make sunspots miraculously disappear overnight, but taking positive action will absolutely help your skin in the long-term. At the same time, it does wonders for your mental wellbeing.
Whatever your skin bugbear, our advice is simple. 1. Try not to sweat it too much. It's really not the big deal you make it out to be, plus other people probably don't even notice it. And 2. Ensure you're choosing and applying the right skincare so as not to make matters worse. Because you know what? Great skincare and good lifestyle habits are an awesome way to prevent AND treat your concerns.
Here's how to tackle some of your most common skin worries…
An Oily T-Zone
Dealing with a greasy nose, chin and forehead is bad enough at high school, but when oily skin continues to irritate the hell out of you in your adult years? Enough already.
First, the good news: overactive sebaceous glands mean your skin is less likely to prematurely wrinkle. So, at least there's that. However, oily skin is still irritating, especially in the summer months when it gets doubly worse.
What to do, then? Well, don't think moisturizing is pointless, because if you fail to moisturize your skin after cleansing, it will just produce even more oil to counteract the dryness. Not cool. Choose light, moisturizing ingredients like aloe vera and glycerin rather than heavy oil-based formulations, and invest in a cleanser that contains activated charcoal to draw out toxins and mop up excess oil. Try Charcoal Clarifying Cleanser.
Sagging Jowls
Aging skin isn't solely about wrinkles. A lack of firmness (thanks to the natural loss of collagen) can be another frustrating bugbear that causes your skin to seriously slacken and head south, especially around the jaw area.
Facial exercises are a good way to strengthen the muscles in your face and neck to help keep jowls under control. One of our favorites is called "Kiss the Ceiling". To try this one, tilt your head back, pucker up your lips and really push them forward as if you're trying to kiss someone extremely tall. Hold for 10 seconds, then repeat five times every day.
You should also include a hardworking antioxidant serum in your daily routine to help stay on top of free radical damage – one of the biggest offenders for collagen breakdown and skin aging. Vitamin C Super Serum+ is a great choice for lax skin, as it contains MSM, retinol, botanical hyaluronic acid and vitamin C to build strength and firmness. A no-brainer, if you will.
Stubborn Blackheads
Blackheads strike when overactive sebaceous glands block up your pores with sebum. This sebum then combines with dead skin cells, breaks through the pore and oxidizes (turns black) as it hits the air. They most commonly strike on and around your nose but can appear anywhere, especially if you have naturally oily skin.
Just like a shiny T-zone, blackheads are best kept in check through sebum control, so ensure you cleanse thoroughly (but gently) morning and night, and always after exercising. Never squeeze blackheads, as it can cause inflammation and/or scarring. Instead, embrace skincare that contains salicylic acid, which not only cuts through excess oil but also dissolves the bonds between dead skin cells, encouraging them to slough away more efficiently.
Our Tea Tree Super Serum+ works as a fabulous spot treatment for stubborn blackheads. Simply apply it 2-3 times a week to targeted areas or all over.
Puffy Eyes & Dark Circles
The skin around your eyes is super fragile and also lacks fat and muscle support. This is why it's often one of the first places to scream 'aging'!
Unfortunately, aging concerns around the eyes are often hereditary and if you have pale skin, you're more likely to notice dark under eye circles than if you have darker skin. Sun damage is also a major player here, so always wear UV protective sunglasses when you're outside, sleep with your head elevated to reduce water retention under the eyes and apply a daily eye treatment containing antioxidants to further fight the damaging effects of the sun.
We love Peptide Eye Gel as it contains peptides (obvs!), plant stem cells, botanical hyaluronic acid, licorice extract and a bunch of other ingredients that have a rep for gradually improving the look of fine lines, dryness, morning puffiness and dark circles.
Red Cheeks
Facial redness can be caused by many things. It arises when your blood vessels become dilated, accelerating blood flow to the surface of your skin. The big question, however, is why your blood vessels dilate more than others. And the answer? Well, how long have you got? Genetics is a major factor in things like eczema, acne, rosacea and psoriasis, all of which result in facial redness. But then there are other issues like over-exfoliation, allergies, hormonal fluctuations and stress.
The best ways to deal with facial redness is to check in with a skincare expert so you can diagnose the issue, understand what's causing it and then treat it. Of course, a gentle skincare routine is also key to reducing redness and irritation, so go steady with potent ingredients like retinol and glycolic acid, and make sure you moisturize your skin twice daily.
Niacinamide Facial Serum could be a good option for you because it has soothing and anti-inflammatory properties. But always check with your dermatologist and do a patch test first.
Hormonal Breakouts
Hormonal acne, which makes you break out during your periods or menopause, affects around 25 percent of women in their forties and a whopping 50 percent of women in their twenties. That's a lot of women having to put up with zits and pimples at a time when there's so much else to deal with. Sigh.
Menopausal acne is believed to arise because estrogen levels drop as your periods slow down and eventually stop. At the same time, androgen hormones like testosterone increase – cue breakouts.
There are many options for dealing with hormonal acne, including prescription meds, but retinol is a great shout if you're looking for an effective way to up your skincare game. Retinol activates certain genes underneath the surface of your skin to boost cellular turnover and stop dead skin cells from lurking around way past their sell-by-date. The result? Clearer pores and fewer breakouts. It's a very powerful ingredient, however, so slowly introduce Retinol Facial Serum into your routine after patch testing first.