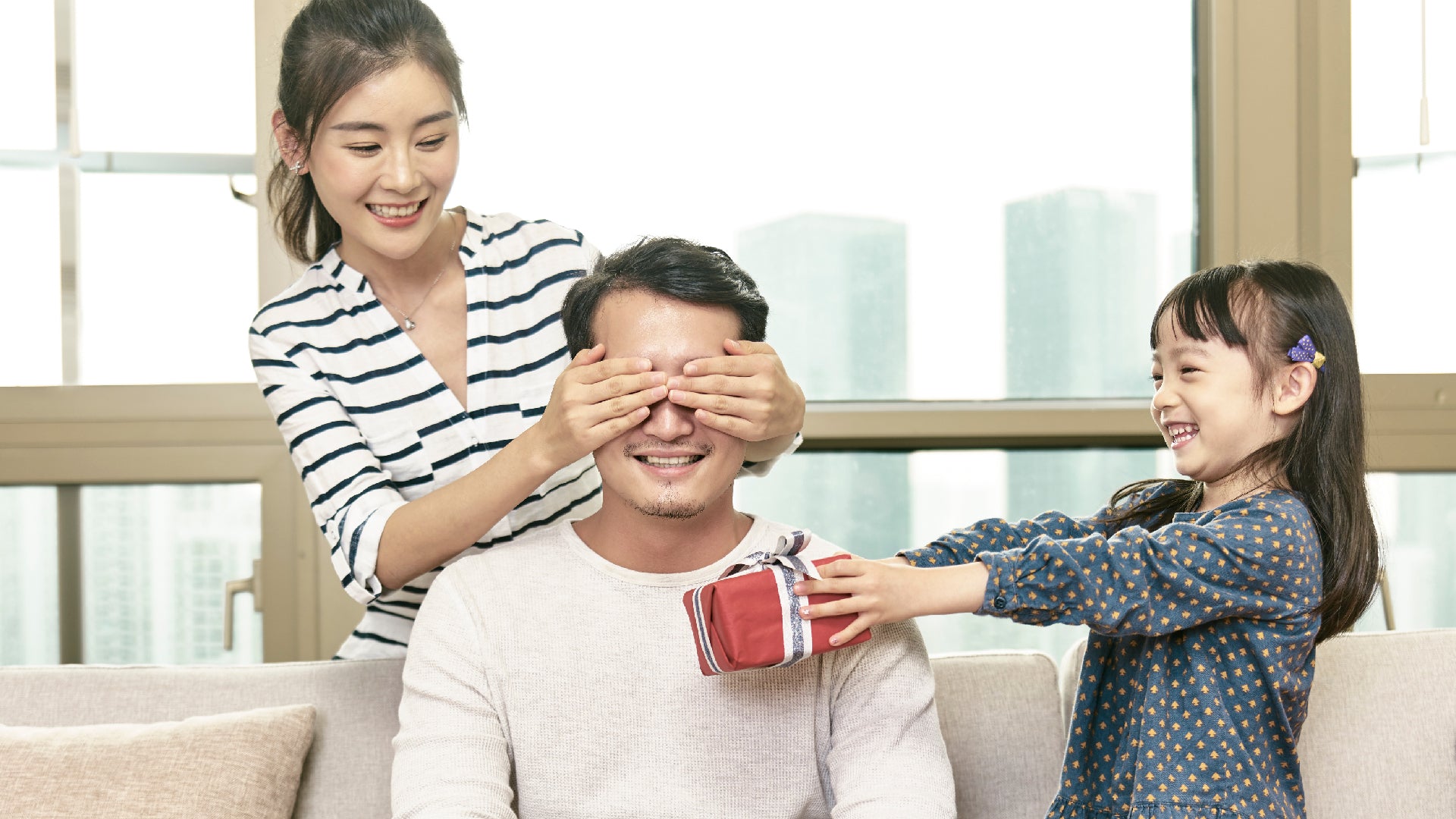 The Best Father's Day Gifts For Every Dad You Know
It's time to celebrate dads, husbands, grandpas and dads-to-be by saying no to substandard gifts of socks and chocs in favor of awesome skincare they will love.
Father's Day is coming up fast (June 20th in case you were wondering), so if you're fed up of panic-buying cruddy presents for the special guys in your life, imagine how they feel receiving novelty socks and weird cufflinks year after year.
Well, this Father's Day, it's time to avoid those awkward 'erm, thanks, darling?' moments by stepping up your gifting game with something he'll a) love, b) use and c) want to buy again and again.
Thankfully, we've got your back with five of our favorite grooming products for every father figure in your life. After all, whether you're looking for a gift for your stepdad, grandpa, husband or pup-crazy dog dad, we don't know any guy who doesn't want better, younger-looking, clearer skin. Just don't leave it too late to get ordering, folks! You've not got long…
1. Charcoal Clarifying Cleanser
One of our best-selling products for the boys, Charcoal Clarifying Cleanser is a real winner for men of all persuasions but it's specifically great for fitness fanatics, outdoorsy types or those with oily skin. It contains activated coconut charcoal, you see, which draws out toxins from the pores and mops up excess oil. And all this without sucking out every last drop of life from the skin – which, frankly, is a common mistake made by both men and women.
The Perfect Gift For: Younger dads with oily skin; beardy types who suffer with breakouts around their jaws, or active guys who love going to the gym (it's a great way to decongest and detoxify the skin post-workout).
2. Vitamin C Brightening Moisturizer
Radiant, glowing skin will always be in. You know that. We know you know that. But what about the special guys in your life? Maybe they're not so aware of what their skin is missing out on and have no idea how to deal with a dull, tired-looking face, other than scrubbing it to death in the shower every morning. Ouch.
Say hello to Vitamin C Brightening Moisturizer which is the answer to all his lifeless-looking skin problems. Free of harsh chemicals that may dry out his skin and brimming with skin-friendly goodies like vitamin C (obvs), vitamin E, jojoba oil and glycerin, this daily boost of hydration is ideal for all skin types and is super lightweight so won't leave his skin feeling like it's been doused in moisturizer. Because most guys hate that.
The Perfect Gift For: Any man in your life, but especially those who work hard, play hard and whose skin suffers as a consequence.
3. Tea Tree Super Serum+
Who doesn't love the smell of cooling, refreshing tea tree oil? And the best thing about one of nature's hardest-working essential oils? Its antibacterial and anti-inflammatory qualities make it awesome for unclogging pores and soothing angry flare-ups. Our Tea Tree Super Serum+ is also formulated with salicylic acid to boost cell turnover, vitamin C to protect the skin and fight damaging free radicals, plus hyaluronic acid to hydrate and heal. What's more, buy it for your partner from the kids and you'll have it on hand for when you need to banish those pesky monthly breakouts – bonus.
The Perfect Gift For: Guys who suffer with ingrown hairs, oily skin or breakouts on their face or body. It's potent stuff, though, so remind him to use it just two or three times a week.
4. Retinol Facial Serum
Retinol: could there be a more revered ingredient in the skincare industry? Short answer: no. Loved by derms, celebrities, beauty/grooming editors and of course, ourselves, retinol is one of those anti-aging ingredients that simply works. Time and time again, it's been proven hard to beat in the battle against lines, wrinkles, poor texture, uneven tone and sagging skin. It also helps heal existing damage by enhancing the skin's ability to produce collagen.
Chances are you've already introduced some retinol into your skincare life, so why not allow your favorite man in on the secret? And our Retinol Facial Serum is bang on the money. Unlike heavy retinol creams, this can be layered easily under moisturiser and he'll feel like his skin is wearing nothing at all. Genius, don'tcha think?
The Perfect Gift For: Any man who wants better skin without trying too hard. Retinol is an awesome age-defying ingredient but can be used from as early as age 25, so young guys who are skincare savvy will love it just as much as grandpa.
5. Peptide Eye Gel
Tired, puffy, crinkly eyes get us all in the end. Why? Because the skin around the eyes is much thinner and contains fewer sebaceous glands than the rest of the face. This means it's more prone to the visible signs of aging and more likely to become dry due to lack of natural oils and environmental damage. Couple all this with the slings and arrows of stress, no sleep, too much booze and a poor diet and the eye area literally stands no chance.
If the man in your life could do with a little help in the eye department, think about treating him to our Peptide Eye Gel. He'll find it super easy to dab this cooling gel around his eyes and once he's tried it, he'll love the way it wakes up his entire face with very little effort.
The Perfect Gift For: New dads getting by on just a few hours of sleep; guys who are always the life and soul of every party (but often wake up feeling like hell), or any dad who needs a little pick-me-up.