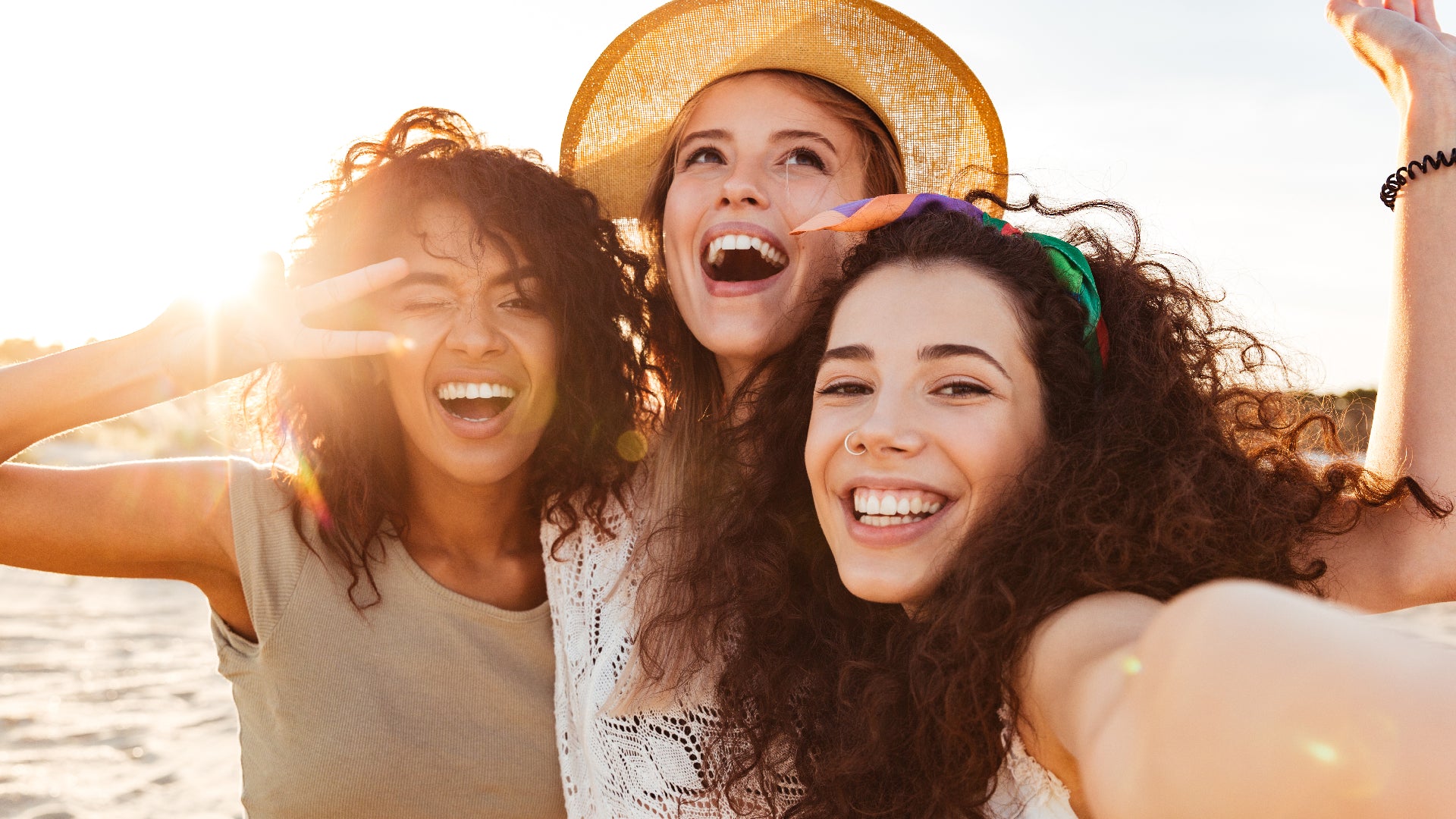 5 Ways To Whip Your Skin Into Shape For Summer
June 20 marks the official start of summer, so let's make sure your skin is 100 percent sunshine-ready, shall we?
The days are longer and the temperatures are rising. Yes, summer is here, people, so can we get a 'hurray' for arguably the best season of the year? 
Actually hold on a second, because heat and humidity aren't always good news. In fact, they mean big (often bad) things for your skin. If you have an oily complexion, for example, summer can play havoc with a greasy forehead (not to mention sweaty bangs and annoying breakouts). And if you're sun-sensitive, you'll know full well how tricky it can be to protect your delicate skin from that powerful ball of fire in the sky.
Want to get ahead of the game and ensure your skin is summer-ready, like now? Then here are five rules you need to get on board with.
1. Be Better At Cleansing
Do you often go to bed without cleansing your skin? Or maybe you're a face wipe addict and simply don't have the time for anything more than a quick swipe-and-go after getting up in the morning. Well, you might (and we stress the word 'might') get away with this every now and again in the winter months, but poor cleansing is seriously bad news in summer.
As temperatures and humidity increases, your skin's sebaceous glands produce more oil to help protect it from environmental stressors. Couple this with an excess of sweat, dirt and goodness-knows-what-else and by the end of the day, your skin is pretty much covered in grime. And you think it's OK to go to bed like that? Not cool. 
Instead of all this nonsense, cleanse your skin effectively but gently every morning and night. Use lukewarm water so you don't dehydrate or irritate your skin and avoid harsh cleansers that strip your skin of moisture. Skin Clearing Charcoal Face Wash is an awesome choice in the summer, especially if you have oily or congested skin, or try Vitamin C Brightening Cleanser which is a great all-rounder for all skin types.
2. Lighten Up Your Moisturizing Routine (But Don't Dismiss It Altogether)
Chances are you already switched out your winter moisturizer for a lighter formulation this spring, but if you're still slathering your skin with rich butters, balms or creams, now's the time to opt for a more lightweight lotion or gel. More humidity means your skin is less likely to dry out than in the colder months so, unless your skin is naturally super dry or dehydrated, it requires much less moisturization.
But, and this is a big but, don't think you can skip moisturizer entirely, just because the weather's heated up. This is asking for trouble – especially if you have oily skin. Dial it down, for sure, but if you leave it completely out of your routine, your sebaceous glands will go into overdrive, producing more oil and leaving you with super slick skin.
3. Exfoliate – From Head-To Toe
Gently exfoliating your skin with a light scrub or chemical alpha hydroxy or beta hydroxy acid (think salicylic, lactic or glycolic) is a fabulous idea all year round. And you could try our Vitamin C Super Serum+ if you're looking for the perfect facial serum, btw. But what about your body? Sun's out, legs out and all that…
Come the summer, it's super important to regularly exfoliate your body, especially your arms and legs which are going to be exposed much more often than they were during winter. Exfoliating your legs also helps give you the perfect shave and stops those ingrown hairs from upsetting your perfect pins game. Try applying a small amount of Skin Clearing Charcoal Face Wash to an exfoliating mitt or loofah, then work this in circular motions all over your body in the shower. How frequently you exfoliate your body will depend on your skin type, but two or three times a week should do it. Just remember to go gently over your chest and décolletage as the skin here is very delicate. Oh, and always follow with moisturizer.
4. Amp Up Your Antioxidant Game
You know that protecting your skin from the sun is almost as important as the air that you breathe (you DO know that, right?). Well, research shows that topical antioxidants are another way to counteract sun-induced free radical damage that totally ruins your skin's essential collagen and elastin supplies. Antioxidants like vitamin C, vitamin E, retinol and niacinamide work hard to neutralize cell damage therefore reducing inflammation and helping your skin repair and correct itself.
If you don't have an antioxidant facial serum in your routine, check out our guide to help you find one for your skin type. Then layer it underneath your moisturizer every morning or night – don't worry, our serums are super light, so they won't weigh down your skin.
And of course, always follow with a broad-spectrum sunscreen with at least SPF 30.
5. Pare Back Your Makeup
Finally, summer is the perfect time to lessen your makeup load. Summer beauty trends always dictate barely-there, glowy skin and 2021 is no exception. This season's skin is natural, fresh and radiant – as it should be – which means you should pack away your heavy foundations for the next few months and try tinted moisturizer or BB cream instead. Use clean fingers to apply it all over your face and neck, or try blending it with a foundation brush for a flawless-looking finish.
For an extra pop of color, apply cream blush over the apples of your cheeks and if you want to nail one of summer's hottest makeup trends while simultaneously celebrating not having to wear a protective face mask 24/7, orange is officially THE color to wear on your lips.