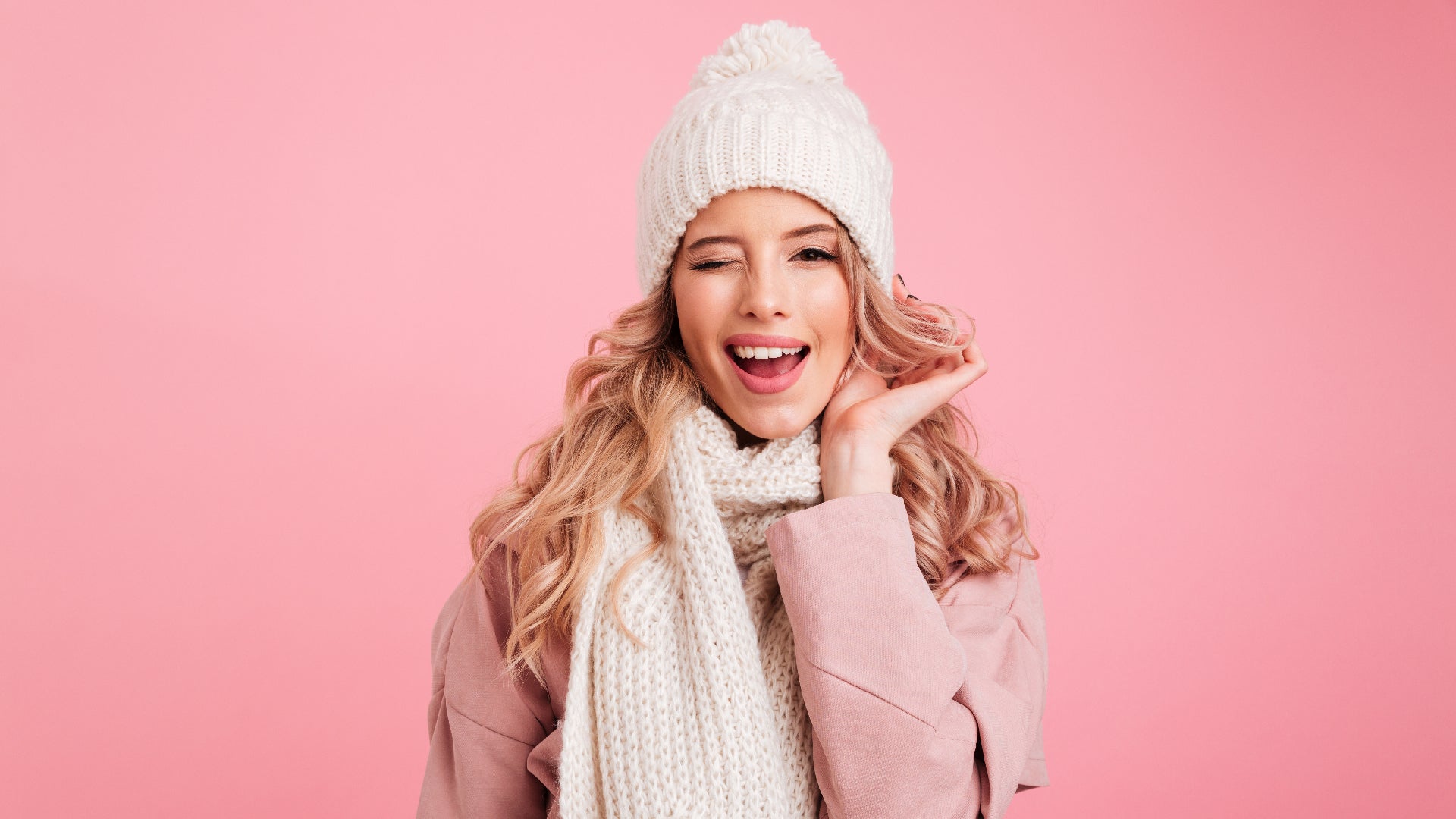 Don't Let Snow Days Mess With Your Skin
Because one thing's for sure, your skin will never triumphantly sing 'Let it snow, let it snow, let it snow.'
Whether you're the type of person who hibernates as soon as a mere flutter of snow hits the skies, or you're that girl who can't wait to get outside to ski, snowboard, hike or enjoy a good old-fashioned snowball fight, there's no denying that snow days can have major effects on your skin. Even if you're not willing to step a foot outside, cranking up the heating is enough to send your skin all over the place. Couple with this with a few extra glasses of cab to warm your boots and, well, dehydrated skin is never more than a few snowflakes away.
Below, we impart some of our finest snow day skincare advice – because it's nearly the holidays and we can't have you walking around with sad skin now, can we?
Snow Day Skin Tip #1: Never Go To Bed Without Cleansing
Do we bang on about cleansing too much? Sorry, not sorry. Cleansing your skin twice daily is super important every day of the year, for obvious reasons. But in the winter, ridding your skin of surface debris such as oil, makeup, pollution and dirt isn't the only reason cleansing is so vital. Cold, dry weather (as well as cranked up indoor heating) can be extremely drying on your skin which means your moisturizer needs to work doubly-hard. And how can it do that if you've not cleansed your skin thoroughly – especially at night after your skin's been subject to a whole day of environmental onslaughts? Answer: it can't.
Always cleanse thoroughly before bed with a gentle, but effective cleanser like Vitamin C Brightening Cleanser or Charcoal Clarifying Cleanser. Use lukewarm water so as not to upset your skin's barrier function and pat dry (don't scrub) with a clean towel. Then and only then can your serums and moisturizers really do their jobs properly. And, while we're on that subject, may we suggest our super hydrating Hyaluronic Acid Facial Serum to give your skin extra hydration before bed, followed by Vitamin C Deep Hydration Night Cream? Thanks.

Snow Day Skin Tip #2: Drink A Ton Of Water
There's little research to prove that drinking water directly hydrates your skin. However, dehydration can certainly have an effect on your skin so it's important to note – especially on super cold days when it's likely you drink less water due to feeling less thirsty. Dehydration can lead to dizziness, cramps, headaches and a lack of concentration, as well as less radiant skin, tired eyes and dry lips.
Word to the wise? Make sure you stay hydrated – and if it's way too chilly for cold water, try hot water or caffeine-free herbal teas or coffee. A healthy hydrated body will always be reflected in the state of your skin.
Snow Day Skin Tip #3: Invest In A Humidifier
Not only do wind, frost and snow cause the air to be extremely dry outside, but cranking up the heating indoors does the exact same thing – zapping moisture from the air, stripping your skin of natural oils and causing it to be vulnerable to dryness and dehydration. Try to keep your heating at around 68 degrees Fahrenheit during the day, 58 at night, and invest in a humidifier for your bedroom to add moisture into the air while you sleep.
Humidifiers are awesome for balancing your skin's natural moisture barrier and counteracting all the other winter stuff that can drip your skin dry. This not only stops your skin from becoming dry and dehydrated, but it also balances sebum production so your face doesn't become super oily as a result. And double bonus, a humidifier will also help you sleep better.
Experts agree that somewhere around 40 or 50 percent humidity for your home is best.
Snow Day Skin Tip #4: Don't Forget To Moisturize Your Lips
Dryness doesn't begin and end with your face. In fact, your lips are often the first to feel dry, flaky and chapped. This is because the skin on your lips is extremely thin, fragile and contains no sebaceous glands to keep itself moisturized.
The best way to look after your lips on super cold, snowy days – and in fact, all winter long, is firstly to stop licking them. Saliva contains digestive enzymes which skin can irritate your skin. So, there's that. Also, slather your lips in balm every night before bed and make sure you apply it just over your lip line as this is the area that's often the driest. If your lips are flaky and peeling, you could also try exfoliating them gently with a damp face cloth a few times a week. Just remember to go gently so you don't irritate your skin.
Snow Day Skin Tip #5: Up Your Sun Protection
The sun can be extremely powerful on bluebird days, reflecting right off that delicious white snow and straight on to your poor, unsuspecting skin. So, never forget to apply broad-spectrum SPF to all areas of exposed skin when you're out in the winter sun. In fact, you'd be wise to up your SPF on sunny snow days because it can cause no end of damage. You have been warned.
But that's not all. Even on dull, gray snow days, the sun is still there going about its skin-damaging business. It might not be hot or look 'sunny' per se, but the sun's not gone anywhere and its damaging UVA rays (they're the ones that ruin your precious collagen and age you up faster than you can say 'hot cider, anyone?') can penetrate right through those clouds. Mic. Drop.
So you know that sunscreen you packed away in September? Get it back out because it should be a staple in your skincare routine all year long. Rain, shine, cloud, snow, the whole darn lot.
For even better sun damage control, apply an antioxidant serum underneath your moisturizer every morning. Antioxidants like vitamins C and E, niacinamide and ferulic acid are the cat's whiskers at nuking sun-induced free radicals before they get a chance to do a number on your skin.
Try Vitamin C Super Serum+ which contains a curated blend of effective antioxidants, plus nourishing essential oils like lavender, ylang ylang and pink grapefruit to help seal in vital moisture.