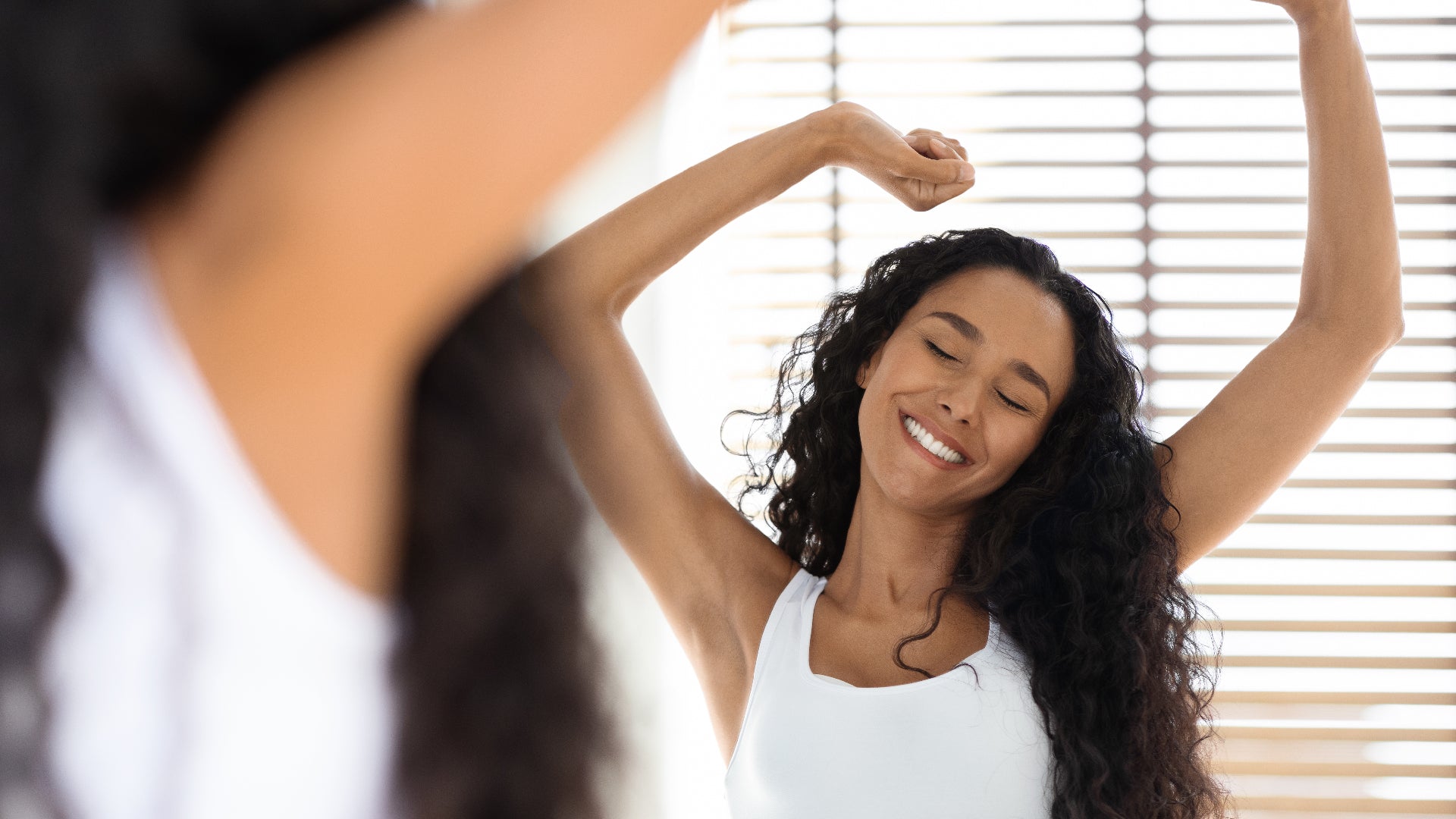 10 Ways To Improve Your Skin With Zero Effort
Say hello to better skin… minus the hard work.
Hands up if you want to be furnished with 10 tips for better skin. Goes without saying, right? And what about if we tell you that every single one of the following skincare tips requires almost no effort on your behalf? Then we'll just stop talking and get on with it, shall we?
1. Listen To Your Skin
Paying attention to your skin is super important. Sure, you might have oily skin, but as you age, sebum production slows down so the products you used five years ago won't be the best idea for your current needs. Similarly, things like dehydration, dark spots, fine lines and hormonal breakouts can become more of a thing during certain times of the month or as your skin matures. Watch out for signs that your skin is asking for help. It's much easier – and way more effective – to act sooner rather than later.
2. Use Fewer Products
This might sound kinda weird coming from a skincare company, but don't buy every single product you can get your hands on and throw them at your skin all at once. Your skin does not need five treatment serums. It just doesn't. Overloading your skin with tons of active ingredients is too much for most skin types and can make it irritated, red and downright sad. Instead, stick with a simple routine that includes the most important stuff  – aka cleanser, toner (optional), an eye treatment, serum, moisturizer and sunscreen.
Also, if you're looking for a genius-like serum that feeds your skin with 11 plant-derived vitamins, minerals, electrolytes and almost everything else your skin needs, look no further than our new Multi-Vitamin Facial Serum.
3. Always Patch Test New Skincare
Buying a new product and diving in head first without a second thought for potential skin repercussions is never a good idea. In fact it's a bad one. You should always patch test new formulations because you never know if there's an ingredient in there that might react with your skin. This is especially important for products that contain potent, active ingredients like retinoids or exfoliating acids. Never has the phrase 'it's better to be safe than sorry' rung more true. And dealing with skin reactions after the event will cause you much more heartache in the long-term.
4. Layer Your Skincare Correctly
While we don't recommend layering hundreds of products on top of each other (see #2, above!), the few you do use should always be applied in the correct order.
Of course, cleanser goes first, followed by toner but what's next? We get that it can seem confusing, but the main rule is that your thinnest, more liquid-like products should always be applied first, before the more heavy-hitters. Otherwise, the thicker, heavier products will get in the way. This means that after toning comes serum, your eye treatment, moisturizer and then sunscreen. No matter how lightweight your sunscreen is, this always comes last.
5. Wear Sunscreen Inside, Outside & All Year Long
We say this a lot. And we will continue to do so. Because it's the single, most important product you can use to protect your skin from the sun's nasty UV rays.
The fact is simple: UV radiation is a beast and it causes premature aging, sunburn, and worst of all, skin cancer. It's also present all year long, and can penetrate through clouds, windows, the lot. So while sunscreen might seem like an 'extra' step in your skincare routine, it's not. It's basic and it's needed.
Get into the habit of making SPF30 Mineral Sunscreen with Vitamin C the final step in your morning regime and sooner or later it will become the norm. And your skin will thank you for it. Majorly.
6. Find What Works… & Stick With It
Consistency is one of the most important words when it comes to your skincare routine. Of course, adapting the products you use to suit the seasons and your skin's needs is essential, but once you find a regime that's effective, try to stick to it. This not only helps prevent potential irritation but also allows your products to do the best job they can. Retinol, for example, is a very complex ingredient that needs to be applied regularly for a good few months before you'll start to see results. Be patient, persistent and it'll be well worth it.
7. Keep Your Hands Off Your Face
Touching your face is something we all do without really thinking about it. And this subconscious act might seem completely harmless but, no matter how often you wash your hands, there'll always be bacteria, oils and other debris lurking on them. Now ask us this: do you really want to transfer all that nasty stuff to the delicate skin on your face? Especially knowing that it can trigger breakouts?
Thought not.
8. Go To Bed Earlier
It's called beauty sleep for a reason: getting your zzzs every night is up there with sun protection and good cleansing as one of the most important ways to boost the health of your skin.
When you're asleep blood flow to the skin increases which nourishes it with valuable nutrients; cell turnover accelerates to bring fresh, healthy skin cells to the surface, and collagen production revs up big time. All good stuff, we think you'll agree. Not only that but when you DON'T get enough sleep, stress hormones kick in which wreck the skin's ability to heal and regenerate. Disaster.
Try to go to bed at a decent hour every night to get your eight hours in and ensure you start the night off right by cleansing and treating your skin before turning in. We love Vitamin C Deep Hydration Night Cream.
9. Moisturize While Your Skin Is Damp
We know you'll have heard this one before. But do you actually put it into practice?… Probably not. Well, let's start from hereon in shall we? After all, dampness on the surface of your skin is free moisture – and your skin can never have enough of that.
After cleansing, showering or bathing, pat your skin with a towel until it's 'almost' dry then slather moisturizer all over to lock in any water that's left over. Instant hydration right there.
10. Clean Your Makeup Brushes More Often
Just a couple of minutes is all it takes to gently shampoo your makeup brushes. But this swift habit can be vital for reducing breakouts as it keeps bacteria, sweat, oil and 'old' makeup out of your pores.
Really can't be bothered to clean your entire brush collection every week? Fair enough, then at least do your foundation, blusher, bronzer or concealer brushes as they're the ones that are most likely to touch your skin.
Deal? Deal.