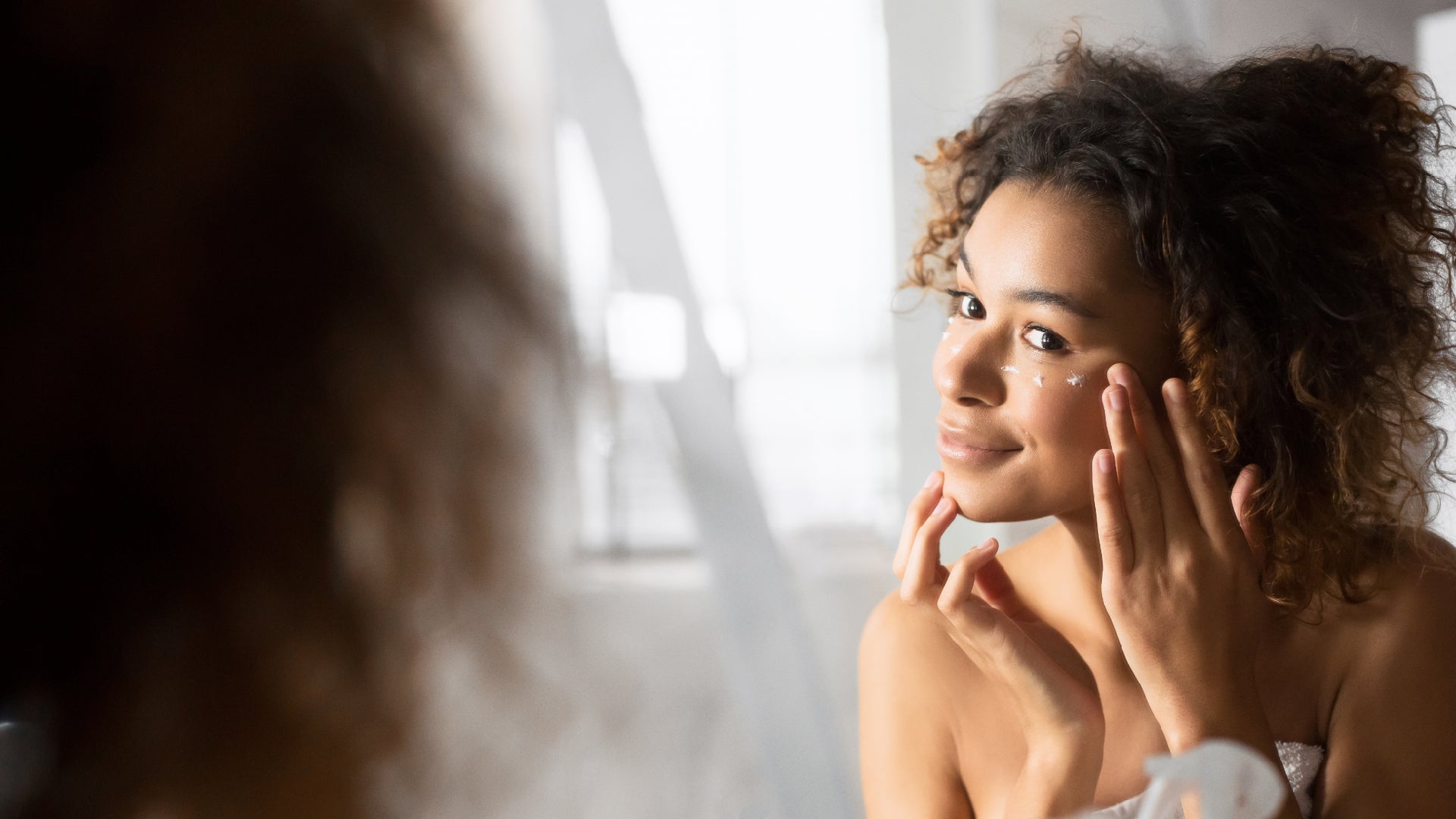 Three Game-Changing Skincare Products You Should Never Ignore
It's true, those little added extras can make the world of difference to the look, feel and health of your skin.
What's your secret to skin success? Are you a basic cleanse, moisturize, sunscreen and done kind of person? Or do you prefer to lavish your skin with as much time, care and attention as possible?
We know that most people sit in the former camp, preferring to keep their skincare routine simple and effective without the hassle of hour-long stints in the bathroom.
And that's OK. Simple skincare is often the best type of skincare – especially if you have sensitive skin that totally freaks out if it's overloaded with too many lotions and potions. However, while sticking with the essentials is all well and good, you could be missing out on some incredible formulations that offer amazing results for the state of your skin. Both in the short- and long-term.
Three such products that often get looked over – and even bad-mouthed by certain skincare sceptics – are toner, serum and the most controversial of all, eye cream. And sure, your skin can survive without them. But is 'basic survival' what you really want for your skin?
We don't know about you, but we prefer to do the best we can for our skin. Of course, overloading it with too many active ingredients or piling on serum after serum is never going to give you skin to die for, but adding in a few choice extras that are curated to help your skin be its best self? Very smart indeed.
Here's why toner, serum and eye cream might be the exact products your skin has been looking for…
1. Toner
Toner used to be up there with cleanser and moisturizer as one of your three basic skincare steps. Until it wasn't. Thanks to skin-stripping, alcohol-laced formulations (hello 1980s!) that sucked all the life out of your complexion and left oily skin even oilier and dry skin gasping for breath, toning lotions quickly fell out of favor.
Now, we don't know about you, but we think that's a real disservice, because the right toner can actually be an essential step in certain skincare routines.
What Toners Do
The basic role of a toner is to help remove any lingering traces of makeup and other debris left behind after cleansing. And to prepare your skin for the next stage in your skincare routine. But that's not all, often packed with antioxidants, vitamins, minerals, and other skin-loving ingredients, toners are also able to help balance, brighten, firm and clarify your skin. Some toning treatments may even contain alpha hydroxy acids (AHAs) like glycolic acid and lactic acid which help to gently exfoliate your skin and improve texture and tone without too much irritation. Big win.
Does Your Skin Need Toner?
Oily, combination or acne-prone skin types will definitely benefit from the right kind of toner as certain ingredients like witch hazel and salicylic acid can work wonders for minimizing enlarged pores and reducing oil production. Similarly, other toners that are formulated specifically for dry or sensitive skin may contain soothing or calming ingredients like rose water or aloe vera – both of which are awesome for helping to reduce redness, irritation and flaking skin.
The key – no matter your skin type – is to avoid strong, synthetic fragrances and harsh, drying alcohols like isopropyl alcohol or alcohol denat. Instead, look for hydrating ingredients like glycerin and hyaluronic acid which are always a great shout for adding much-needed moisture to all skin types.
Try: We have two toners that are great for almost all skin types. Ocean Minerals Super Toner is the brightening, clarifying must-try, while Rose Water Refreshing Facial Toner contains just one special ingredient (pure Moroccan rose water) and is the queen of calming and soothing.  
2. Facial Serum
You might have noticed we're big fans of facial serums here at TruSkin. And we will never apologize for that. Why do we love them so much? Because serums are absolutely integral for targeting the things you don't love about your skin. Be it discoloration, dullness, pesky pores or sagging skin, there's a serum out there that might just change your life…
What Serums Do
Serums are light, fast-absorbing, gel- or liquid-based products, applied after cleansing and toning, and before moisturizing. Unlike regular moisturizers that create a thin, protective layer over the surface of your skin to help lock in hydration, serums are made of much smaller molecules which means they absorb deeper into your skin to more effectively target your specific concerns.
Due to their molecular structure, serums don't often seal water into your skin (which is why you should always apply moisturizer on top), but instead they use potent, active ingredients to get other important jobs done. Retinol is a big favorite in the serum world, as are tea tree oil, exfoliating acids, hyaluronic acid, MSM and peptides.
Does Your Skin Need A Facial Serum?
Yes! Serums contain the highest concentrations of active ingredients so if you're looking to address concerns like poor texture, breakouts, dullness, hyperpigmentation, wrinkles or dehydration, you must include a serum in your skincare life. No arguments.
The one thing to remember, however, is that serums can be potent business, so you should always patch test any new product before use. Our regular serums are all recommended for daily use while our super serum are recommended to use 2-3x per week. However, it's also wise to think about introducing one just a few times a week to begin with. Then you can move onto daily use as your skin acclimates to all that good stuff.
Try: Whether you're looking to say goodbye to dull skin with our award-winning Vitamin C Facial Serum or to big up hydration with our Hyaluronic Acid Facial Serum, our line-up of seven effective facial serums has something for everyone. If you looking for a multi-tasking wonder-kid, however, one that checks all the boxes, try our new Multi-Vitamin Facial Serum +.
3. Eye Cream
The question of 'do you really need an eye cream?' is one we get asked a lot. And the answer is… well, it depends. Does the skin around your eyes give you grief? Do you have excessive dryness, puffiness and/or dark circles in this particular area? Then yes, you probably could benefit from a specific treatment for your eyes. But if it's seems OK, truckin' along, minding its own business, then maybe a good, lightweight moisturizer is enough.
What Eye Creams Do
Eye creams are similar to face moisturizers in texture and functionality, but they have some fundamental differences. You see, the skin around your eyes is slightly different to the rest of your face. It's thinner, more delicate and contains fewer sebaceous glands making it more prone to dryness and the visible signs of aging.
Because of these key differences, eye creams are usually lighter and gentler than face creams in order to avoid overloading the skin. They also contain specific ingredients to target those undereye concerns that don't affect the rest of your face. Bags and dark circles being the main culprits, of course.
Does Your Skin Need Eye Cream?
Concerned with lines, wrinkles, dark circles, puffiness or crepiness around your eyes? Then an eye cream is exactly what your skin needs. Ingredients to look out for include hyaluronic acid for hydration; peptides to target lines and wrinkles; caffeine for de-puffing; cucumber for cooling and brightening, and licorice extract which is great for helping to relieve redness and dark circles.
Just remember, when it comes to any topical eye treatment, less is always more. A tiny amount (the size of a small pearl) should be more than enough for both eyes. And always use a gentle touch to dab the product around the eye area before moisturizing.
Try: Peptide Eye Gel and Hyaluronic Acid Eye Cream are both fabulous choices for the skin around your eyes. We love Peptide Eye Gel for dealing with the signs of aging then go to HA Eye Cream when we're in need of some extra hydration. But the choice, of course, is always yours!