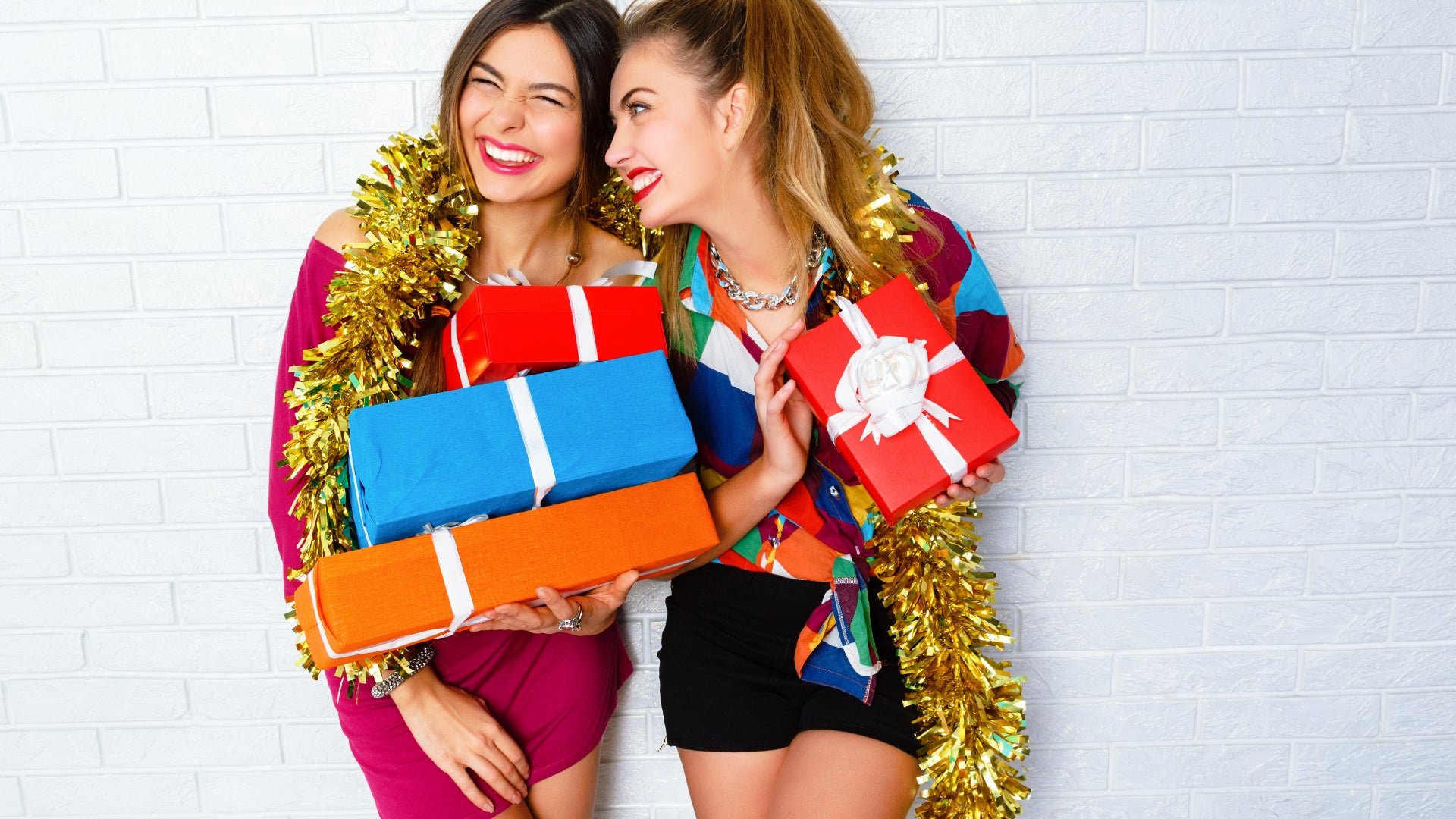 The Best, Last-Minute Stocking Stuffers For The Holidays
Fed up with buying candy, socks and other stocking stuffers you know your friends and family don't really want? Yeah, we imagine they're equally as fed up receiving them;) So, this year, step up your gifting game with some skincare treats they'll love.
We've rounded up ten TruSkin favorites that are guaranteed to go down a storm this holiday season…
Bursting with skincare's finest and hardest-working ingredients, this anti-aging serum is a real gem for all skin types. Not only does it smell awesome thanks to pink grapefruit, lavender and ylang ylang essential oils, but the combination of 20 percent vitamin C and retinol are super-charged to fight dark spots and other signs of aging. The perfect gift for your BFF. We're calling it.
2. Daily Facial Rose Water Toner
A gorgeous, skin refreshing boost for everyone you love, this 100 percent pure rose water spray calms sensitive skin, hydrates dry skin, balances combination skin and soothes inflamed or acne-prone skin. Is there anything it can't do? Not really. In fact, we recommend you employ the 'one for them, one for me' rule on this one. 
With over 45,000 reviews on Amazon, this top-of-the-class serum is formulated with what we truly believe is the best form of topical vitamin C – sodium ascorbyl phosphate (SAP). Less irritating than other forms of vitamin C, SAP has the unique ability to fight free radicals and brighten the skin. It's a real saviour for anyone who cares about the quality of their complexion. So, that'll be everyone on your shopping list then (*adds five to cart).
We can't think of a single skincare ingredient that's loved more by derms, skincare experts and beauty editors alike. Not one. Seen as the gold-standard of anti-aging ingredients, retinol is a must for anyone concerned about the effects of Father Time on their skin. It also plays like a dream when combined with hyaluronic acid in this clever little moisturizer. A great one for folks concerned about the 'w' word. That's wrinkles, btw.
Speaking of hyaluronic acid, our HA serum will bring joy to the skin of anyone on your holiday gift list. How so? Because hyaluronic acid is especially fabulous in the winter when skin is crying out for extra hydration. We combine it with vitamins C and E, plus organic jojoba oil to help seal all that moisture into your skin. Winner.
Everyone loves a
fabulous face wash
and Vitamin C Daily Facial Cleanser is exactly that – with (jingle) bells on. Formulated with 15 percent vitamin C to brighten and protect as it cleanses, as well as natural plant extracts and rosehip oil, it'll help take skin from blah to beautiful in no time.
This potent serum is a real TruSkin favorite and is a must-buy for anyone concerned about annoying skin breakouts. It's powered by two of the most effective ingredients for treating problematic skin ­– tea tree essential oil and salicylic acid – but good news: it won't cause dryness thanks to hyaluronic acid and niacinamide. It's a veritable Christmas miracle.
Surprisingly gentle, our Retinol Serum is a great shout for any discerning skincare fan. We blend retinol with glycerin, green tea, vitamin E and HA for one heckuva treatment that's ideal for targeting the visible signs of aging including discolorations, poor texture, dryness, lines and wrinkles.
With masks concealing most of our faces these days, the skin around the eyes is even more important than ever. Help friends and family look after theirs with our deeply moisturizing Eye Cream which helps take care of tired dry skin and unwanted lines around the eyes. After all, who doesn't love a good eye cream?
Say hello to the newest member of our TruSkin family, Niacinamide Facial Serum. Famed for its ability to smooth, brighten, balance and clarify the skin (although the list is so much longer than that) niacinamide is way gentler than many other active ingredients, so it's a real gem for sensitive skin types. We're pretty excited about this new launch and it's going in every single one of our stockings. Our own included.