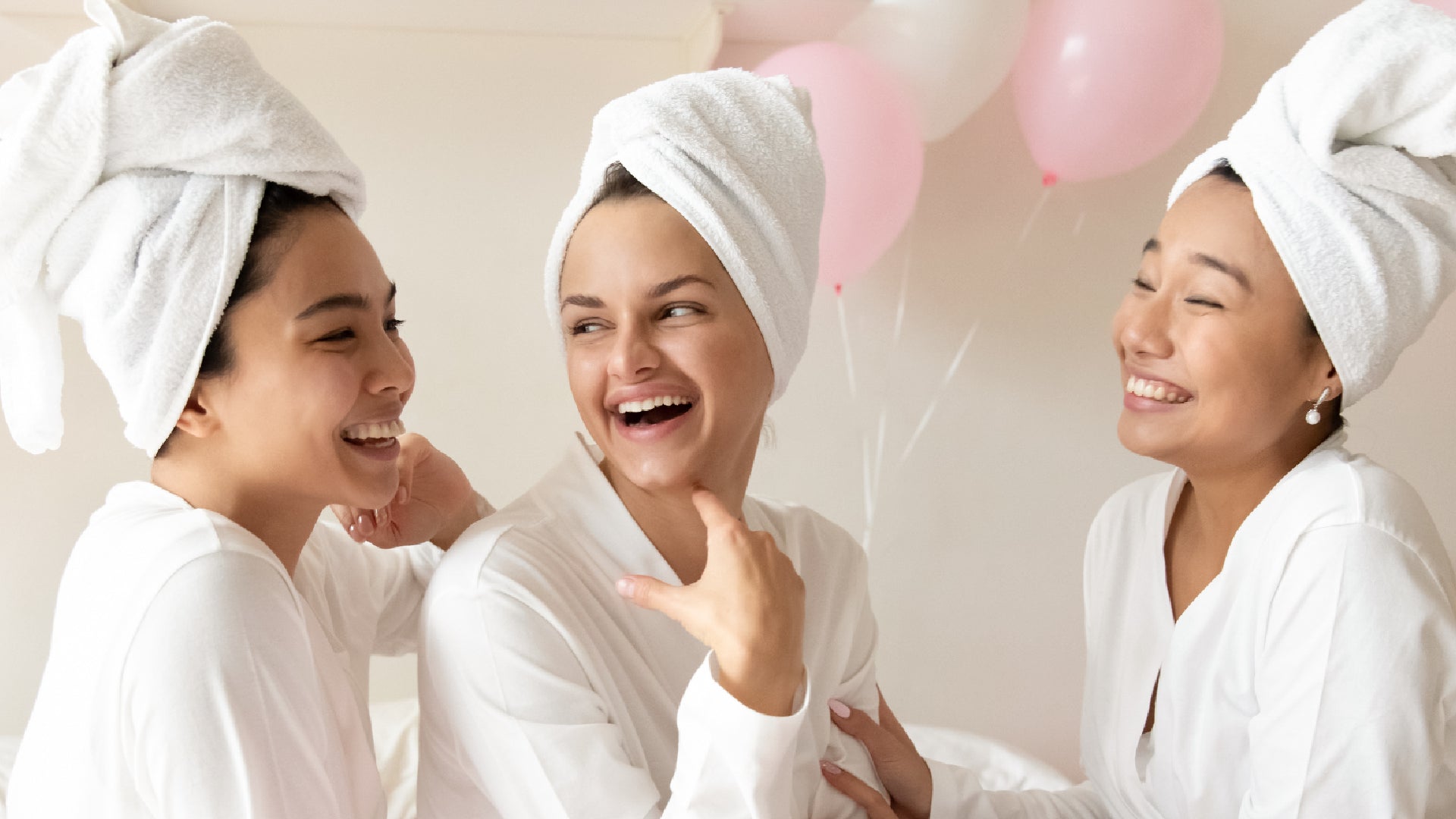 How To Crush A Galentine's Day Spa Party
It's time to celebrate all those awesome women in your life with facials, fun and maybe even a tipple (or two!) of your choice…
Galentine's Day is just around the corner (February 13 in case you didn't know!) and we firmly believe this is the perfect excuse to gather your besties and host a pampering get-together to celebrate.
Any excuse, right? ;)
Here's how to transform a regular girls' night in into something a little bit special – for your skin and your soul…
First, Do Your Prep Work
Preparation is key for a successful spa night, so start as you mean to go on by creating the right vibe for a relaxing, but fun evening. Here are a few tried and tested tips we've honed over the years…
1. Keep It Small. We believe an intimate do is better than a full-on party for this kind of get-together, so invite somewhere between one and five fabulous people to celebrate with.
2. No Need For Formalities. Do away with stuffy invites. Instead, send your guests a funny gif or selfie alongside a few words about what you're planning – plus where and when it's going to happen, of course.
3. Comfort Values. Make sure your girls come dressed in comfy loungewear or better yet, fluffy robes and slippers. And have a lovely clean stack of white towels ready for everyone to use.
4. Candles Are Everything. What type of spa are you creating if you don't have a few of your favorite scented candles lit around the house? You could also spritz your home with a little aromatherapy spray or arrange some gorgeous flowers for the center of the room.
5. Feel The Music. If you have time, create an awesome playlist beforehand. Think about the type of music you and your peeps love; maybe some tunes that bring back fond memories. As long as it puts you all in a happy place, that's good enough for us.
6. Lovely Libations. While this gathering is more about pampering than eating and drinking, a few snacks and a couple of bottles of bubbles are great for getting the party started. If you're feeling adventurous you could even create and name a cocktail in honor of the night! Coconut water, pineapple, cucumber and berries are all great for your skin so something that incorporates one or more of these ingredients is going to be a real winner.
And For The Main Event
Once everyone's arrived and you've had time to have a good chat/nibble/sip, let's do some facials, shall we? Facials are so easy to do and everyone's skin can benefit from a little love – whether it's dry, dehydrated, oily or just plain exhausted.
Cleanse First
To start, place a few different cleansing options around the bathroom sink, pile up those fluffy towels and give everyone time to thoroughly wash their skin. We have three awesome cleansers to suit most skin types, and all of them work even better if you spend time giving yourself a facial massage. Not convinced your gal group is clued up on that kind of thing? Not a problem. Be an incredible host and show them how it's done!
Moisten your skin with lukewarm water first, then apply a dime-sized amount of cleanser (Vitamin C Brightening Cleanser is a great all-rounder for clear, healthy skin) all over your face and neck. Next, use your hands and the pads of your fingers to really work it in to your skin. Avoid tugging at the skin (especially around your eyes), but pay special attention to your jawline, around the nose and up along your cheekbones. This helps boost circulation to bring fresh oxygen to the surface of your skin while draining away unwanted toxins.
Steaming & Face Mask Time
Next, give your ladies the option of steaming their face or relaxing with a face mask – or both! Steaming is excellent for increasing blood flow, loosening excess oils and clearing the pores. But it's not for everyone and is best avoided if anyone has dry, sensitive skin; are prone to facial flushing or have existing conditions such as rosacea or eczema.
That being said, fill some bowls with hot, but not boiling water for those who wants to get involved. You could also add some essential oils like lavender, chamomile or geranium. Then give everyone a towel to cover their heads while hovering their faces about 12 inches above the water for 10 minutes. The rest of the team can relax with a face mask of their choice. Or pour drinks. Or just kick back and chill – no pressure!
When you're done, sweep a reusable makeup pad over your face to remove any loosened dirt and debris, then spritz your skin with Rose Water Refreshing Facial Toner to hydrate and soothe or try Ocean Minerals Super Toner to boost cell turnover and power up the skin with vitamins and minerals.
Impress With A Serum Bar
Moisturizer is the only way to finish your facial, but before that comes a very important step in anyone's skincare routine: the mighty serum. Your gal pals will probably have a favorite serum up their sleeves – and by all means, they're welcome to bring theirs, especially if they have sensitive or reactive skin – but you could also create a cool serum bar showcasing our awesome collection of eight serums. With everything from the classic Vitamin C Facial Serum to our brand new Multi-Vitamin Facial Serum, we're proud to be able to offer something for everyone. They also look super cute when lined up next to each other on a glass tray or your bathroom shelf.
And we know that's not important in the grand scheme of things. But still…
Apply just a couple of drops of your favorite serum to your face and neck, patting it gently into your skin rather than rubbing it too vigorously. Then wait a few seconds before finishing with Vitamin C Deep Hydration Night Cream.
To end the evening, light a fire (unless it's 80 degrees outside, then don't do that!), grab some blankets (ditto!) and curl up together with one of your favorite chick flicks. 
What could be better?