TruSkin Hyaluronic Acid Eye Cream
TruSkin Hyaluronic Acid Eye Cream
<! –– Bazaarvoice Shopify Integration Version 2.0 ––>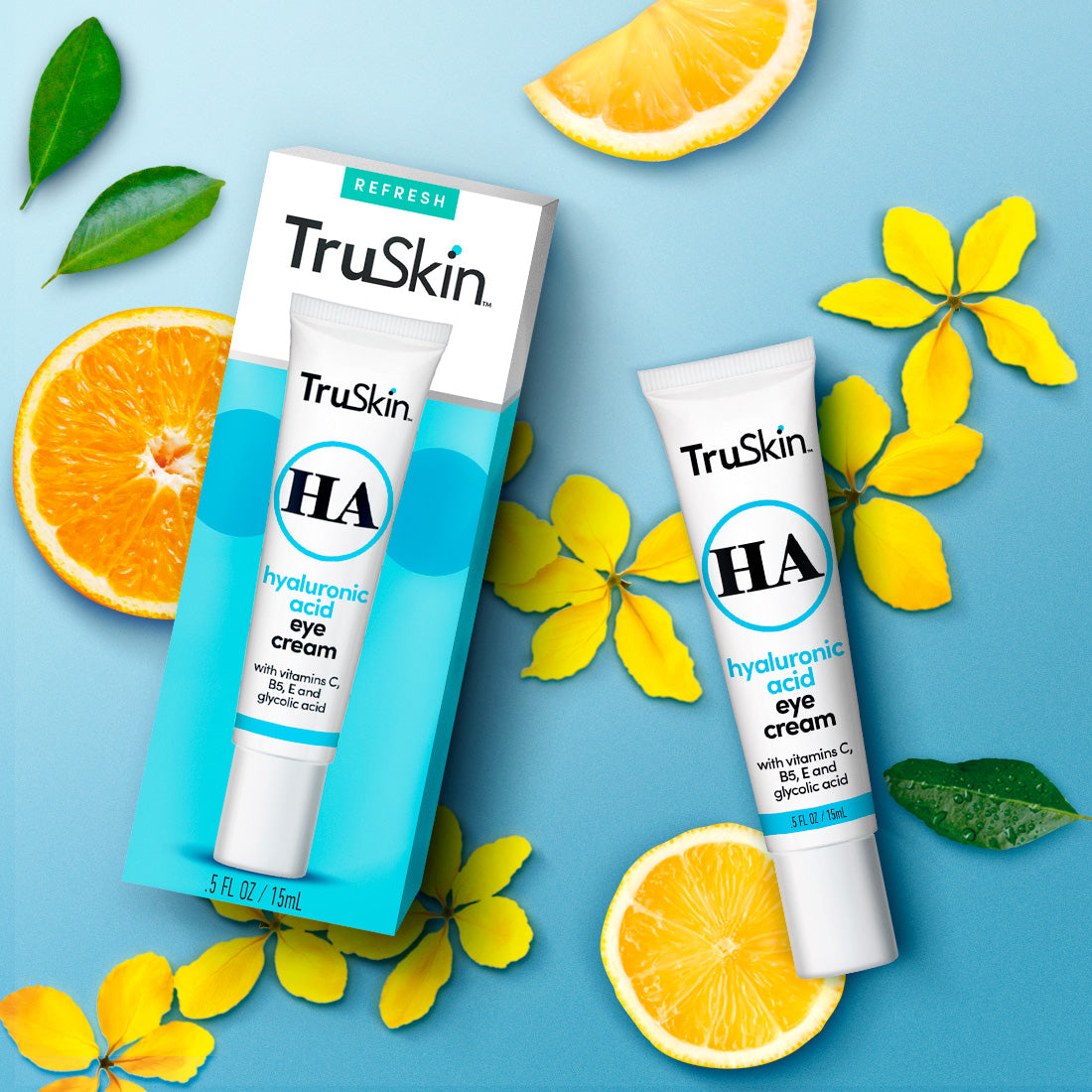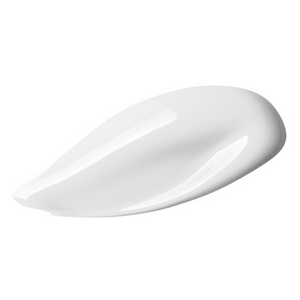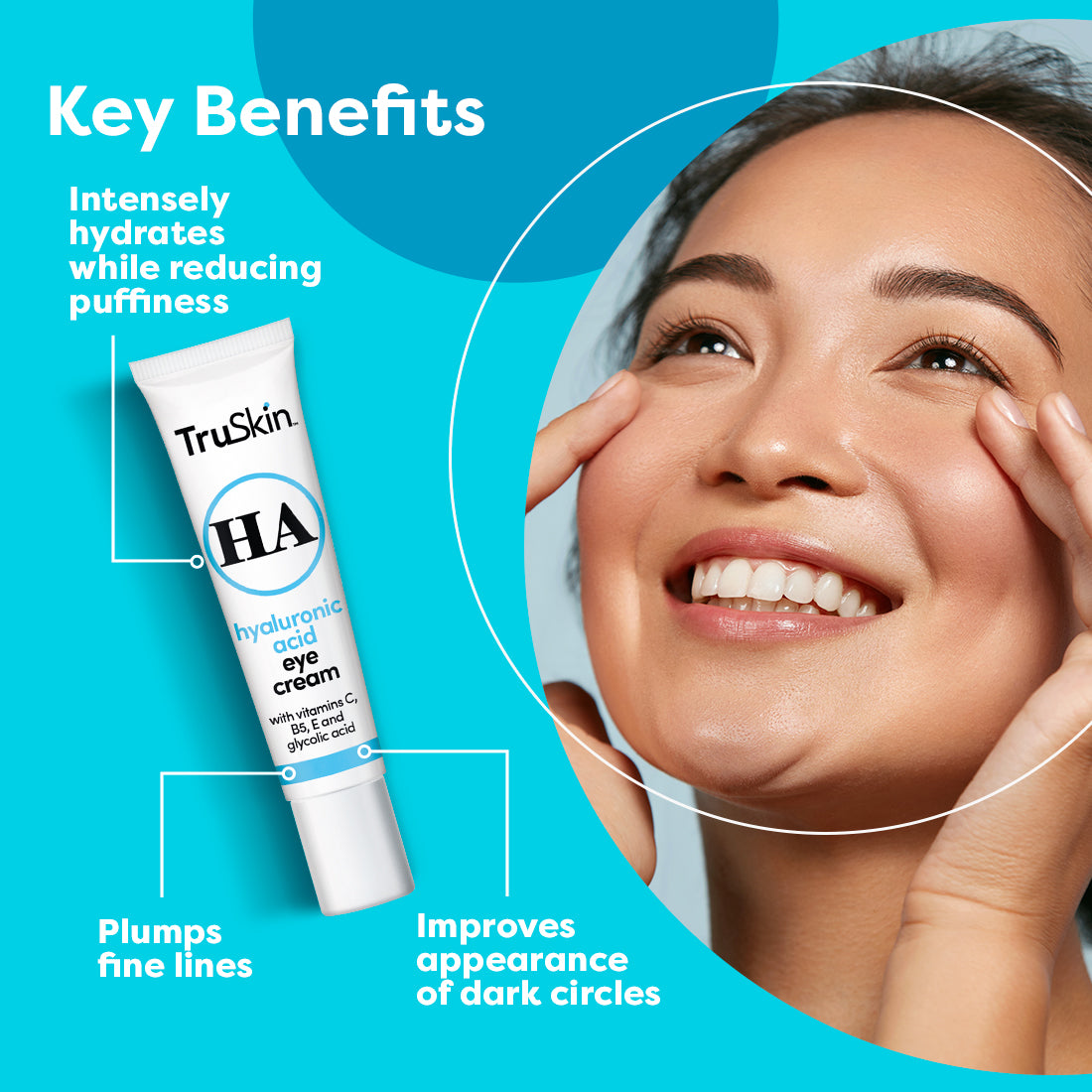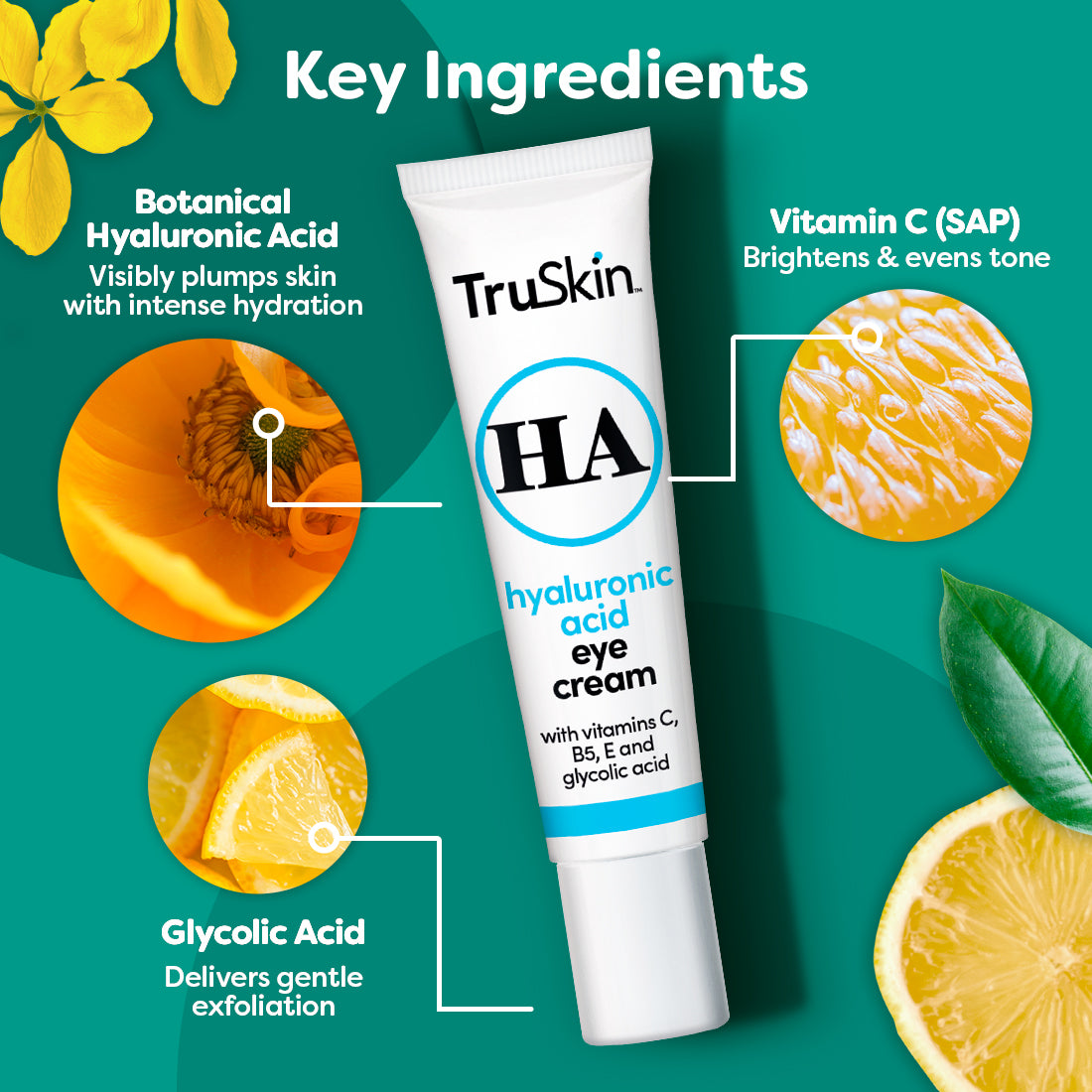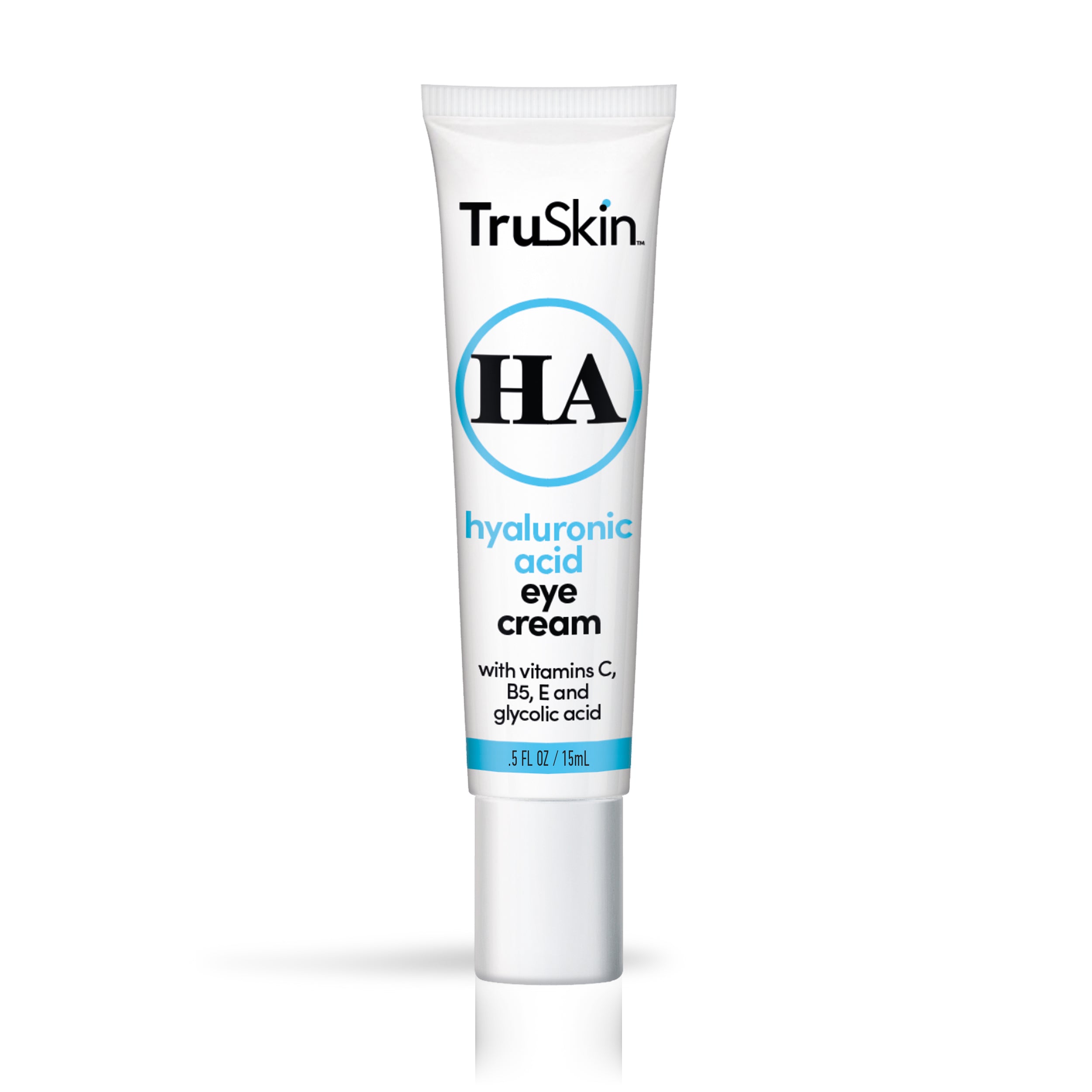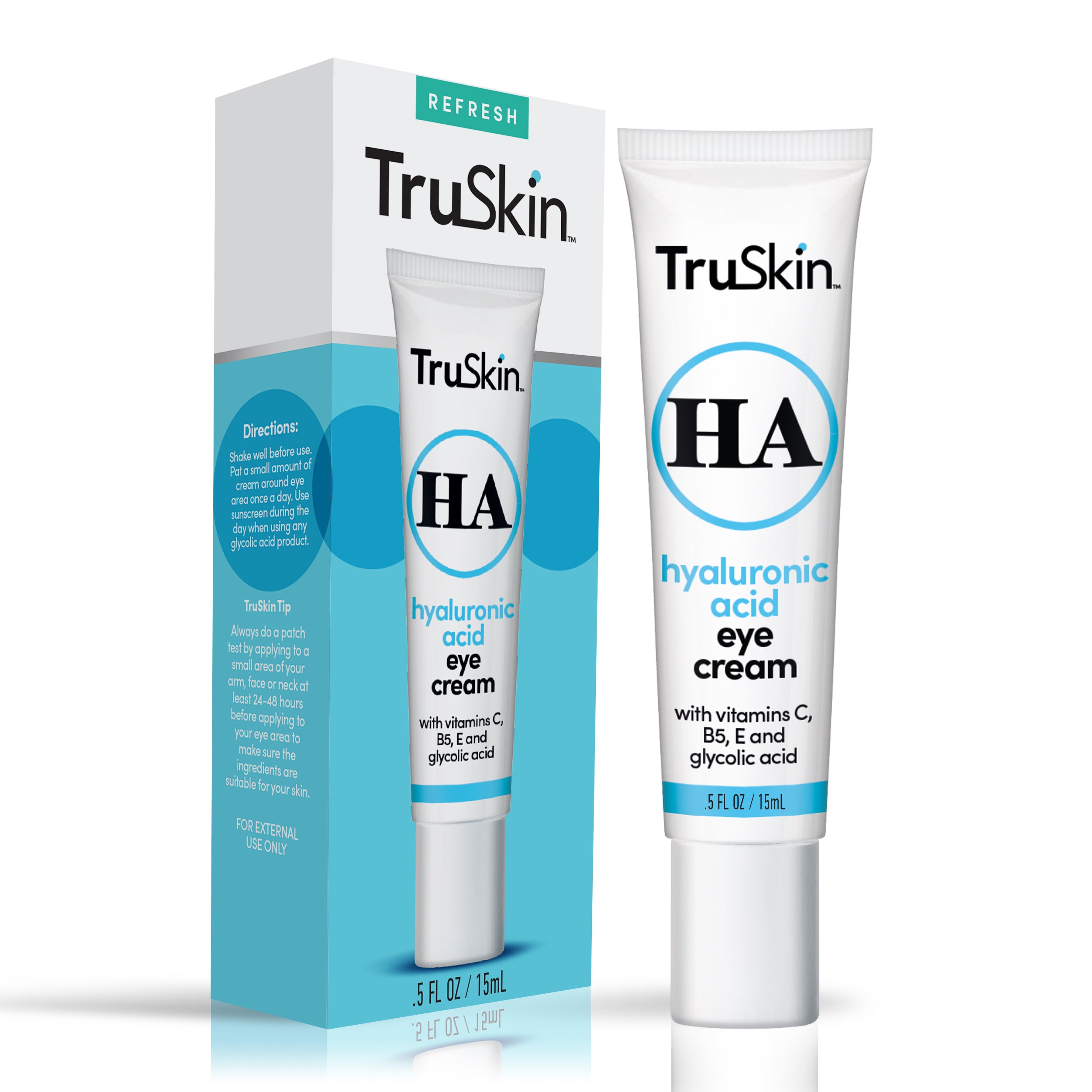 TruSkin Hyaluronic Acid Eye Cream
<! –– Bazaarvoice Shopify Integration Version 2.0 ––>
This lush, lightweight cream promotes younger looking skin while protecting the delicate, hard-working skin around eyes.
Product Details

This lush, lightweight cream is designed to steadily brighten and tighten with a rejuvenative blend formulated to takedown puffiness and dark circles, plump fine lines by boosting hydration, collagen, and cellular turnover, and sustain strong, supple skin with a rich moisture-locking lipid-humectant complex. Boasting dozens of hydrators and antioxidants, this gentle formula deeply moisturizes the fragile eye area, making it nature's best "eye specialist."




We've crafted this formula around two of nature's most powerful humectants, Botanical Hyaluronic Acid and Vitamin B5 (Panthenol), to naturally replenish hydration and diminish the appearance of fine lines. While Hyaluronic Acid is celebrated for visibly plumping skin with intense hydration, Vitamin B5 (Panthenol), an ultra-soothing hydrator, is known to nurture moisture, elasticity, & barrier functions. Combined with Vitamin C to brighten, even tone, neutralize free radicals, & support elasticity as well as Glycolic Acid that works to deeply penetrate skin to deliver even exfoliation & reveal brighter, smoother, instantly refreshed skin, this silky under eye cream maximizes results to promote younger looking skin.




Our purposeful, plant-powered blends not only give skin the nutrients it needs to enhance its own firmness, barrier function, suppleness, and luminosity, all things skin needs to be and stay healthy, but also prioritize skin friendly formulations of well-known ingredients to ensure that all skin types can enjoy these benefits without irritation.

Key Benefits

• Intensely Hydrates while Gently Exfoliating

• Reduces Puffiness

• Improves Appearance of Dark Circles

• Plumps Fine Lines




NO Parabens, NO Sulfates, NO Phthalates, NO PEGs

Recommended For

While this eye cream is formulated for all skin types, it works best for:

• Fine Lines & Wrinkles

• Uneven Tone

• Dark Spots

• Dry Skin

• Dull Skin

How to use

After cleansing, toning, and using a serum, apply a small pearl-sized dab on fingertip, palm or back of hand. Gently pat the cream around your eye area once a day. Follow with your favorite TruSkin moisturizer and sunscreen.




*IMPORTANT - ALWAYS do a patch test by applying the eye gel 24-48 hours before applying to your entire face to make sure the ingredients are suitable for your skin.




The skin around your eyes is thinner and more delicate than the rest of your face. Be gentle

when applying products and be sure to pamper your eyes

with this intensely hydrating, gently exfoliating, wrinkle-fighting cream. It is also recommended to use sunscreen during the day when using any alycolic acid product.




FOR EXTERNAL USE ONLY

Clean & Potent Nutrition For Skin
Cruelty-free, premium skincare with purposeful, plant-powered formulas that work together to nourish skin and maximize results.
What Our Customers Are Saying
<! –– Bazaarvoice Shopify Integration Version 2.0 ––>