TruSkin Ocean Minerals Super Toner
TruSkin Ocean Minerals Super Toner
<! –– Bazaarvoice Shopify Integration Version 2.0 ––>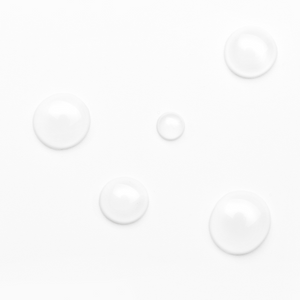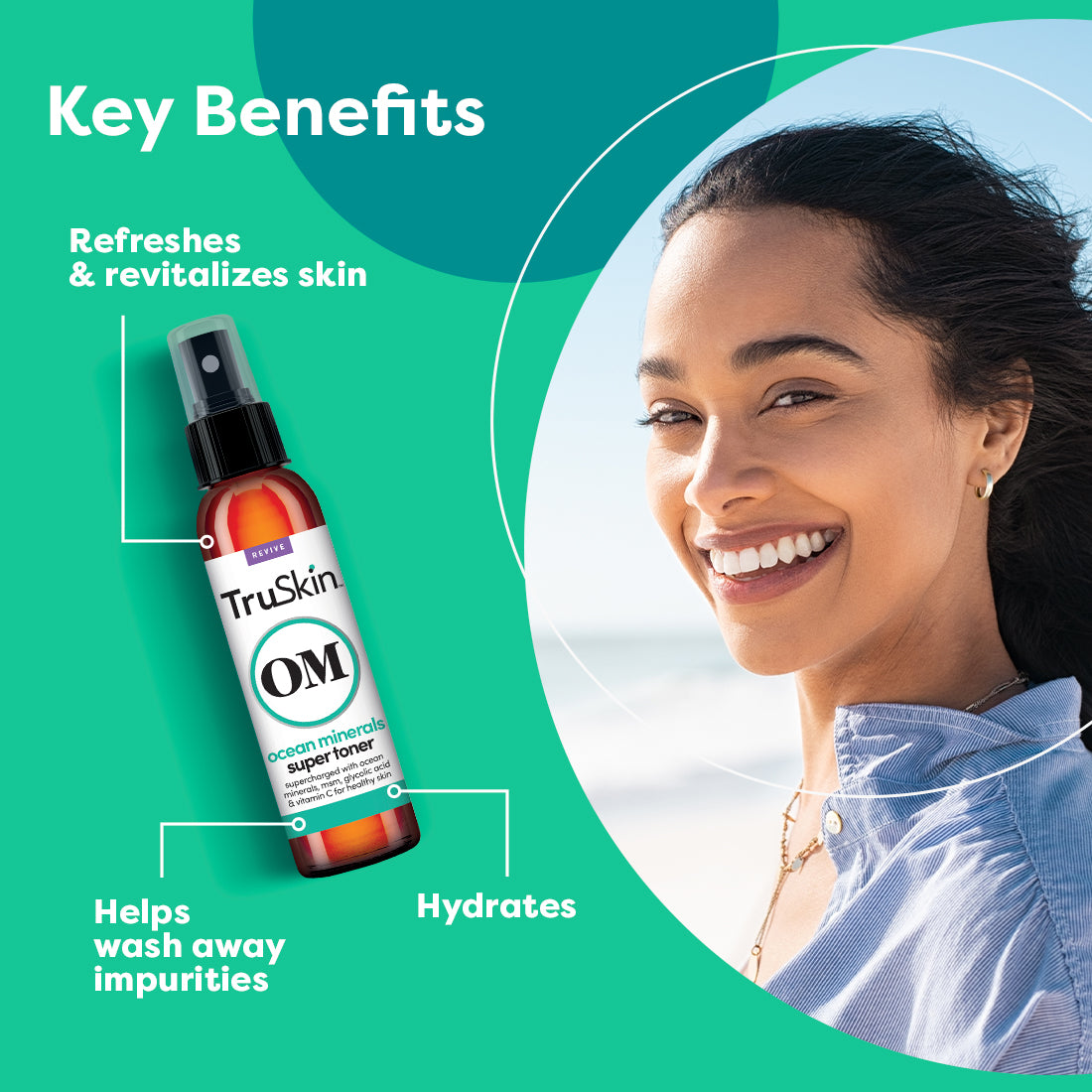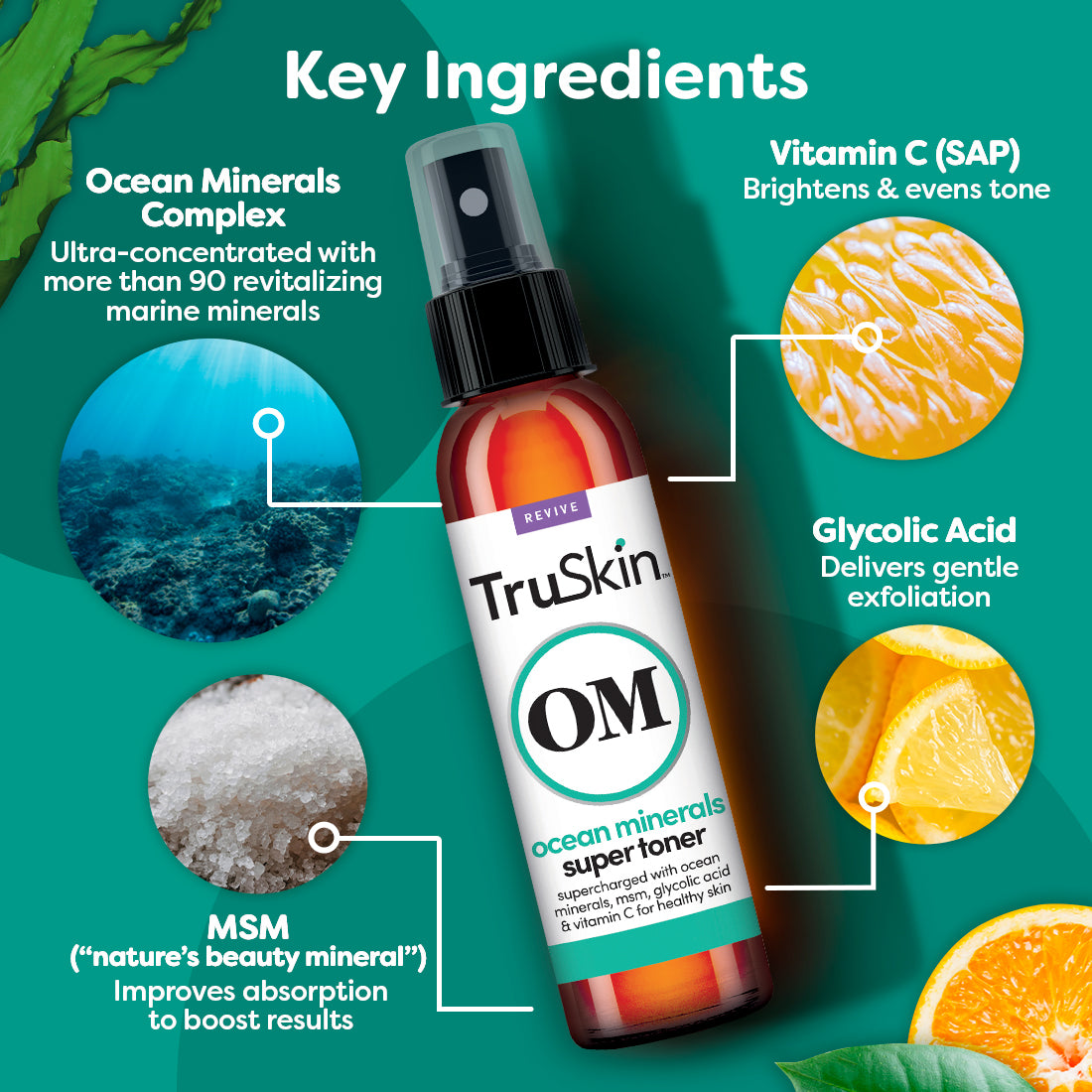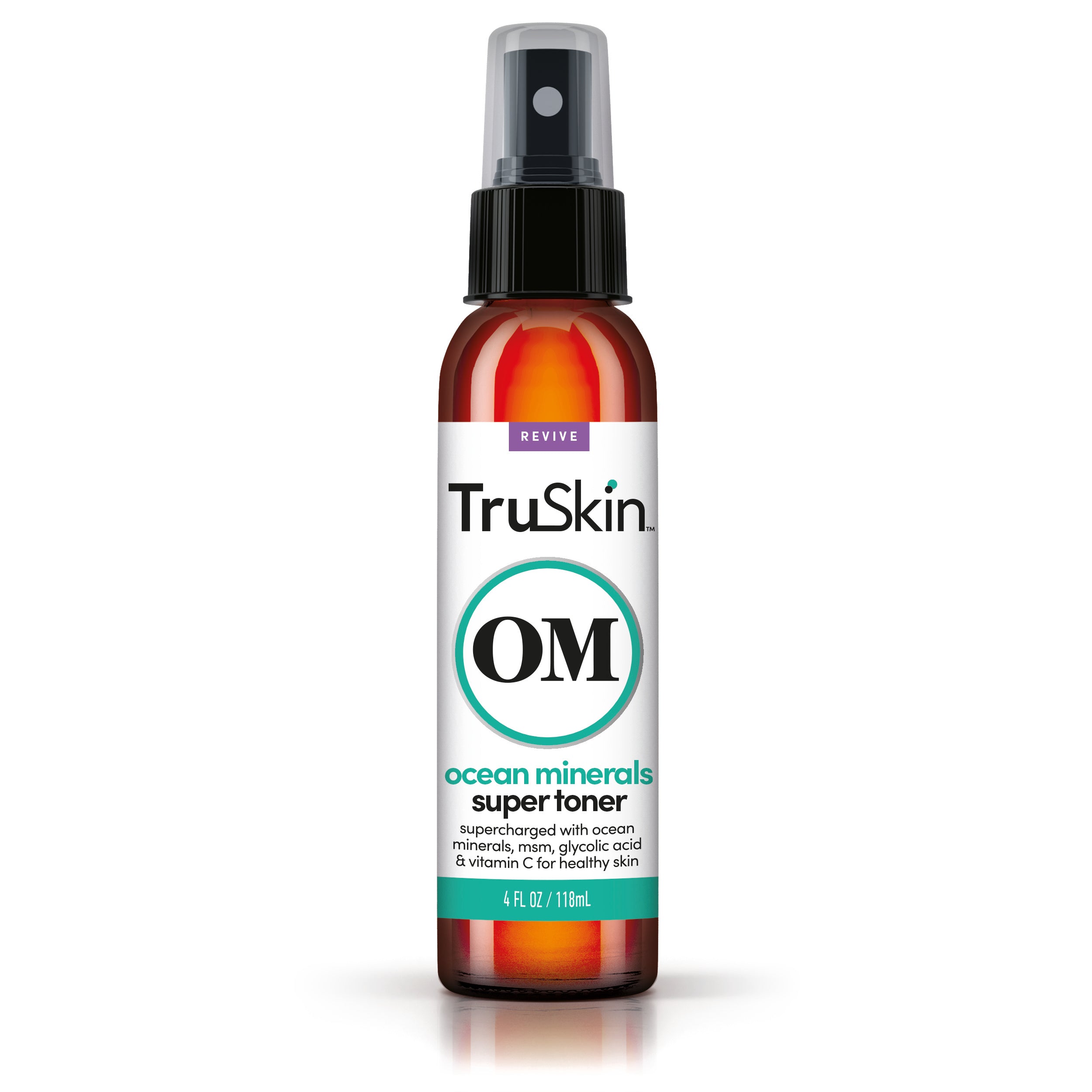 TruSkin Ocean Minerals Super Toner
<! –– Bazaarvoice Shopify Integration Version 2.0 ––>
This turbo charged face toner helps refresh, revitalize, and hydrate skin while washing away impurities.
Product Details

Formulated with Ocean Minerals, MSM and Matrixyl 3000, this Toner is an essential missing step in most skincare routines for refreshed, healthy-looking skin. Power-packed with peptides and known anti-aging ingredients, our Super Toner couldn't-be-simpler for improving your skin routine.




This turbo charged face toner is overflowing with restorative Ocean Minerals Complex and is ultra concentrated with more than 90 revitalizing marine minerals. Combined with Vitamin C, Glycolic Acid, and MSM, this high impact toner is purposefully formulated to strengthen firmess and density, purify and polish with a nourishing wave of pore-cleaning, skin-smoothing actives, and reveal natural vibrancy with a brightening blend designed to remove dull, dead cells and boost radiance. Vitamin C brightens, evens tone, neutralizes free radicals, & supports elasticity while Glycolic Acid deeply penetrates skin to deliver even exfoliation & reveal brighter, smoother, instantly refreshed skin. MSM ("nature's beauty mineral"), a potent anti-inflammaotry, is known in the supplement world to boost results




Our purposeful, plant-powered blends not only give skin the nutrients it needs to enhance its own firmness, barrier function, suppleness, and luminosity, all things skin needs to be and stay healthy, but also prioritize skin friendly formulations of well-known ingredients, like the more gentle but as effective form of Vitamin C called Sodium Ascorbyl Phosphate, to ensure that all skin types can enjoy these benefits without irritation.

Key Benefits

• Helps Refresh, Revitalize, & Hydrate Skin while Washing away Impurities




NO Parabens, NO Sulfates, NO Phthalates, NO PEGs

Recommended For

While this toner is formulated for all skin types, it works best for:

• Acne

• Clogged Pores

• Combo Skin

• Dry Skin

• Dull Skin

• Oily Skin

• Sensitive Skin

How to Use

Cleanse face and pat skin dry. Shake bottle. Close eyes and gently spray onto face, neck, and décolleté, avoiding contact with eye area. Can also be applied to a cotton ball or pad and smoothed onto skin. Follow with your favorite TruSkin serums, moisturizers and your daily SPF. Can be used daily as needed.




*IMPORTANT - ALWAYS do a patch test by applying the moisturizer to a small area of your arm, face or neck at least 24-48 hours before applying to your entire face to make sure the ingredients are suitable for your skin.




FOR EXTERNAL USE ONLY

Clean & Potent Nutrition For Skin
Cruelty-free, premium skincare with purposeful, plant-powered formulas that work together to nourish skin and maximize results.
What Our Customers Are Saying
<! –– Bazaarvoice Shopify Integration Version 2.0 ––>