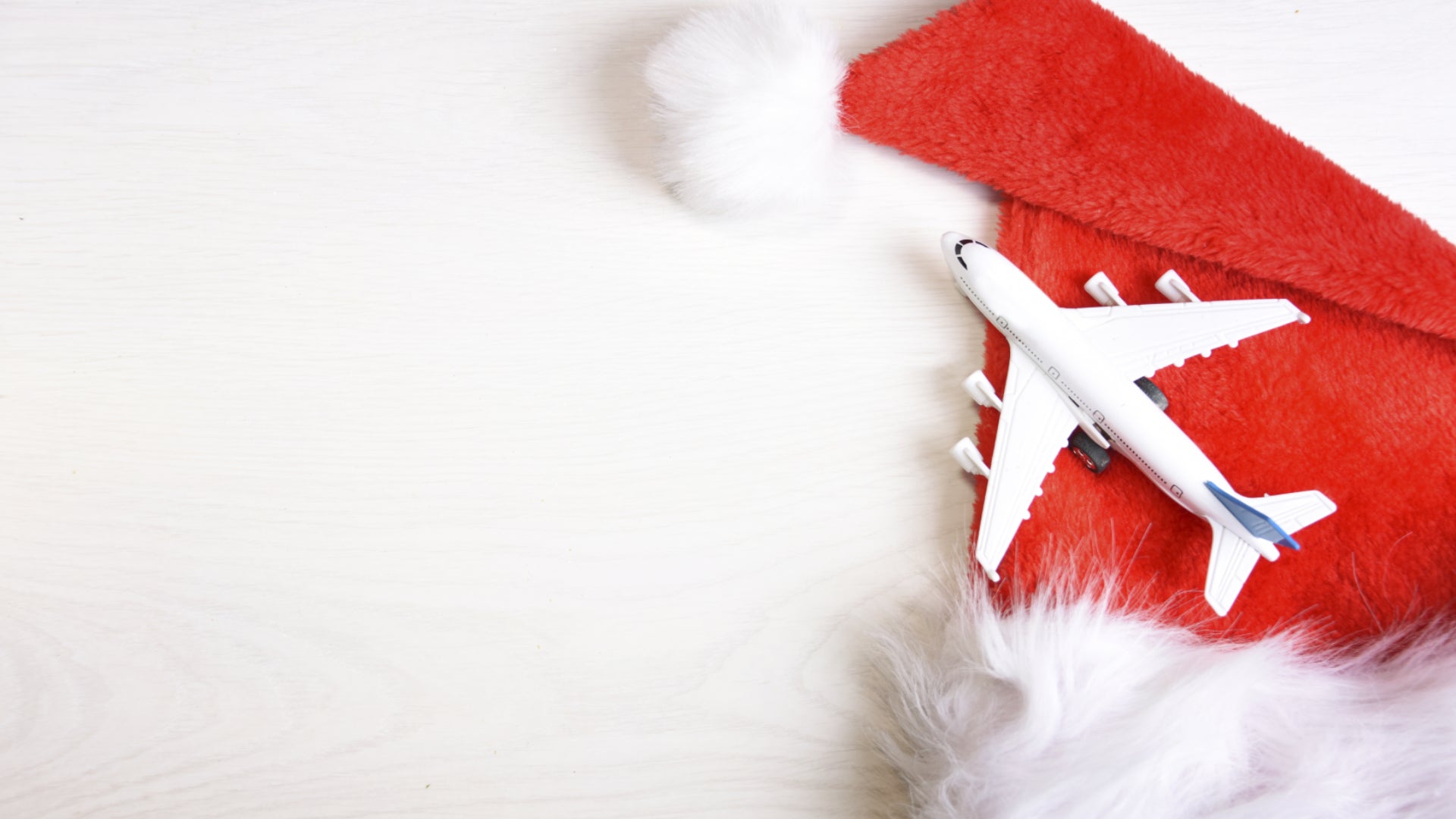 How To Avoid 'Airplane Skin' During The Holidays
Because we can't have you welcoming Santa with a dry, airplane-ruined complexion now, can we? What would the elves say?...
Unlike last year, air travel is back on the cards for the holidays which is great news for anyone who lives far away from their loved ones. But if you've ever jumped on a flight with awesome-looking skin, only to arrive at your destination with, well, much less awesome-looking skin, you'll understand the repercussions of four hours in economy.
So, if you're planning a little festive trip to catch up with friends and family over the next few weeks and you're determined to maintain your gorgeous complexion, period, you're going to need a few travel skincare tricks up your sleeve.
But first, how exactly does air travel affect your skin? In a word: badly. Thankfully, most of us take to the skies very infrequently, so the damage is minimal and usually short-lived, but still, there is literally nothing good to come out of flying where your poor skin is involved.
For starters, the pressurized environment contains very little humidity (around 20 percent, compared to the 50-60 percent your skin prefers). A lack of moisture in the air means your skin can quickly and easily becomes dry and dehydrated, throwing your barrier function way off and asking for trouble – whatever your skin type. Even if you have oily skin, dehydration can cause it to become even oilier as it tries to overcompensate for the lack of moisture in the air and the unwanted dryness this causes. Eek.
Low air pressure also reduces the levels of oxygen in your blood and you all know what happens when your skin lacks the oxygen and nutrients it deserves? It becomes dull, dull and a little more dull. Oh and if you sit next to the window, which, let's face it, we all want to do, you also subject your skin to intense UV radiation, increasing your risk of sun damage.
Add to all this the need to wear a facial mask for the duration of your flight, plus the emotional stress of flying and your skin can quickly become inflamed and irritated. Heck, you could even find yourself with a mini but very unwelcome maskne breakout by the time you touch down. Not the start to the holidays you were hoping for, right?
The good news is, all this can be avoided if you stay ahead of the game and take care of your skin before, during and after your flight. Here's how.
Pre-Flight
Ventilation systems on airplanes are way more efficient than they used to be, but still, the same air will be circulating around your flight for the entire journey so germs are still likely to build up and sit on your skin. This means that deeply cleansing your skin before you leave the house is super important. We recommend using a detoxifying cleanser like Charcoal Clarifying Cleanser to give your skin the best start possible.
After cleansing, flood your skin with humectant ingredients like aloe, glycerin and hyaluronic acid to trap water into your skin and help keep it hydrated for longer. Apply Hyaluronic Acid Facial Serum (a little goes a long way), then seal it all in with a rich moisturizer like Vitamin C Brightening Moisturizer which contains plenty of antioxidants to help protect your skin from UV damage. But this isn't enough, of course. You should also finish with a broad-spectrum sunscreen if you're flying through the day – especially if your seat is next to the window.
Finally, think about your makeup. More specifically, try not to wear too much – if any at all. Caking your skin with heavy foundation, then sitting on a flight for hours on end could clog your pores and exacerbate breakouts. Natural is the way forward.
In-Flight
To help your skin deal with the dry air during your flight, avoid alcohol, caffeine and salty foods and stay hydrated by guzzling plenty of water. For long-haul flights, you could cleanse your skin mid-journey and reapply your hydrating serum, moisturizer and sunscreen, but that can be a bit of a faff, so as long as your skin isn't loaded with makeup, whatever you apply pre-flight should keep your skin sufficiently hydrated for the duration.
If you're looking for a little extra pick-me-up, one of our favorite in-flight skincare must-haves is Rose Water Refreshing Facial Toner. This 100 percent pure rose water spritz is perfect for balancing, calming, hydrating and soothing your skin and can be misted on your skin anywhere, at any time. Love it.
Post-Touchdown
Wash your face and neck as soon as you can to remove the inevitable build-up of dirt and other debris. You could even try a double-cleanse if your skin feels particularly grimy or oily.
Double-cleansing is exactly what it says. First, you use something like a micellar water or cleansing oil to tackle excess sebum and other oil-based impurities like sunscreen and makeup. Then you cleanse again with a face wash to remove all the water-based stuff like sweat, bacteria and dirt. We don't believe double cleansing is necessary as a rule, but when you've been sat on an airplane for hours on end and your skin feels cruddy it can take care of business very nicely.
Not a fan of double cleansing? Then make sure you exfoliate with either a gentle facial scrub or acid-based serum like Vitamin C Super Serum+ which contains salicylic acid, vitamin C, hyaluronic acid and essential oils to boost cell turnover while nourishing and protecting your skin from free radical damage. Finish with moisturizer to seal all those active ingredients into your skin and help repair any damage to your skin's barrier.
Oh, and don't forget to pay attention to the skin around your eyes. Puffy eye bags can be a major issue after a long, dehydrating flight, during which time your body has been desperately trying to retain water. Relax with a cold compress over your eyes – used tea bags, cucumber slices and teaspoons work well – then apply Peptide Eye Gel around the entire area to refresh your eyes and reduce puffiness, sagging and dark circles.
For the next few days, continue to drink lots of water and make sure you go for some brisk walks. Exercise is awesome for getting your blood flowing again. It also helps dispense of any water retention that's built-up after sitting on your butt for too long.
Finally, don't be tempted to try out new skincare products during the festive season – especially if you're flying off to different climes. Stick to what you know so you don't add the possibility of breakouts and skin irritation to the melting pot of holiday stress ;)