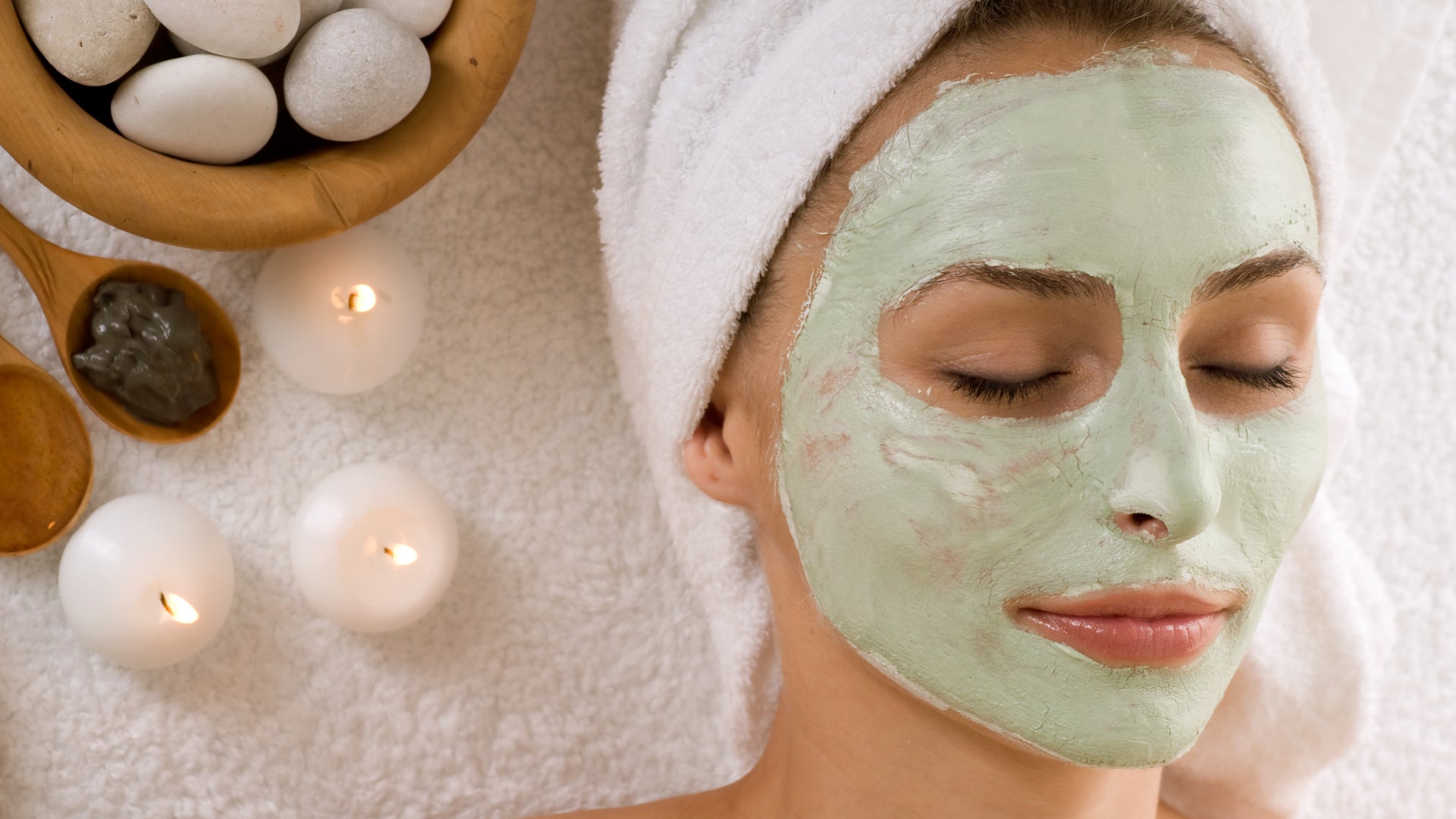 The Spa-Level Facial You Can Crush At Home
If your skin is feeling a bit 'meh' but you've neither the time nor the energy to hit up your go-to skincare guru, it's time to amp up your at-home facial skills.
Nothing beats the feeling of indulging your skin for an hour at the hands of a true professional. Whether you're a chemical peel lover, a microdermabrasion fan or a lymphatic drainage facial kinda girl, having someone else dedicate their time to improving the quality and health of your skin? That's priceless.
But if only things were that simple. Life, work, finances, even the world (here's looking at you, Covid-19) can often get in the way of your monthly me-time. And that's kind of annoying. The good news is there is something you can do about it… and all in the comfort of your own home. We're not saying you can take the place of a truly qualified facialist, dermatologist or esthetician – far from it – but once a week, set aside some quality time out, then arm yourself with the right intel and some clinically-proven skincare products and it's possible to recreate a spa-level facial in no time.
Here's how.
Step 1: Set The Mood
Slapping a sheet mask on your face while rushing around doing the laundry does not make for the most ideal moment of zen. And we know you know that, so why don't you put it into practice? Ever been to see a beauty therapist only for her to stop half-way through your HydraFacial to check her Insta feed? Thought not.
So, to create the perfect setting for your at-home pampering sesh, make sure you treat it as if it were a true professional job. First up, put your phone away, set aside an hour and tell anyone you live with – roommates, S.O.s, family, whoever – to leave you alone. End of.
Next, choose some relaxing beats, light a candle or two, pop on a clean fluffy bathrobe, wash your hands (important) and get ready for the real deal. Better still, have a pre-facial soak in a warm, lavender oil-infused bath. Now, we're talking.
And if this all sounds too much like frivolous nonsense, remember, it's not. Setting the perfect scene is vital for helping you to relax, de-stress and give you the right frame of mind to concentrate on what matters: your complexion, not your chores.
Step 2: Deep Cleanse
Clean, perfectly prepped skin is the only way to start, so choose a gentle cleanser that has your skin type written all over it. Not sure of your skin type? Then think about how it feels after you've cleansed and left your skin free of product or makeup for a few hours. If it feels greasy and looks shiny, it's most probably oily, whereas if it feels tight, it's dry. If it's a bit of both, then it's combination and if it's neither one nor the other, then lucky you, you probably have normal skin.
Great cleansing takes a little time, so don't just slap water and cleanser on your face then hope for the best. Instead, take a minute or two to massage your skin with the pads of your fingers as you work the cleanser into your face and neck. Focus on areas of excess oil or congestion, but be extra gentle around your eyes to avoid tugging the skin in this thin, delicate area.
All this takes a matter of minutes but will help boost circulation, remove toxins and give you the perfect canvas to continue to the next step.
Step 3: Let Off Steam
Back in grandma's day, steaming was everything and while we love exciting new beauty tools and modern techniques, sometimes the old tricks are the best ones. Even better news? Steaming is something everybody can do, for literally zero dollars.
Steaming is one of the most beneficial skincare tricks for boosting circulation, softening the skin, opening your pores and loosening trapped oil and debris. The heat also makes you sweat, which further promotes a good clear-out of unwanted toxins. Just remember to leave the extractions to the pros to prevent damaging your skin. It's honestly not worth it, people.
For the perfect steam, simply fill a sink or bowl with hot water, then cover your head with a towel and hover your face about 12 inches above the water for 10 minutes to trap the steam in. You could even add some fresh herbs, essential oils or tea to the water to help detoxify or soothe your skin. To finish, gently pat your face dry with a clean towel, then tone your skin to cool and whisk away all those impurities the steam has loosened from your pores.

Important note: super-hot temperatures cause the blood vessels in your skin to dilate which leads to redness and flushing. Therefore, if you suffer with dryness or sensitivities like eczema or rosacea you might want to give this step a miss.
Step 4: Time To Exfoliate
Ever had a facial that didn't involve some kind of exfoliation? Us neither because little beats it for sloughing away dead skin cells and accelerating cell turnover ­– the key to a glowing, healthy complexion.
Don't get us wrong, physical exfoliators can be super-effective if they're gentle and avoid using nasty things like ground nutshells to scrub and often damage the skin. But here at TruSkin, we believe chemical exfoliators are superior.
Chemical exfoliators harness the power of active ingredients such as alpha hydroxy acids (AHAs) or beta hydroxy acids (BHAs) to ditch dead skin and encourage the fresh new stuff to take its place. Spend a couple of minutes after steaming to massage a gentle chemical exfoliant all over your face and this will really help leave it polished and clean.
Rushed for time? Then our Daily Super Toner, which contains glycolic acid (an AHA) will take care of business in seconds.
Step 5: Master A Mask
Now for the best bit when you can apply a face mask and become horizontal for 10 minutes (ssh, don't tell your kids/roomie/lover).
Masks come in many different guises, so the only piece of advice we have here is to choose yours wisely, depending on your skin type or concerns, and avoid anything that's brimming with alcohol or other skin irritants.
Clay and charcoal are awesome ingredients to look out for if you have oily or acne-prone skin as these are super-effective at detoxifying and cleaning out your pores. If you feel like your skin needs a serious hydration boost, however, try masks that contain vitamin E, B5 or aloe vera. And if you want to help reduce the signs of aging such as fine lines or pigmentation? Then go for mask that's been formulated with antioxidants like vitamin C. It's literally the best.
Step 6: Treat And Moisturize
The best way to finish any type of facial is with a carefully curated serum and moisturizer combo to lock in all that good work you've just done. You've got this, we're confident of that, but to remind you, look for formulations that contain hyaluronic acid which is one of the most effective moisturizing ingredients out there and ideal for all skin types.
Your serum should be applied first, then leave it a minute or so (time to pour a glass of wine, maybe?) before applying moisturizer. Again, spend a few moments massaging your face and neck as you moisturize to help de-puff the skin while boosting circulation and collagen production. You could even invest in a jade facial roller if you're feeling really fancy;)
And you're done.