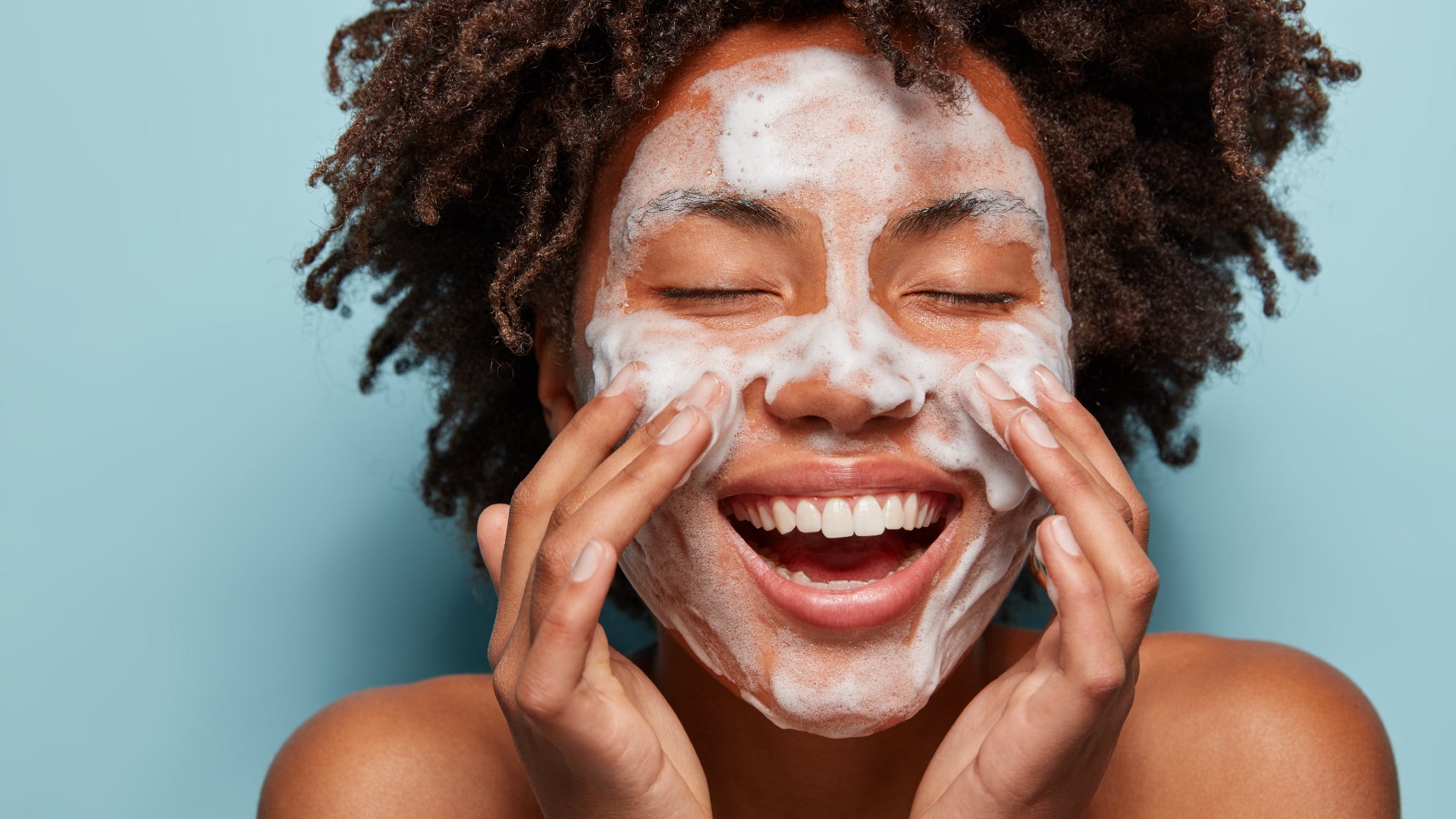 How To Cleanse Your Skin Like A Pro
Start off your skincare routine with mediocre cleansing and you may as well haul the rest of your serums, moisturizers and sunscreen off to the trash. Dramatic? Maybe. But when it comes to cleansing your skin, we truly believe that only the best techniques and products will do.
The problem, however, is that while most of you know how important clean skin is to its look, feel and overall health, you're not that bothered about how you get it clean. Right?
Take those devils called facial wipes, for example. As the third most wasteful product in the world, wipes are terrible for the environment – most are non-biodegradable and take up to 100 years to break down in landfill – and they're not much better for your skin. While handy for camping, at festivals or when you need a quick freshen up before or after the gym, they often come brimming with chemicals, fragrance and preservatives. These nasties get smeared all over your face and neck, which alters the skin's pH balance and goes on to cause various unwanted problems including excessive dryness, clogged pores, redness and irritation. Bad news all round, especially if you have sensitive skin.
We say avoid wipes at all costs. Instead, spend a little more time over your cleansing routine (don't worry, a couple of minutes is all it takes) and your skin will really thank you for it. As will the world we live in. Win-win.
Here's how.
First, Choose The Best Cleanser For Your Skin Type
Our number one rule for choosing the best cleanser – no matter what your skin type or concerns are – is to go as gentle as possible. Contrary to popular belief, gentle doesn't mean ineffective, just that it won't damage the skin's natural protective layer, suck up every last inch of sebum or upset your skin's pH balance. And even if your skin is super-oily, this is a good thing.
Here are a few other pointers, according to your skin type.
Dry Skin
Look for soothing cleansers that contain humectants like panthenol, glycerin or hyaluronic acid. These all work to pull moisture from the air into the surface of the skin which helps reduce dryness and irritation.
Normal Or Combination Skin
Gentle formulations that help balance as you cleanse are perfect for normal or combination skin types as they help promote a healthy, all-over glow. You could also try upping your free radical fighting powers with a cleanser that contains antioxidants such as vitamins C and E.
Sensitive Skin
Steer well clear of sulfates, parabens and alcohol as these will do nothing but exacerbate sensitivities and irritation. One of our favorite ingredients for sensitive skin is rose water, a great cleanser that helps heal, soothe and hydrate.
Oily Or Acne-Prone Skin
If you suffer with excess oil, glycolic acid is an excellent ingredient as it works as a mild, follicular cleansing aid to stimulate collagen, boost cell renewal and tighten pores. We also love coconut charcoal for its unique ability to draw out impurities and balance the skin.
Next, Learn How To Cleanse Like A Pro
Spend time massaging your skin for a couple of minutes as you wash your face and you'll instantly boost circulation and help lymphatic drainage.
It's really quite simple. Apply cleanser all over your face and neck, then use the pads of your fingers to work it into your skin. First, press your fingers into the brow area and slide them up to your forehead a few times. Next, concentrate on your cheeks, working from each side of your nose, out towards the hairline. Do this a few times, then continue with the same motion at around chin level. To finish, smooth your fingertips up your neck. Oh, and if you have specific areas of congestion around your nose, chin or forehead, don't forget to give these a little extra attention, using light circular motions to massage as you cleanse.
One last thing: the skin around your eyes is thin and very delicate so don't get too handsy with your massaging technique when it comes to the eye area. Instead, use soft rolling movements with your ring finger around the orbital bones and if you like to wear eye makeup on a daily basis, invest in a good eye makeup remover to avoid tugging and pulling the skin as you cleanse.
Finally, Try A Night-Time Double Cleanse
Like to sneak off to bed every now and again, without cleansing your skin? Well, you can stop that, right now. Just think about what your skin is subjected to throughout the day... Environmental pollutants, grime, oil and sweat all sit on your skin for the 15 hours or so while you're awake. Then, when you throw makeup into the mix, which is often full of man-made chemicals, you've created a whole cocktail of 'stuff' lurking on your complexion, just waiting to cause problems.
This is why a thorough, pre-bedtime cleanse to remove all the dirt and debris that's built up throughout the day is so important. As you sleep, your skin goes into full recharge mode, regenerating new skin cells and repairing environmental damage, but how can it do this efficiently when it's dirty? Answer: it can't. Instead, it'll punish you with poor, rough texture; dull, dry skin; bags under your eyes, the works.
So, for a super-effective, but gentle night-time clean up job, try double cleansing.
Double cleansing can take on many forms but basically means cleaning your skin twice, using two different methods. Start with an oil-based cleanser, gentle exfoliator or cloth to remove makeup, sunscreen and other surface debris. Then go for a cream, gel or lotion to finish cleansing and treating your skin according to your skin type or concerns.
And now you're ready for the next phases of your skincare routine: namely toning, treating, moisturizing and protecting.
Now, that wasn't too painful, was it?